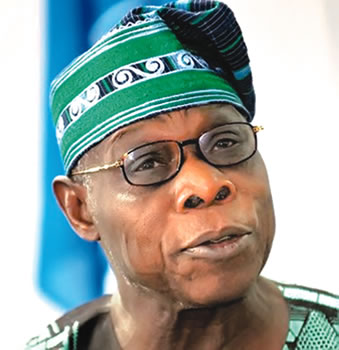 THE former Governor of Osun State and co-Coordinator of Coalition for Nigeria Movement, Prince Olagunsoye Oyinlola, on Wednesday, stated that Nigerians should appreciate former President Olusegun Obasanjo for waking them up from their slumber through his letter to President Muhammadu Buhari.
Speaking during the unveiling of the Movement in Abuja, Prince Oyinlola said Nigerians should forget about the messenger and discuss the message, saying Nigerians should not fold their hands and keep watching, but rather give kudos to the former president who availed them of what was happening in the country.
Among the personalities at the event were Dr Abdul-Jelil Tafawa Balewa, former Governor of Cross River State, Donald Duke, Honourable Abubakar Nuhu, Mrs Anthony, Senator Amodu Alli, Chief Olayiwola Olakojo, Honourable Onamusi Onadeko and many others.
Speaking further, Prince Olagunsoye said: "what he (Obasanjo) did is to steer us up from our slumbers to the reality of what is happening in Nigeria and requiring us to take charge and action.
"To say we are legitimising Obasanjo's legacy I think it is a bit off the mark. There is no one who can fudge the content and the issue raised in Obasanjo's letter, forget the messenger let's discuss the message. We won't fold our hands and keep watching. What he did is to steer us up from our slumbers to the reality of what is happening in Nigeria and requiring us to take charge and action. Are there no leaders watching and wearing off in this country? We should give him kudos for having the courage to be able to address Nigerians to the yields of the society that requires immediate action and attention.
"The decision is that we are not going to lure any leadership on this movement, at the state, ward, local government and the zones, it is the member of this movement that will present to us in our zone that this is our zonal head or leader likewise at the state level and so on so that there will be no imposition of any party, it is a corrugate leadership are all going to be.
"We will not suffer the same phase that we have embarked before. We will try to extreme how this movement will be done and how this would be achieved," he added.
On whether the movement would metamorphose into a political party, the former governor said: "We recognise the fact that by the dictates of the letters of the constitution you can only contest from the platform of a political party and that is why I said we are not a political party at least for now.
"If and when through the arrangements of the discussions of the leaders that you are giving to put in place that we come to the agreement that we must metamorphose into a political party, it must be a collective decision for all of us it is a course that somebody must hear this movement that is why we are here", he added.
Speaking with newsmen shortly after the event, the former governor, Donald Duke said what the movement was trying to do is to put in a platform whereby each and every one could aspire on whatever office he or she wishes.
"You see in today's politics, you need lots of money to run and get into office, we need to change this dynamics such that anyone can aspire for anything at minimum cost, so am not interested in anyone who has an ambition and am not against this but we need people who are ambitious for the right reasons, we don't need people in offices with no aspirations whatsoever ― I think we are short-changing ourselves,
"We want people who will give us a better Nigeria but for now this is secondary, the primary reason for why we are here today is to ensure that we have a platform that can enable people to express themselves appropriately that will metamorphose into a political party or political platform that will have a level playing field one in which anyone regardless of your circumstances can aspire to any party he or she seeks," he stressed.
In his words, Dr Abdul-Jelil Tafawa Balewa lamented that "our generation was cheated because we were told then that we could not rule them but we are trying to pave the way to be a bridge to build the Nigeria of our dreams.
"We have a poor presentation, we 65% of votes what happened to our 35per votes? There are 37 centres for registration in Abuja but only one is manned by INEC and that still doesn't work, we need to take around to make sure these people do what they are paid to do.
"Your card is the only thing that makes you a Nigerian, 1.7 of our population are women and we are giving them just 35 percent, what right do we have to do that? Every single Nigerian should have the opportunity to get to the height in this country and not to be hindered," he stated.
Also speaking, the National Women Leader of the Democratic People's Party (DPP), Mrs Victoria Bolanle Oviaso Jie said it is currently a movement but would metamorphose into a political party.
"I am the Women leader of the Democratic People Party (DPP), so if it is going to collapse into a party, it is going to be a merging force, but the ultimate thing is to move Nigeria to its promise land, that is what we are looking for, we don't care who he is, he could be a youth or youth leader or elder but a person that the whole nation will believe in and a person that will move this country forward that is the person that we are praying to have," she said.
In his own statement, Honourable Onamusi Onadeko implored Nigerians to come together in various local government and select candidates of their choice this time around.
"The idea that we have gotten here is going to transform this country because we are going to come in and give them the ideas that we have initiated over the years, people can select their candidates but they should be candidates that can represent them very well even to the grassroots level.
ALSO READ: SHOCKER! Read Obasanjo's bombshell in 13-page statement, says Buhari should forget 2019 
That is one of the ideas we are going to give them here, so if your people decide to support you, you don't need money before they can support you, the idea is not to have money now and it is not about the political party, to be honest with you, this movement is taking over this country and over this government, it involves you and I, the simple arithmetic to this is go back to your local government and let people select their candidates," he stated.