EBENEZER ADUROKIYA visited four roads: Stadium Road, Church Road, Victory Avenue and Skin Road located in the heart of Warri, Delta State, where over 50 churches dot the area.
Churches, especially those of the 21st century, pay special attention to soul-winning and church numerical growth. It is, however, commonplace in some major cities and towns to have some designated places christened 'Church Street' or by whatever names they deem appropriate. A similar development is obtainable at an area popularly called Stadium Road in Warri, Warri South Local Government Area of Delta.
Stadium Road is named after Warri City Stadium. The road is well-tarred with three streets, Church Road, Victory Avenue and Skin Road, facing it on the left. The area, as it is, is famous for the numerous church buildings. Some of the churches are built close to each other to the extent that one would wonder if invited guests or new members of these churches can actually identify their host!
No bomb explosion at South African High Commission ― FG
Names of some of churches at Stadium Road included God's Royal Rhema Chapel int'l, Cherubim and Seraphim Movement Church (Worldwide), Faith Holiness Assembly, The Pentecost Light House, Church of the Light, Assemblies of God Church, Ultimate Faith Church, The Apostolic Church, Paradise Bible International Church and Holy Ghost Gospel Christian Church.
Others at Stadium Road are Bread of Life Church for All Nations, Christ Faith Church, Christ Assertion Church, Methodist Church, Nigeria, Bethel Baptist Church, The Redeemed Christian Church of God and Christ African Church.
Skin Road has Christ Worshippers Church, Acceptable Christian Church, Word of God Church International (Incorporated).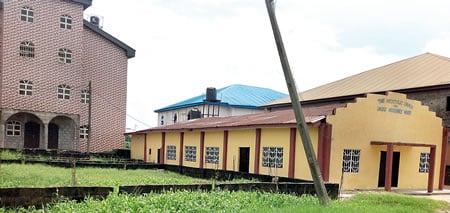 At Church Road, Sunday Tribune counted no fewer than 10 churches: The Lord is Able Ministry, Covenant Life Bible Church, Christ Disciples Gospel Mission, Fire House Cathedral, Bible Believers Ministry, another branch of The Redeemed Christian Church of God.
Characterised by beautiful structures and well-tarred road, Victory Avenue has, among others, The Eternal Sacred Church of the Cherubim and Seraphim, Foursquare Gospel Church, another parish of The Redeemed Christian Church of God, Christ Divine Bible Church, Abundance Dynamic Bible Church and Pavilion of Grace Int'l Ministry.
How do residents of the area feel about the cluster of churches? How do they cope with the noises, as it were, blaring from speakers of the churches during worship services and vigils?
According to Mrs Joy Ejatota, who attends one of the churches, first timers, who are invited to any of the churches, usually missed their way to other churches except they are well acquainted with the name they were given.
"If you are invited to a church here and you didn't confirm the name of the church very well, you will be confused and by the end of the day, you might enter the wrong church because the churches are too many and too close," she said.
Mr Israel Onoriode, on his part, averred that in spite of the cluster of churches in the area, members identify with only their own churches.
"Though the churches here are many, the truth is that every member knows his or her church. There's no place where there's no crime, even in the church, there are crimes. The high number of churches does not guarantee the crime free-state of that environment and it has nothing to do with the vices in the area. An individual is supposed to cultivate his or her morals at home, from its nuclear family, so if an individual that is already wayward comes in contact with the teaching of the word of God and if he/she is already hard-hearted, there's nothing any preacher can do about it unless God Himself intervenes," he said.
According to Onoriode, "You see churches everywhere, Stadium Road alone has up to 20 churches. if I'm not mistaken, as small as Church Road is, it has up to six churches. Victory Avenue has up to eight and then Skin Road has about five or so. Sometimes I do wonder how many people live in this area that has about 30 churches."
However, a pastor in one of the churches, who spoke with Tribune Church, Pastor Godfrey Osobase, said members of the churches belong to Jesus and not any pastor. He disagreed with the insinuation that the churches fight for membership or engaged in any unhealthy competition.
"Talking about members, we don't have members, the members belong to Jesus. If the members of this church feel like attending a nearby church that is holding a programme, no problem.
"One thing is if you feed your children well at home, when they see another food outside, it will be hard for them to want to eat. Even if they eat, they will always remember to come home and eat your food.
"It's only when you feed your congregation with lies that you will be scared and worried that when they go to other churches for programmes and hear the truth, they may leave your church.
"For me, I don't think that with clustering of churches in this area, there is any competition. If there are more than five drinking bars in one street and everyone is making sales and they are not fighting themselves, then why should we churches be fighting one another?" he said.