'To achieve uncommon feat, you need first class mentality'
Daniel Oluwatobi Ajakaiye, a native of Ifon in Ondo State, emerged as the overall best graduating student at the just-concluded 9th convocation of Adekunle Ajasin University, Akungba-Akoko, with a CGPA of 4.76, thus becoming the first graduate of Accounting from the institution to achieve this feat. He shares his experience, challenges and the philosophy that drives him with IMOLEAYO OYEDEYI.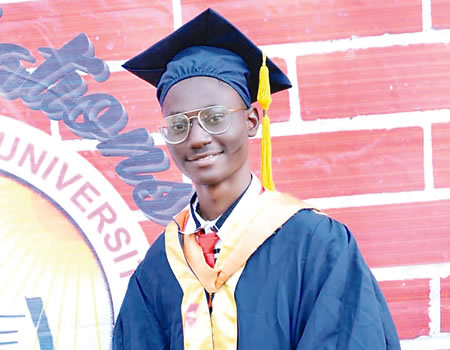 How do you feel emerging as the overall best graduating student?
I feel blessed and privileged. To be candid, I foresaw myself emerging as the best. I had always carried the image in my head; not that I was so sure, but I believed I could achieve it. This informed my readiness to give all it takes. So, emerging as the best graduating student is like a dream come true.
From your experience, what does it take to be a first class student?
First class is an honour after all, but to be a first class student demands that you develop a first class mentality. It all begins with the mindset. There is the popular mantra in Latin, Nemo dat quod non abit, meaning you can't give what you do not have. If your mind is not set to think positively, then you will always deliver negativity, no matter how hard you try. I have always thought positively, and little wonder I delivered positively. I never for once regarded any course as 'Almighty' as most students do. I believe only God is the Almighty. The rigour I exert even for a one-unit course is the same I exert for even more than a three-unit course.
Fear and faith cannot abide together. You have to chase one for the other. The key word here is 'believe', no matter how difficult the situation seems. In fact, the more difficult a course seems to be, the happier I am; not because I have everything figured out, but because I believe if it is not challenging, then the victory is cheap, and anybody could attain it. Also, avoid complacency. All outstanding students often rest on their oars after accomplishing given feats. They believe that, "once the best, ever the best". But it is a big lie. The more height you attain, the more efforts you need to sustain and improve on it. Lastly, never give up. The journey to excellence is never going to be easy. Also, learn to be respectful, especially to those imparting knowledge to you. I see promising champs failing because of lack of humility. I have always run with this mantra of mine, which is 'Humility and Diligence is the key'. I say to you, there is success in humility.
While in school, what were the challenges you faced and how did you overcome them?
Initially, I faced intimidation from certain persons. Some of them claimed to be older than I was and demanded unearned respect. I felt emotionally down for a while, but I later braced up when I learnt that age is not a major factor to earn the respect of people but to work and stand upright in a position that accords respect. Afterwards, throughout my undergraduate days, I earned much more even from people who were by far older than I was, especially when I stood in the position of impacting their lives.
I also faced a bit of criticism to an extent, especially when I seemed to differ in opinion about a given issue amidst my course mates. A typical example occurred during my 100 level days when I was to choose certain elective courses. I opted for a course I believed to be relevant to my course of study, but more than half of my fellow students opted for another and pressurised me to do same. I strongly disagreed and they left me believing that I would come to regret my decision. But to their utmost surprise, I excelled in that course. Meanwhile, in our second year, the advanced part of the course happened to be compulsory for all students. But due to my familiarity with it, I topped the table in terms of the results out of four departments offering it.
What were the factors that kept you going amid these challenges?
To start with, God has been a major source of motivation for me. With Him on my side, I had zero worry and fear. Another source of motivation for me was to change the status quo. I hate to hear statements that magnify failure, impediments or impossibilities. I could remember vividly when I was newly admitted, from a quick survey, I realised the department I graduated from never produced a first class. This sounded ridiculous to me and compelled me to break the jinx.
I was also motivated by genuine pieces of advice from my lecturers and my level adviser, who craved that I graduated as the best. I was also emboldened by a senior fellow from my fellowship that achieved similar feat and wanted me to surpass his. Lastly, my parents were a source of motivation to me. The desire to make them proud and also compensate them for the loss of my elder brother was all that charged me to work hard after the very goal of becoming the best.
Who are your professional role models and why have you chosen them?
I have a lot of personalities in the Accounting profession I admire very much. Some of them are the iconic Akintola Williams. His field is quite a sensitive one and all organisations depend on the accuracy of assertions given by his firm, even as a Nigerian in that industry. I also respect the sagacity of immediate past governor of Lagos State, Akinwummi Ambode, as a chartered accountant and for serving meritoriously in that capacity.
What are your plans after school?
Part of it is to further my education and I envisage doing that out of the country. I strongly believe God will provide the means, and will raise people up to help me achieve the goal of having my Master's and doctoral degrees, preferably in the United States after my service year. Also while in service, I intend to start and finish my ICAN examinations. I also plan to venture into educative programmes well planned to prepare and equip youths and teenagers towards building a sustainable future for them on the platter of sound and quality intensive education.
What do you advise students aiming to achieve the kind of feat you achieved?
I advise that they remain committed and consistent to their pursuits in life. This is necessary to become the best. Without commitment, you will never start; and more importantly, without consistency, you may never finish.
Also, believe strongly in yourself; until you have stretched yourself to the limit, you wouldn't know how long you can reach. Never doubt yourself. Doubt is an impediment between goals and achievement. I say to you even God cannot help a man filled with doubt. Yes! Even the Holy Scriptures confirmed it. Favour and mercy only speak for someone who has faith.
Never allow little setbacks to set your back on the ground. At times, your expectations may not come as you have envisaged, but that should not discourage you from thinking big. Avoid persons that easily discourage you from pursuing after worthwhile goals. Put God first in all that you do, and never ever forget to acknowledge God over any of your accomplishments. Think positively as positive things only come to those who are positive in thoughts, words and action.