Those who left Ajimobi, Oyo APC regretting decision ― Alaafin, Muyideen Bello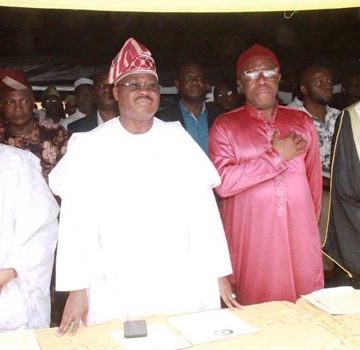 THE Alaafin of Oyo, Oba Lamidi Adeyemi and renowned preacher, Sheik Muyideen Bello have avowed that those who left the All Progressives Congress (APC) during the crisis and turned their back on Governor Abiola Ajimobi were bound to regret their decision to leave the party.
The duo, in their separate remarks, stated this on Tuesday at an event organised by the Oyo state government, held at Remembrance Arcade, Agodi, Ibadan, to celebrate this year's Maulid Nabiyy (celebration of Holy Prophet Muhammad's birth).
Leading the pouring of strong words on those who defected from the APC, Muideen Bello, who was the guest preacher at the event, questioned whether all who left the party will become governor or influential leaders on their new platforms.
He said Ajimobi had not disappointed over the course of his seven and a half years of governance while warning all person backbiting to desist.
                                     ALSO READ: Ibadan Obas: Olubadan will come to terms with Ajimobi ―Oluwo
According to Bello, Ajimobi was destined to win a second term in office and continued to conquer his political battles because of his truthfulness, believe in God, good works, courage, adherence to advice, daring and rightful steps.
 "Ajimobi has not disappointed us. There are those who were with Ajimobi since the inception of his administration, ate and drank with him, accompanied him to Mecca, London and other parts of the world who have now turned their back on him. All those wined and dined in the APC led by President Muhammadu Buhari and forsook Ajimobi will regret their action," Bello said.
Speaking in a similar fashion, Oba Adeyemi said several of those who left the party had regretted their decision and recently approached him to beg Ajimobi to be allowed to return to the APC, but he told them that their appeal was coming late.
During the time of the party's crisis, Oba Adeyemi said he appealed to the aggrieved former party members to be patient but they never heeded.
 "Let us stand by the truth. Many of those who left the party came to me and I told them to be patient but they never heeded to the appeal. They are now regretting their action. They have now come to ask me to beg Ajimobi on their behalf but I told them that it is now late. It is difficult for those who benefitted from government and have turned their back on Ajimobi to mean good if they are allowed to return," Oba Adeyemi said.
The event had in attendance, Ajimobi and his wife, Florence; wife of state deputy governor, Mrs Janet Adeyemo; Justice Abass Moshood who represented the state Chief Judge, Munta Abimbola; Agbaakin Olubadan, Chief Lekan Alabi who represented the Olubadan of Ibadan land, Oba Saliu Adetunji; Oba Lekan Balogun; Chief Imam of Ibadan land, Sheik Abdul-Ganiyy Abubakar; governorship candidate of the APC in the state, Mr Adebayo Adelabu among others.
Meanwhile, Ajimobi has asserted confidence that Adelabu will emerge his successor.
Though he noted that some were already castigating his choice of Adelabu, Ajimobi said he was convinced that Adelabu portrayed Omoluabi virtues premised on godliness and was bound to be a successor that will sustain his legacies.
He restated that the fear of God above crave for loyalty to him informed his decision to ensure the emergence of Adelabu as gubernatorial candidate of the APC.
In this light, Oba Adeyemi and Bello have urged residents of the state to support the emergence of governorship candidate of the APC, Mr Adebayo Adelabu as governor so as to sustain Ajimobi's strides in governance.
Amid doubts about his religion, Adelabu was made to make a public declaration that he was a Muslim.
"I was born a Muslim and have remained a Muslim all my life," Adelabu said.