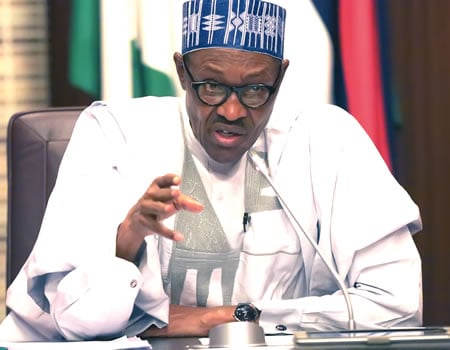 Nigeria's 2018 projected revenue and expenditure is tagged budget of "consolidation." This was signed into law at a time when poverty in the country had caught global attention. The policy document itself has been fraught with controversies, raising the question as to what exactly the budget is consolidating. CHIMA NWOKOJI, in this report, aggregates expert opinions that provide answers on why a good part of the estimates may miss desired target.
WHEN after seven months of tinkering by the legislative arm of government, President Mohammed Buhari reluctantly signed the 2018 budget, he said it was a distorted policy document that was signed in the spirit of compromise.
A number of analysts have likened the budget to a distorted binocular through the lens of which the Nigerian economy will sail the stormy sea, for the rest of the fourth quarter of 2018 and first half of 2019.
In other words, a cursory look at the approved 2018 budget relative to the actual performance of 2017 presents a disturbing picture especially in terms of actual revenue numbers cum the high deficit levels as well as added constituency projects.
"If wishes were horses, beggars would ride," is a well known adage that better captures assumptions that are totally disconnected from reality. Parody of this saying:  If wishes are horses, the draftsman of Nigeria's 2018 Appropriation Act of N9.12 trillion could have had it signed in December 2017 and started implementation in January 2018, beginning with N3.51 trillion recurrent expenditure and N2.87 trillion capital expenditure. This means that 31.5per cent of total expenditure will be spent on capital projects leaving the remaining 68.5percent for recurrent expenditure.
But reality is that it was passed six months into the year with too high guesses that may not translate to reality. It projects N2.87trillion capital expenditure, up from N2.36 trillion budgeted last year, but not fully implemented. It hopes to realize N7.2trillion revenue in 2018 financial year while providing N2.01 trillion for debt service.
Incidentally, there is a growing sense among capital expenditure-budget watchers that the budget, as a tool of economic management, is full of assumptions that may not be realizable, and that not much was accomplished last year that requires "consolidation."
It is especially doubtful how funds meant for 12 months would now be spent in six months. This makes it clear that implementation will be a drawback. Case in point is that about 50 per cent of the 2017 capital expenditure was not funded, leading to a  rollover to 2018. The delay in passage of the 2017 budget stalled implementation of the capital expenditure bit of the policy document. Only about N450billion was expended from a figure of N1.1trillion for first half of 2017.
To address this carry over, the 2018 Budget made provisions for continuity of ongoing capital projects while sourcing for alternative means of funding to finance new projects. Following from this, by the third week of June 2018, Minister of Finance, Kemi Adeosun, announced that N1.6 trillion was released for capital projects in 2017 budget  higher than the N1.2 trillion (N1,219,471,747,443.00) total capital releases for 2016.
The reality is that looking at what happened in the past; 2018 budget may end up not recording up to 50 per cent implementation.
More so, while passing the budget, Buhari expressed concern over adjustments made to the document by the National Assembly, saying that the action may affect execution of meaningful socio-economic projects nationwide. Riding on the words of the president, socio-economic projects are developmental projects that grow the economy and promote social life. Economists measure socio- economic development with such indicators as Gross Domestic Product (total value of goods produced, and services provided in a country during one year), Life expectancy, poverty, literacy and employment levels.
Using one of the indices, Life expectancy as example, the World Health Organization (WHO) during the Bamako Initiative agreed that health care expenditure to GDP should be up to 15 percent. Nigeria currently allocates about 3.9 per cent of its total budget to health, and this applies to other critical sectors. This is far lower than South Africa's 2018 estimated health expenditure of $14 billion, 12 percent of its total budget.
Senior Analytical Advisor for Africa and the leading analyst for the region, Moody's Investors Service, Aurélien Mali, is sure that only about 50 percent of the capital expenditure could be implemented.
According to him, for the budget to be used as a tool for stimulating economic growth, implementation of capital expenditure has to be at about 90 per cent.
Commenting on the report by the Brookings Institution that Nigeria is the country with the largest number of extremely poor persons in the world, Mali said alleviating poverty in Nigeria would be very difficult as long as the country's GDP remains below its demographic trend. According to him, "As long as Nigeria's economy continues to grow below six per cent, the poverty level is not going to change, and the standard of living is not going to improve.
"So, you will continue to have income inequality that will continue to increase and overall, it is going to be difficult to improve GDP per capita. There is still fragility in Nigeria's economic recovery."
The African Development Bank (AfDB) in a 1999 report extended this view about why it would be difficult to improve GDP per capita.  It stated, "Poverty reduction requires economic growth which, when accompanied by sound macroeconomic management and good governance, results in sustainable and socially inclusive development."
Budget and poverty
Nigeria's poverty rate is 67 per cent. The link between budget and poverty cannot be overemphasized. Consensus opinion is that a realistic and well-implemented budget should prioritize socio-economic projects. These will be a boost to economic activities that enhance corporate and individual wellbeing in a multi-dimensional manner. It is supposed to create environments for economic and social progress, thereby reducing poverty and increasing per capita income (the average income per person).  Nigeria's GDP per capita in 2016 was $2,177, according to International Monetary Fund (IMF). The GDP per capita for South Africa in 2016 was $5,273, $3,570 for Indonesia, $9,502 for Malaysia, and $8,649 for Brazil. The average GDP per capita in Nigeria over the past 57years of independence is $1646.
This is true especially when poverty is viewed from the perspective of the World Bank which describes poverty as pronounced deprivation in well-being in a multidimensional manner. "It includes low incomes and inability to acquire the basic goods and services necessary for survival with dignity. It encompasses low levels of health and education, poor access to clean water and sanitation, inadequate physical security, lack of voice and insufficient capacity and opportunity to better one's life."
This means that in a country where extreme poverty is growing by six people every minute, according to Kristofer Hamel, Chief Operating Officer of World Data Lab, budgeting should prioritize sectors that have highest socio- economic development impact.
The United Nations on its part describes poverty as a state of "not having enough to feed and clothe a family, not having a school or clinic to go to; not having the land on which to grow one's food or a job to earn one's living, not having access to credit." All these are prevalent in Nigeria, if truth must be told.
At the Jidenma Foundation public lecture 2017, Professor Kingsley Moghalu, President, Institute for Governance and Economic Transformation, observed that: "Nigeria's population growth rate of 2.7per cent is outstripping economic growth, and 70per cent – 90per cent of our budget is on recurrent expenditure.
"Our national debt is increasing, and we now spend more than 60 per cent of government revenues serving the national debt. Ten million children of school age are out of school in Nigeria, the highest such population in the world.  Nigeria ranks 152nd out of 188 countries in the Human Development Index of the United Nations Development Program, and 187 out of 189 countries in the World Health Organization rankings of national health care systems.
"Roughly 200 million persons in the world are jobless, and most of them are young men and women in developing countries such as Nigeria. That 30 million out of these 200 million people are in Nigeria – roughly 15per cent of the world's jobless – is a staggering fact with important consequences for Nigeria's future."
The National Bureau of Statistics (NBS) latest report for conflict and food insecurity in Nigeria for the year ended 2017; revealed 79 percent of households in the Northeast region of the country had food insecurity.
In the North Central region food insecurity of household was at 71 percent while 74 percent of households in the South-South region were in the same situation for the period under review.
"If you look at Nigeria today, between now and the last one year, it seems the proportion of people who do not have access to these things are increasing, unemployment rate is quite high, and dependency rate is also a bit high. People are not able to send their children to school, people that were able to do that before are now withdrawing from schools. Farmers are being displaced day in and day out," Johnson Chukwu, MD of Cowry Asset Limited said, explaining the reasons that could have led to Nigerians having more poor people than Indians.
The unemployment rate in Africa's largest economy is one of the highest in the continent at 18.8 percent as at the third quarter of 2017. Also about 15.99 million of the inhabitants of Africa's most populous nation are currently unemployed, as compiled from the nation's statistics bureau report.
The number of Nigerians living in extreme poverty crossed the 83 million mark in 2018, surpassing India's number of extremely poor at 73 million. This means that almost one out of every two persons living in the country is now living in extreme poverty.
Ayodeji Ebo, MD of Afrinvest Securities Limited said, "Currently, our economy is growing at 1.95 percent with a population growing at 2.6 percent per annum. Our growth rate is not exceeding the population growth rate. So as we progress, our standard of living will be impacted negatively."
On the reasons why Nigeria now has the highest number of extremely poor people, analysts cited lack of social amenities, unemployment, high dependency rate, security challenges, lack of right economic policies and reforms.
"Nigerians becoming poorer could be as a result of key indicators like access to amenities; health, housing, food. These are the things you should look at and if we are not able to have access to these things, we can get poorer," Ayo Akinwunmi, Head of Research FSDH Merchant Bank told newsmen.
It is worrisome that after the UN Department of Economic and Social Affairs projected that Nigeria would be the world's third most populous country by the year 2050, policy makers have not seen the need to take a long-term approach to implementing reforms that will take care of these demographic trends rather than always applying short fixes.
ALSO READ: Osun guber election: PDP drags in David Mark to save Adeleke
Nigeria and wishful budget spending
In November 2017 Moody's Investors Services Limited, one of the leading global rating agencies, downgraded the Nigerian Government's long- term issuer and senior unsecured debt rating to B2 from B1 citing reasons ranging from unsuccessful efforts toward having a robust non-oil revenue base which leaves the economy exposed to further economic or financial shocks and high debt servicing cost which is projected to remain high.
Again immediately after the signing of this year's budget, the agency warned that Nigeria's capital expenditure portion of the fiscal plan in the 2018 budget is unrealizable.
According to Mali, the perennial delay in passing the country's budget for three years in a row was a demonstration of the institutional weakness in the country.
As with prior years, the 2018 Budget projects a reflationary spending of N8.6trillion that has been increased to N9.12trillion (relative to N7.4tn in 2017) with a focus on consolidating on gains recorded in the previous year whilst also prioritizing the need to bridge the investment deficits in infrastructure, agriculture, and health sectors amongst others. The budget assumes an exchange rate of N305.00/US$1.00, oil production of 2.3mb/d, and benchmark crude oil price of US$45.00/b to achieve a forecast GDP growth of 3.5per cent with annual inflation projection of 12.4per cent for the fiscal year 2018. The question is: How realistic is the exchange rate of N305/$ when other segments like the widely patronized Bureau De Change (BDC) and parallel markets hover around N360/$.
Performance of the 2017 "Budget of Recovery and Growth" was  rather underwhelming with fiscal authorities falling short of revenue target, especially Non-oil revenue (N0.3tn actual vs. N1.4tn projection), despite recent drive to increase tax revenue via reforms such as the Voluntary Asset and Income Declaration Scheme (VAIDS).
While the presidency hopes to improve on existing tax reforms to boost income from the non-oil sector as well as enhance activities in other sectors of the economy, the odds of a significant increase in tax revenue in the short term remain low.
A team of investment bankers and finance experts took a cursory look at the approved budget relative to the actual performance of 2017 and concluded that it presents a disturbing picture.
According to Afrinvest's team, with the current budget structure, except for surprise revenue from anywhere or if there is improvement in oil prices and output, the federal government may end up getting the  CBN to finance the budget, if it must be fully implemented. Otherwise, there will be setback in capital component of the budget because of no funds especially given what typically characterize fiscal spending in a year to the election year.
In the words of Moody's Investors Service Aurélien Mali, "To be perfectly clear, it was a large budget, but everybody knows that even though in nominal terms the capital expenditure increased, it is going to be under-realized and around 50 per cent mostly. The revenue generation capacity will still be a weakness because the non-oil revenue remains weak in Nigeria.
"So, the numbers are big, but the reality is that the budget objective is going to be lower than expected in terms of revenue. So, that mechanism is not efficient enough to drive development in Nigeria."
An economist and current Head, Banking and Finance at Nasarawa State University, Keffi, Dr. Uche Uwaleke, said, "the current composition of the budget showed that a large percentage of revenue will still come from oil because company tax and other revenue from recoveries cannot be ascertained yet.
The need for a solid and sustained growth of the economy and improved export base can only be achieved through improving the agricultural, solid minerals, manufacturing and other critical sectors of the economy which must be functional and significantly contributing to foreign trade and profit of the country."
"Although The Federal Inland Revenue Service Voluntary Asset and Income Declaration Scheme (VAIDS) is laudable, so many people in Nigeria still do not pay tax making, these projections seem unrealistic," he added.
Challenge of constituency projects
In defense of the alterations, the National Assembly (NASS) stated that: "Adjustments and reductions in the locations, costs and number of projects approved were made in order to address geo-political imbalances that came with the executive proposal.
Despite the defense of their actions, some people are of the view that legislators have turned budgeting to an instrument of blackmail to further personal interests. However, the lawmakers have stoutly defended themselves and sought to justify the alterations. They said the changes were meant to reflect "federal balance".
Oluseun Onigbinde, Lead Partner of BudgIT believes that the biggest challenge to the 2018 budget is the incoming election
"The biggest challenge to the 2018 budget is the incoming election and the reality that most line items inserted in the budgets – either the rural roads, provision of boreholes or "empowerment" programmes written down – will be part of the ongoing practice to use the public treasury to curry favour and buy votes in 2019," he said.
Some commentators have concluded that the alterations have been there for long and have never been for national interest. But because of Buhari's stance, it became more pronounced. For instance, when Dr. Ngozi Okonjo-Iweala, two-time minister of finance, said in her book, "Fighting Corruption is Dangerous," that the national assembly was "bribed" with N17 billion to pass the 2015 budget, some lawmakers  interpreted that to mean bribe was shared among lawmakers, but they knew what she was saying: the executive had to allow the legislature to add that amount to its own budget before the bill was passed. This year, lawmakers added N14.5 billion to the budget.
A recent statement signed by Abiola Afolabi, Communications Lead at BudgIT, observed that  approximately 6, 529 new projects valued at N579.08bn were inserted into the 2018 budget by the National Assembly. Although BudgIT is pleased with the addition of N55.15bn to the health sector under the  National Health Act, its analysis of the inserted projects shows that N63.64billion or approximately 11 per cent of the new projects added by the National Assembly will be spent on various training and capacity building programmes in 2018.
Some of the critical projects removed from the 2018 budget include N200.3 million meant to settle arrears under the national telephony programme, N100 million allocated for the Establishment of an ICT university and the N1.2bn allocated under the proposed budget for the construction of the Zauro polder irrigation project.  Equally shocking is the fact that allocations to over 4,621 projects were reduced by approximately N318.89 billion without citations.