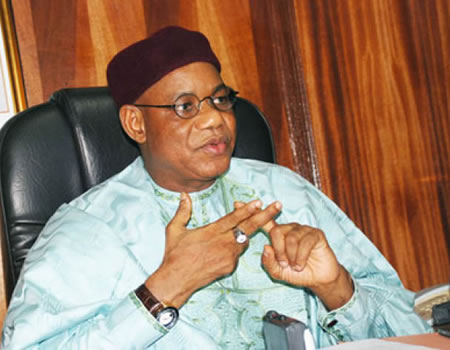 As the Peoples Democratic Party (PDP) explores ways to re-engineer itself following the nearly two years of leadership crisis resolved by the Supreme Court recently, former spokesman of the party, Professor Rufai Ahmed Alkali, speaks on the need for it to be open to members irrespective of their previous affiliation during the crisis. He spoke with a select group of reporters in Abuja. Deputy Editor, LEON USIGBE, brings the excerpts.
What is your impression of the Supreme Court decision to reinstate the National Caretaker Committee of the Peoples Democratic Party (PDP)?
First and foremost, I believe what happened two Wednesday's ago was a great day for the PDP; it was great for Nigeria, for democracy and for the rule of law. You could see that immediately after the Supreme Court passed its judgment, there was a lot of excitement, chest beating and people were celebrating all over and surprisingly not even by the PDP members alone by non-PDP members around the country. It has come at a good time because we have always been saying that in a democracy, there must be choice, people should be given choices. Although there are many other political parties in the country, PDP has been on ground for quite sometime, so allowing it to go down the drain would have been a very big minus to this effort of building structures and institutions for popular democracy in the country. I really believe we have every reason to celebrate the judiciary and also our leaders who stood firmly and followed due process to ensure that justice is done. We also wish to thank our members nationwide most of whom were anxious and confused but now, the future is very clear. This is the time to put our house in order.
The months of crisis have shaken the party to its very foundation. Going forward, what would you advise the party does now to regain the confidence of Nigerians?
I know the party has been going through crises at various times and of different dimensions, but the crisis that the party faced in the past two years has been unprecedented. Since all of us are living witnesses to what happened and how this crisis evolved and led to the recent decision of the Supreme Court, this is the time not necessary for jubilation, but for deep reflection. We have to ask ourselves what went wrong and to also know that it is not over until it is over because in politics, you need at least three levels of victory. You need the legal victory, the political victory and the moral victory. From what I can see now, we have the legal and the moral victory meaning that legally, we have found ourselves in a situation where the highest court in the land has passed a judgment that is very popular among Nigerians and that means that morally, our leadership has managed this situation up to this time and is recognised, legitimate and competent under Senator Ahmed Makarfi and his team, the caretaker committee members. The political victory now is that we have to reconcile because over the past two years, there have been tensions even in the state chapters. There have been a lot of acrimonies and tendencies to cause divisions within the state chapters. I am happy to say that the position of the caretaker committee as articulated by Makarfi that there is no victor, no vanquished, is a very good start. There is need for reconciliation. There is opportunity for accommodation to carry everybody along. But it is not only at the national level, but it should also be done at the state level. We should also avoid those same very issues that led us into this trouble. I don't think I need to restate the popular complaints about our party.
At times, we take things for granted. At times, there are tendencies for exclusivity on position of ideas of certain members. Already, we have lost quite a number of people and I know that with this, if we put our acts together, there are many people who may have left out of anger and bitterness; I believe that they may want to come back. But the challenge now is how the caretaker committee will handle a very organised, transparent and a credible national convention that will carry all the elements along. We don't want to have another fall out after the national convention.
On the Supreme Court judgment, what in your opinion is the best way to bring the Sheriff Group onboard if you were to advise the caretaker committee?
Already, Senator Ahmed Makarfi and other leaders of our party who spoke immediately after the Supreme Court judgment were all on one page that the door remains open and is open not only for Sheriff, but for all members of our party who deserted the party out of anger, frustration and bitterness. That opening of the door is the most important point and I believe that in this process of reconciliation, it is very important that people put Nigeria first and put the party also first. If you are fighting to serve this country, then it doesn't have to be personalised. Whatever happens, there should be only one leader of the party at any given time, but what is important is that everybody should be carried along. I believe that the kind of people we have at the caretaker committee are people who are competent and open-minded because you could see that during the crisis, they avoided as much as possible, to open more ranks of conflict within the party. No matter what happens today, Senator Modu Sheriff will go down in history as one of the chairmen of the PDP. Therefore, he has some positions in the party as someone who has been a chairman of the party. He is a consummate politician and having been a former governor and Senator in the past, he knows what party administration is all about. I think it is a question of making sure that we put our party as the primary concern in order to rebuild it and restore it to its glorious past.
Do we need a reconciliation committee to do this?
The leadership of the party will take a decision and don't forget that the caretaker committee has said that the various organs of the party will be consulted and that include the BoT, the caretaker committee itself, the Governors Forum, the National Assembly Forum and even the G84 which is made up of the chairmen, zonal chairmen, deputies and others. Everybody will be carried along so that they would be working together in tandem. What is important is that in reconciling, there is the need to concede, but don't concede too much to others so that you don't create another problem that would make people to move out. It is a question of give and take and that is my understanding of the process and the essence of politics. Whenever there is a fire in the house, the immediate reaction of most occupants is to run for their dear lives. Some will jump through the windows in case of high rise buildings. The unfortunate consequences often are serious fatalities. The reality is that you cannot blame anybody who runs away from an inferno, but if everybody runs away in this kind of desperate situation, who will stay to undertake the rescue mission? We therefore have every reason to commend and thank all those who stayed behind to rescue the PDP.
Are you not worried that since the Supreme Court gave its judgment, Sheriff has not given any indication that the verdict is acceptable to him? His spokesperson said they were shocked, when asked about the ruling.
Well, I have not read anything like that. In any case, politicians can talk anyhow, but that does not mean they cannot discuss. Like I said earlier, it is PDP first now and so all other personal issues will have to be set aside. Whenever the BoT is going to meet, Sheriff will have his own seat there, when there is NEC meeting, his seat will be there. It is the same when the party is to hold its convention or a caucus meeting. This is his legitimate position and I as far as I am concerned; he already has an advantage in being a member of the various organs of the party. He is an insider, not an outsider.
The Port Harcourt Convention gave the caretaker committee about one year to run the affairs of the party. Don't you think the reconciliation moves you have elaborated upon may lead to the extension of that one year and what could be the implication of this for 2019?
Only the caretaker committee can comment on this and that is why the chairman said at the solidarity rally we had at the secretariat after the verdict that all the organs of the party would be consulted and I believe these consultations have started. After this, a decision will be taken. Some of the issues are not what we would talk about on the pages of newspapers. We have already bitten our fingers; we don't want to bite them further. What is important is that convention has various laws around it including requirement that the party must give notice for a period of time. So, we need to put our acts together, firm up the delegate system because you cannot go to a convention with a lot of acrimonies. We will come up with something that is acceptable to everybody so that by the time we go to a convention; it will be a convention of one family that will come up with a very strong and credible leadership for the party.
What should be the qualities of those to be elected to run the party particularly the chairman and members of the National Working Committee?
It is easy to judge others but in doing so, it is important to remember that one day, you will also be judged. The question is about what the party wants and what the people want. The people want leaders they can trust and have confidence in, a leadership that is open-minded and committed to the ideals of the party, leadership that is strong and virile, leadership made up of men and women of integrity, nationalists who are committed to the future of our country as also to deepening democracy. I think that we have many people who have either held positions before, who are holding positions who are capable of holding any other positions. I think by the time the process of convention starts, the picture will become clearer. But I know that we have credible people who can man the party effectively.
Do you believe that those who defected from the party and are coming back should be trusted to hold sensitive positions in the party?
The party has a procedure. I'm sure that procedure will be followed at every level, not specific individuals, not specific groups. Always remember that when there are congresses or primaries, the party comes out with guidelines. Whatever issue that may arise am sure is captured in the guidelines to make it easier for everybody. The party needs people because it is the people that make the party and not the party making the people. So, I think we should draw a line and move forward.
What lesson would you say are the lessons learnt in the two years of PDP crisis that can now be used to forge a better future?
We'll, I don't know. I'm sure it's not one lesson, not two or three. The lessons that are learnt are many but I think the most important thing is that, in a country like Nigeria, the level of sophistication is very high and the level of expectation is also very high. What can happen in other Africa countries and people gloss over them, when it happens here, it is subjected to a lot of scrutiny. Therefore, like all other organs of government, parties are open to all kind of questions. I believe that the party has done its best in the sense that no matter what happens today, they will say that popular democracy has been sustained through this party system of which PDP is a major actor. The electoral reforms hitherto seen as impossible has also been done in this country which gave rise to all these elections that can come out and be acceptable to everybody.
I think the most important thing is that everybody has to be vigilant. All of us who participated in one way or another, we need to examine ourselves and ask ourselves 'where did we go wrong?' I think every member needs to also look back. It's not a question of blaming each other. It does not serve any purpose. We must look at where we are headed and look at the bigger picture. I believe we should be ready to move up.