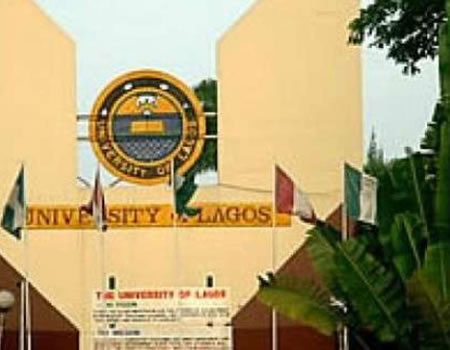 THE Governing Council of University of Lagos, UNILAG, on Monday, said the university would likely involve the police to compel the accuser of Prof Olusegun Awonusi of the Department of English Language of the institution, Miss Joy Nwanna and the publisher of the Linda Ikeji blog, Ms Linda Ikeji, to appear before a fact-finding committee constituted by the university to investigate the matter, and substantiate their allegations and report, respectively.
The university said all efforts to get particularly Awonusi's accuser and convince Linda Ikeji whose website published the news and semi-nude pictures of the don in the centre of the allegation to substantiate their claims, were to no avail.
The Vice-Chancellor of UNILAG, Prof Oluwatoyin Ogundipe, made this disclosure at a press conference at the institution's Senate Chamber on Monday.
It will be recalled that the news of the allegation against the don by his accuser for purpose of awarding her undue marks broke out on Monday, May 29, 2018, while the university constituted a fact-finding panel nine days after, to investigate the matter, the report of which was the subject of the press conference 38 days after.
According to the vice-chancellor, the investigative panel consisted of five professors, three female and two male drawn from different departments in the university has submitted its report and the preliminary findings indicate that the allegation of sexual harassment was not substantiated by the alleged victim or any other person.
"So, investigations are not yet concluded and the university would leave no stone unturned to get to the root of the matter and ensure justice is delivered," the VC assured.
ALSO READ: EFCC taunts Fayose on Twitter, warns of imminent arrest
Ogundipe, however, said Prof Awonusi, who is a former Vice-Chancellor of the Tai Solarin University of Education. Ijebu Ode had appeared twice before the probe panel and also submitted his written defence as a reply to his query on the matter.
He said through him(Prof Awonusi), the alleged victim was equally identified as Miss Joy Nwanna who gained admission into the English Department as a direct student in the 2012\2013 session and graduated from the university in the 2015\2016 session.
"And all attempts to contact Miss Nwanna using her contact details including telephone number and email address as well as those of her next of kin and sponsor in her record with the university proved abortive as all their telephone numbers did not go through.
"The panel also attempted to contact Linda Ikeji to convince the alleged victim to come forward but she was not also forthcoming."
The VC said the absence of inputs from both individuals was not helping the matter.
The vice-chancellor, therefore, urged the press and the public to assist the university by impressing it on Miss Nwanna to come forward to substantiate her claim.
He assured both Nwanna and Ikeji of necessary protection if they should come forward.