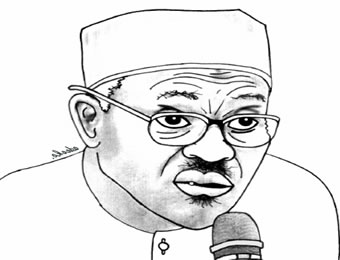 Even crude measurement of the public acceptance of Nigerian Heads of State/Presidents since Shehu Shagari will tell one none of them had anything close to Muhammadu Buhari's. Either real, misperceived or a product of gross national naivety that is flavoured by media overrate and subsequently spread to 180 million Nigerians by exuberant followers, the lanky octogenarian Nigerian leader is profiled as having what many of his ilk grossly lack – contentment.
In a pool of past leaders whose material acquisitions are as expansive as their esophagus, Buhari's lean greed credential stands him out. His perceived integrity during and post-power in 1984 gets him a cultic following. This is in spite of the fact that, if rated on the triple criteria of depth, intelligence and administrative acumen – again, crude statistics – Buhari possesses all in the breach. His rating on these three scores, in statistical terms, is arguably only as lowly as that of Shagari and Sani Abacha.
Even now as hunger wracks the people's bellies, enough for gross rebellion, Nigerians, known for their unstable tendency to abandon an erstwhile beloved leader at short notice, still curiously retain a huge space for him in their hearts. This is despite the fact that economists attribute Buhari's personal laid-back disposition, needless rigidity, more than stark global economic realities, to the current dismal fate of the Nigerian economy.
Taciturn to a fault, Buhari's personal simplicity however demystifies power. In a Nigeria where power wielders flaunt their imperial attires (babanriga/agbada), exotic automobiles and eye-stopping material acquisitions, when one of them (real or contrived) bonds with the poor in their lack, he gets them worshipping him like a god. This, among others, is apparently responsible for Buhari's cultic following.
Now comes his unfortunate health situation. A lot has been said and written about this issue that need not be repeated. Buhari had pleasantly shocked Nigerians upon his return from a prolonged health vacation in the UK on March 9, 2017. Amid the din of obtuse denials of his health challenge, outright spin of falsehoods in defence of it by a combination of Minister Lai Mohammed and Garba Shehu, Buhari had brushed them all aside and told Nigerians he had never been that ill in his life; that he even underwent blood transfusion. He immediately attracted applauses across board. Empathies oozed out for a man who had just acknowledged that he was human after all; a man who had just exhibited the humility that was rare in this part. Nigerians prayed that providence would intervene to set him free from whatever ailed him.  It was a confirmation to the poor that sickness knows no social bounds.
And now, the president needed to go back to the UK. He had hardly gone than a stench of rumour about his state of health began to ooze out of the social media, worsened by Ayodele Fayose's destructive gloats. And in the quest to deflect the arrows, the presidency has shamelessly hit its feet on the stone repeatedly.
The greatest weapon Aso Villa deploys in its attempt to equate Buhari with God who ails not is its disdain for openness. Its decision to frown at the accepted norm of public disclosure by governments all over the world is the culprit. Government officials owe the people a fiduciary responsibility which demands them acting with loyalty and good faith in dealings with the people. Put crudely, the social contract between government and the governed goes thus: in exchange for our free food you eat, our house you live in freely and other perks you gobble, give us openness and transparency. Unfortunately, on Buhari's health, Nigerians have got the converse.
Even when America's Senator John McCain flung the flag of democratic openness by disclosing to the whole world that he was afflicted by brain cancer, Buhari's nocturnes gang still failed to see it. As I write this, no one can say with certainty what ails the president or how close to therapeutic redemption he is. The whole issue about his health is whispered in hushed tones and shrouded like an Italian mafia coven. Asphyxiate truth with lack of disclosure, rumours and fabrications flourish. Thus, Fayose suddenly became a panjandrum, feeding the people with Buhari's health prognosis which he swore bears the label of authorial certainty.
Now, the presidency has resorted to a pristine and fossilised method – apology to Femi Fani-Kayode, another irritant cheaply lionised by the Villa's inane love for the dark – of freighting governors and other clowns to the feet of Buhari in London. It is one of the silliest circuses that can ever be conceived by a human mind.
Apart from the billions of public funds that must have been incinerated in the process of this circus in London – the estacodes, air flights, accommodation and the like – the visits have revealed the underbelly of Nigeria as a colony of apes in whom, from the leaders to the led, there has been a slow transition from their prehistoric ancestors state. Simple openness would have made this reckless burning of public money and shameful pilgrimage unnecessary. Nigeria is at the butt of international jokes as a result of this conclave-like silence from the Villa on Citizen Buhari's health. Issues like this make one lose hope that redemption can ever come the way of Clara Shaw's christened baby.
Unity Schools' cut-off
A federal high court in Lagos, during the week, ordered the cancellation of the cut-off marks for admission to Unity Schools across the country.
When the cut-off marks hit the social media some weeks ago, it became a metaphor for all that is wrong with the Nigerian State. While some states in the North had points as low as 12 to qualify them for admissions into the schools, a state like Ogun had as high as 65.
Now, don't let me profess any ignorance of the Federal Character principle enshrined in the 1999 Constitution. Indeed, before now, states in the north were considered educationally disadvantaged and thus had very funny cut-off marks as entry criteria to many federal establishments and schools.
This policy has been criticised over and over again for its reductionism and its spit on the principle of equity that will automatically encourage good governance. First, it gives students from these so-called disadvantaged states a leeway for indolence while states from the considered advantaged states had the opportunity of never resting on their oars. However, with the implosion in schools admissions all over the southern states, what it meant was that many very good students would fall by the wayside while dunderheads from the so-called disadvantaged schools would have easy entrance.
No nation built on inequality of this mould stands. What strikes this writer as ingenuously silly is that, the North wants federalist recognition of the limitations of each of its states/region in admission policies like this but when it comes to recogniSing the limitations and strength of each state and thus, encouragement of their development along this line in governmental administration as stipulated by federalism, they buckle and cry foul. What a Janus!
Apostle Fayose's homily
No matter how irritating he may sound, Ekiti State's helmsman, Ayodele Fayose, like Abulu in Chigozie Obioma's The Fishermen, surely has moments when his words and actions look like homilies from the pulpit. Take for instance the graduation of his son from the Covenant University, Ota, Ogun State recently. When you compare this commendable score with the gale of graduations of children of his contemporaries and even President Muhammadu Buhari, from foreign universities, you cannot but take Fayose's preachments seriously.
Funnily, they mock us with graduation photographs of this socially reprehensible act of sending their children to universities abroad while under their watch, our universities decay. One cannot but notice the dysfunction here. Only recently, the media was regaled with photographs of the son of the Senate President, Bukola Saraki, graduating from a high-profile university abroad. Photographs of President Buhari's children had hitherto dominated media space. If you take a census of men in power with children in Ivy League universities abroad – which don't come cheap – you would discover that it has become a Nigerian elite pastime and fad which infects them like a pestilence.
The lesson from Fayose, which this writer thinks is incontrovertible, is: how can you sell a food to hundreds of people which you and your household don't believe in and won't touch poles off? How can you claim to be giving our children "quality education" which you consider poisonous to your own children? If the president, governors, ministers, senators and the like have their children in the daily system-raped and ravaged Nigerian universities, do you think those universities will be in the sorry pass they are in today?
Wrath of girls
In the words of Marxists, when a situation is getting to the level that Nigerians today find themselves, such social conflict is sending a signal that an end is near to the clash of social forces. Some simply inconceivable things would begin to happen. Morality, of course, is the first casualty of such clash and a survival of the fittest will rule.
Nigerian prostitutes – never reckoned they had an association, the Nigerian Sex Workers Association! – demonstrated this last week. Rising from their meeting, the National Coordinator of the association, Amaka Enemo, had reportedly asked government to legalise the trade. Her argument, powerful as it sounded, was that if the trade was legalised and sex liberalised, there would be a significant reduction in the high incidence of HIV/AIDS.
For years, this crop of committed service providers had carried on their trade in cognito, helping to relieve the stress of public officials and other professionals for pittances. Reputed to be the oldest profession in the world, Dr. Saheed Aderinto, in his book entitled Sex and the Nigerian State, had revealed that sex navigated Nigeria's pre-colonial and post colonial frontiers, giving copious details of how sex workers pervaded, especially pre-colonial Nigeria and their brushes with the law.
Pray thee, who speaks for Enemo's contemporaries in Nigeria's higher institutions, the many of our children who have become sex workers at night and studious students by the day? For the reality is that, the parlous state of the economy has turned thousands of our children to contemporaries of Enemo. The unspoken worry of the association must be that its members are facing very stiff competition and their age-long monopoly of over a century being peremptorily broken by our daughters who are unceremoniously barging into their province and creating trade glut.
Lest I forget, how come Enemo didn't see the paradox in that governmental non-recognition of the association had gone on for this long even when government runners are patrons of the trade? The patrons who explore their flesh for fees – especially the campus variants – are most times the lawmakers themselves and top government officials who use them to entertain their guests and satisfy voyeuristic pleasures. But again, Marx tells us that the end is nigh…
Spat in the Delta
Former governor of Delta State, Dr. Emmanuel Uduaghan and famous Nigerian economist, Dr Pat Utomi, have been engaged in a funny tiff of recent. And the narratives of their exchanges have been amusing. While Uduaghan told Utomi to seek to contest for election as a councilor so that he could understand that politics goes beyond the vacuous lines of academic theories and cheap media display of answers to knotty political problems, Utomi fired a riposte, claiming that even a councilor would do better than Uduaghan's fare as governor for eight years.
Uduaghan claimed Utomi, who was the last Chairman of Volkswagen in Nigeria, eventually superintended over its unfortunate interment and should explain what moral right he had to whip anyone for failure. Utomi also claimed that the N600 billion debt that Uduaghan left as governor for his successor was a mirror of how people in government ran Father Christmas with public funds.
Now, while the reason for this engagement may be murky, the narrative has provoked some interesting issues of discourse. They should interest the people of Delta State and Nigerians in general. While not encouraging the two gentlemen to exchange physical cudgels, it would be good to invite them to a public forum to ventilate, under an atmosphere of a coordinated intellectual exchange. At the end of the day, it may become obvious to the people that they had been venerating villains and dressing them in borrowed robes all this while.