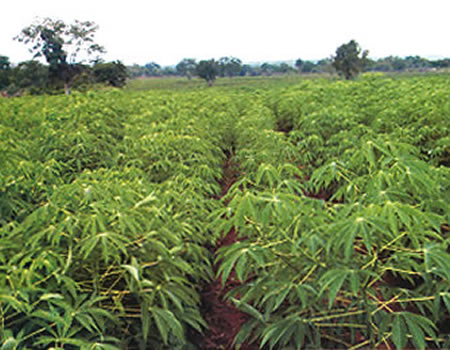 Scientists and officials from Cornell University and the Tanzanian Ministry of Agriculture officially inaugurated the second phase of a project with targeted at revolutionizing breeding programs and agriculture in Africa through cassava.
"Another five years will help us strengthen the long-term global sustainability of cassava — a crop important for food security and predicted to stand up to climate change and extended periods of drought or rain," said Ronnie Coffman, international plant breeder and director of Cornell's International Programs in the College of Agriculture and Life Sciences who administers the Next Generation Cassava Breeding Project (NextGen Cassava).
"We have the next five years to be very courageous in delivering best bet varieties resilient to major diseases for African farmers," said Chiedozie Egesi, project manager for NextGen Cassava. "Cassava can be the engine that will revolutionize agriculture in Africa."
Cassava which is widely considered as a 'poor man food' may seem an unlikely focus for a flagship project, is the fourth most consumed staple in the African continent after maize, rice and wheat. Yet it is exactly in this gap of knowledge that the possibility for innovation exists.
In the first five years of the project, funded by a grant from the Bill & Melinda Gates Foundation and UK aid, NextGen Cassava researchers and partners made major strides in understanding cassava's genome and flowering, shortened the time to develop new cassava varieties from eight years to five, identified user preferences important to men and women to incorporate into breeding targets, and established Cassavabase, an open-access database for cassava genomic information.
In the second phase of the project, greater emphasis will be placed on delivering improved cassava varieties to smallholder farmers and end-users throughout sub-Saharan Africa. The first varieties from NextGen will be available to farmers in Nigeria within the next 18-24 months.
"A key goal in Phase 2 is to identify traits important to a diverse range of users–including women and marginalized groups–and to engage farmers as research partners to breed new varieties that are adopted and equitably impactful. It is to everyone's benefit to hear women's voices and tap into their knowledge about product quality to breed better cassava for everyone," Coffman said.
"I consider this a very important investment for the people of Tanzania, Nigeria and Uganda, especially the farming community," said Dr. Mansour Hussein, director of R&D at the Ministry of Agriculture in Tanzania. "I believe the approach taken by NextGen will ensure that the concerns of farmers will be addressed.
Like many African countries, agriculture plays an important role in Tanzania's economy, employing over 75 percent of the country's workforce and accounting for 25 percent of the National Gross Domestic Product. Cassava's contribution to this sector is limited by lack of access to disease-free planting materials, use of poor farming practices, high post-harvest losses, and low-yielding varieties.
---
---