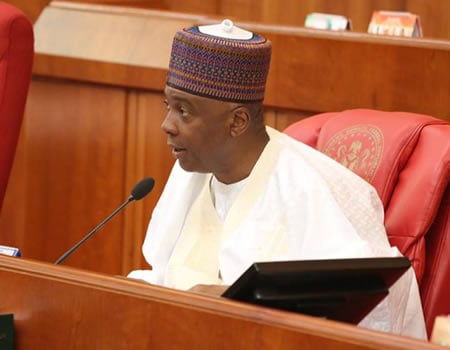 The office of the Senate President has sacked and redeployed a number of legislative aides attached to the office.
Special Adviser to the Senate President on Media, Yusuph Olaniyonu said, however said on Thursday that the exercise, which actually started some four months ago, was aimed at ensuring effective service delivery by the office.
Olaniyonu discountenanced insinuations that the redeployments and sacks were targeted at aides inherited from the administration of Saraki's predecessor, Senator David Mark.
A number of the affected aides were Staff of the National Assembly who were deployed to the office of the Senate President, while some others were engaged outside the National Assembly.
The affected Staff of the National Assembly have been redeployed to the Legislative Bureaucracy it was confirmed.
Earlier this year, the Senate President had directed a staff audit of his office and issued letter of disengagement from service to the affected staff who were asked to wait till May for the verdict of a review committee.
Among those affected was the Director of Protocol, Arthur Ndiwe who served in similar capacity under Senator David Mark for eight years and resumed with Saraki in 2015. The Head of Administration in the Office of Senate President, Mrs Folashade Adigun was also affected by the review and has been redeployed to the National Assembly Bureaucracy.
While clarifying the development, Olaniyonu said that the sack affected both inherited staff of the office and those appointed by Saraki.
According to him, the move was aimed at enhancing service delivery and efficiency in the office.
He said: "The restructuring that has just taken place on the workforce in the office of the Senate President  being reported as mass sack in the media,  was meant to re-position the office for service delivery the outcome of which has affected three categories of staff in different ways.
"The first category are those that have been found capable and competent to continue with their job like all the entire members of the media unit.
"The second category is for those earlier seconded from the National Assembly bureaucracy to serve in the office of the Senate President but now directed to go back to their civil service job like the head of Administration, Mrs Folashade Adigun.
"The third category covers those whose services within the last two years were not all that satisfactory in the eye of the committee set up by the Senate President to carry out the repositioning exercise of his office."
It was gathered that no fewer than 80 percent of those affected were inherited staff who were issued letters from the office of the Chief of Staff to the Senate President, Dr Hakeem Baba-Ahmed.