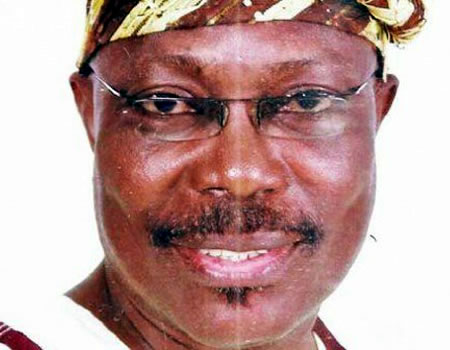 THE crisis rocking the Lagos State chapter of Peoples Democratic Party (PDP) took a new dimension on Monday as chairman of the party, Hon. Moshood Salvador formerly dumped the party for the ruling All Progressives Congress (APC), saying he could no longer stay in the same fold with the former Deputy National Chairman of PDP, Chief Olabode George, who he said had been frustrating all efforts he had made to grow the party ahead of 2019.
A PDP chieftain, Prince Adeniyi Aborishade, who was chairman of the party in Apapa, lost his life on July 21st, 2018 at Igbokusu in Lekki during party meeting held in the area by Salvador, precipitating crisis in party and leading to arrest and detention of Salvador before he was finally discharged based on advice by the Lagos State Director of Public Prosecution.
Salvador made this declaration in his private residence in Surulere, in the midst of his teeming supporters that had come to urge him to dump PDP for APC as they also fingered George, saying he remained the clog in the wheel of progress for the party in Lagos.
But earlier, in the day Chief George; the party's Board of Trustees (BoT) member, Dr. Remi Akitoye; former Lagos State deputy governor, Senator Kofoworola Buknor-Akerele, including Madam Silifat, wife of slain Chairman, Apapa chapter of PDP, Prince Adeniyi Aborishade, among had at a press conference fingered Salvador in the death of Aborishade, calling on IGP, Ibrahim Idris and the Attorney General of the Federation to probe vigorously into the circumstances and the culprits and their sponsors that killed Aborishade.
At the conference, with the title: "Who Killed My Husband? Aborishade's wife cries out," which took place in Ikoyi, where a video clip of what led to the killing of Aborishade was shown, George said Nigeria is a society of law and order, contending that protecting lives of individuals must be sacrosanct else life would be short and brutish like Hobessian State of  anarchy.
"The family of Aborishade has justifiably internationalised this issue. The United Nations Human Rights Commission is being notified. The International Criminal Court at The Hague is equally being addressed to help keep a proper watch on the proceedings," George said.
Addressing journalists, the PDP chairman, who promised to decamp to APC on Monday with 50,000 members, denied that he knew anything about how Aborishade was murdered that fateful day, maintaining that he had to be rescued from the scene by men of Civil Defence, while he even lost one of pear of his shoes.
"How can they now be pointing fingers at me that I knew about how Aborishade died? The Civil Defence men whisked me away from the scene that day, I even lost one of my shoes.
"Let them show the video if they have any, they are all lying. Now we will let them know that he (Chief George) is the real problem in Lagos PDP," he said.
Salvador, who said he was not happy abandoning the work he had started, lamented that George as leader of PDP was unappreciative of all the efforts he had put into party, including his personal resources which he could not quantify, declaring that it was better for him now to go to a party platform where "our work would be appreciated."
The party chieftain equally said he had grouse with the PDP leadership in Abuja and its zonal leadership, disclosing that it was only this morning, Monday that the PDP National Chairman, Uche Secondus and others would deem it fit to call to inquire whether he was contemplating dumping PDP.
According to him, throughout the three weeks he was in jail over Aborishade's murder and since he was discharged, none of them ever deemed it fit to have any contact with him or his family.
"It is not possible for me to be in the same party with Bode George in Lagos PDP, National should be more serious with Lagos," he vowed, declaring that doing so would be like pouring water in a basket.
"I have to run away from him because somebody who can rope you in the murder case if he sees you in the dark, he can kill you. Come to Agege Stadium on Monday, you would see more than 50,000 members moving out of PDP with me.
"The people were the ones that called me to leave the PDP since the party don't appreciate my good deeds," he said.
Responding to a question, Salvador, who recalled that APC came with highest figure in the 2015 governorship poll in Lagos, followed by PDP with all other parties scoring barely one per cent of the votes, said he decided on APC because that was where his people could earn a better living and get employment.
"I have to take them to where they can have life, where they can have jobs, it is APC," he said.
Addressing the press, George, who described Aborishade as a consistent conciliator, who would not hurt a fly, lamented that there was something terribly disturbing about the country's justice system.
According to him, the rule of law is now being distorted, savaged, abused, treated with contempt, trampled upon with callous indifference, saying that "There was palpable uncertainty everywhere as no one is sure when and how right prevails over the festering wrongs, and how and the scale of Justice prevails in sweeping latitude."
"This cannot continue. The rule of law is the very pivotal balance of the justice system. It is the primary anchor that holds democracy together.
"Without the strict adherence to the sacrosanct largeness of the rule of law, without the natural guidance of the enlightened spectacle of societal thematic truth, we are all endangered, democracy itself becomes wobbly, teeters upon the cliffhanger of ruin," George said.
The PDP chieftain said he was much concerned with Aborishade's death and should also "concern all progressive and enlightened citizens," recalling sadly that it was exactly 12 years after another party chieftain, Funsho Williams, was equally murdered on July 26th, 2006.
"Alas, see what they did to a peacemaker! He was murdered by evil men with premeditated devilry in their hearts. In a cruel, horrible coincidence, Aborishade was murdered exactly 12 years after the Omoluabi Eko, Funsho Williams was equally murdered on July 26th, 2006. The killers of Williams are still unknown. But they can never hide forever. The law of karma may be slow, but sooner Justice always catches up.
"The murder of Aborishade is no less devastating. The pains are still fresh. The wounds are still raw and bitterly sore," he said.
While situating the circumstances that led to the unfortunate death of Aborishade, Chief George said: "Well, the following are the known and established facts in which hundreds of witnesses are all infirm, undisputable agreement. On July 21st, 2018, all PDP Local Government chairmen paid a pre-election, awareness visit to Epe and later to Ibeju-Lekki.
"At these two places, there was an effective and adequate police presence. The chairman of the party Mr Moshood Salvador equally graced the aforementioned places.
"The last port of call later in the afternoon was at Igbokusu in the Eti-Osa Local Government For whatever reason there was no single police presence at Igbokusu, a glaring security aberration which no doubt created a security breach that allowed the murderers of Aborishade to easily and blatantly carried out their apparent premeditated and dastardly act.
"We all live in a virtual digital world where nothing escapes the omnipresence probing and intrusive ubiquity of our phone cameras and videos. I want to pause briefly here and play a short 4 minutes recording which captured the sad degeneration of a peaceful assembly into a mayhem and a horrific murder.
"They say pictures don't lie and that they tell a thousand stories. If that is true, videos even tell more gripping stories.
"As you watch, listen carefully to some striking voices and to some declarative, troubling questions.
"We have watched this ominous video now! what do we come up with? I heard a voice as you must have all heard the same voice which asked with cockish, absolute assertive query: 'Vicky where are the boys?' And then, there was another one in Yoruba 'E ma je kon lo o! "Don't let them go!'
"You do not need to be a rocket scientist to deduce the dark ominous instigations of those queries.
"I am not a voice analyst. I am not a forensic investigator. The police have the tools to unmask the person whose voice resonated in obvious sinister directives.
"In the malice that ensued, hundreds of witnesses saw how Aborishade who was a big giant of a Godly man, tackled to the floor, pinned down by several men, held down viciously and then with all his limbs and body virtually chained to the dirt floor, then one of the murderers fired at point blank range to his kneecap, shattering his limbs in a massive, irreparable damage to his kneecap.
"According to witnesses, for more than ten minutes, the gunmen stood over the prostrated body of a vastly mutilated writhing frame of Aborishade, threatening to kill anyone that dared to come to assist the dying man. Callously prompted by murder, instigated by sheer malignity, overwrought by pure evil- right there in broad daylight, the deranged murderers watched Aborishade bled to death like some ghoulish vultures."
"Who brought the thugs to the scene? Who took them away after the murderous evil?" he queried.
George, while saying that he agreed with the DPP that the police should continue their investigation to unearth the murderers of Aborishade, however, noted sadly "that the police in Lagos State Command is not the fit and proper organisation to carry out any conclusive, unbiased investigation in this issue."
He, therefore, called on Inspector General of Police and the Attorney General of the Federation to set up an impartial Special Investigation panel to probe into the circumstances and the culprits and their sponsors that killed Aborishade, even as noted that the family of the slain PDP chieftain had justifiably internationalised the issue.
ALSO READ: Salary crisis: Ekiti NLC, TUC place 10-year ban on ex-leaders Aluko, Olaiya
"The United Nations Human Rights Commission is being notified. The International Criminal Court at The Hague is equally being addressed to help keep a proper watch on the proceedings.
"We are appealing to the Inspector General of police and the Attorney General of the Federation to set up an impartial Special Investigation Panel to probe vigorously into the circumstances and the culprits and their sponsors that killed Aborishade.
"We live in a society of law and order. Justice is the first pivotal organ of all enlightened societies. Once the State cannot protect anyone of us, whether big or small, there will be a gradual degeneration into the  Hobessian State of anarchy where "Life will be short and brutish.".
"We must all speak up for Aborishade. Our silence will be complicitous. We all now live in a global village. From vast Tundra of Russia to the plains is Serengeti, nothing could be hidden anymore. Everyone is now accountable to the court of international opinion. There are sanctions for all our actions
"Finally, I want to use this occasion to launch a Memorial Trust Fund for Aborishade so as to ensure that his family will never be abandoned and that this good man did not die in vain. I am also using this opportunity to ask all Good men women, regardless of party affiliation to contribute to this worthy cause," Chief George said.