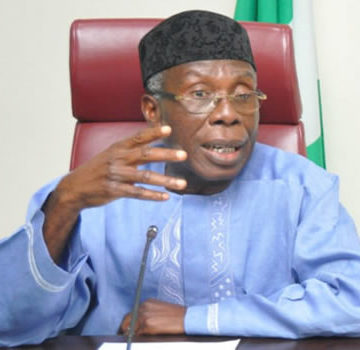 THE Minister of Agriculture and Rural Development, Chief Audu Ogbeh on Wednesday evening said that in six months time, Nigeria will cease from importing rice to satisfy local demand, as rice production in the last two and half years has improved.
Ogbeh who disclosed this while receiving the Governor of Plateau State, Simon Lalong in his office in Abuja, said rice production has increased from 5 million tons of paddy to 17 million tons of paddy in the past two and half years.
According to him, "If we can beat our chest a bit since we came in 2015, we have moved rice
production from 5 millions tons of paddy to 17 million tons in 2 and half years.
"And it is because the President led the way and the Central Bank of Nigeria (CBN) joined hands in the Anchor Borrowers Programme and got money to the farmers at 9 per cent interest rate.
"A total of N43 billion was loaned out to farmers, and 293,000 farmers borrowed the money and they produced rice which sold for N193 billion. You can imagine an investment of N43 billion, yielding N193 billion.
"If that is done in 2 years we have another 3 or 4 months, maximum 6 months to run, there will be no need to import rice because what we eat in Nigeria is 7 million tons for now, the number is rising because our population is growing at 3.5 per cent, 1 million tons will fill up 33,000 trailers."
Ogbeh, however, said soon, with the structures in place and how rice production is growing in the country, Nigeria would commence exportation of parboiled rice to Liberia, Ghana and Sierra Leone.
"Also, Liberia, Sierra Leone and Ghana will soon be needing parboiled rice from Nigeria, the rest of West Africa eats white rice, it is only the Anglophone that eats parboiled rice, and very soon they will find it easier to buy it from here than Thailand, so we are getting there," Ogbeh added.