Reps demand reciprocity over recurring attack on Nigerian embassy, staff
• Direct Minister to seek redress at International Court over breach of diplomatic relations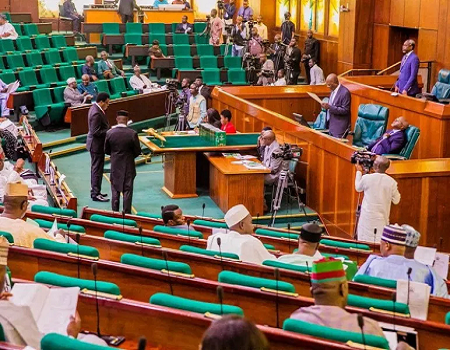 The House of Representatives on Tuesday called on Federal Government to reciprocate in similar measures the recent demolition of Nigerian Embassy staff quarters in Accra, Ghana.
The Speaker of the House of Representatives, Hon. Femi Gbajabiamila and other lawmakers stated this during the interactive session with the Minister of Foreign Affairs, Mr Godfrey Onyema on the recent attack of Nigerian embassy staff quarters while frowning at the recurring cases of attacks on Nigerians and the complacencies of Nigerian authorities towards protecting the sovereignty of Nigeria's territory in other countries.
The Minister who said that he had summoned the official in charge of the Ghanaian embassy, noted that the Ghanaian authorities have shown total contrition, and demanded that measures be taken to address the menace.
Mr. Onyema explained that the Ministry is at the verge of establishing the legal ownership of the affected property, adding that Nigerian delegation has gone to authenticate the status of the property at the Ghanaian Land Registry, adding that steps are being taken to develop on another property which was allocated since 1960 for 30 years lease, which has elapsed.
On the issue of the Nigerian traders, he noted that a legal provision was enacted on foreigners involving in retail trade, adding that the law was in conflict with the ECOWAS Convention on the free movement of goods.
In his reaction, the Speaker who argued that the recent attack has gone beyond land dispute maintained that it was a deliberate attack on Nigerian state, hence the need to take punitive measures to forestall reoccurrence in the future by taking the case to the international court of jurisprudence.
Some of the lawmakers, who expressed displeasure over the ugly incident, including Hon. Aisha Bukar, Hon. Shaba Ibrahim, among others, observed that Ghana which has 50 years lease on the land, should reciprocate the 99 years lease adopted by Nigeria on any property, adding that such issue may snowball into a conflict between Nigeria and Ghana.
They further observed the closing of the border was responsible for the untoward treatment against Nigerians by the neighbouring countries, just as they called for an immediate review of Nigeria's foreign policies.
In his remarks, Hon. Gbajabiamila argued that the era of sending letters of apology has gone, adding that there is need for Nigeria to adopt an aggressive approach in addressing the sour treatment being meted to Nigeria and its citizens by the Ghanaian authorities and its nationals.
The Speaker who observed that even during rivalry, there is a line that should not be crossed, unveiled plans to interface with the Speaker of the Ghanaian Parliament in the next 24 hours, with the view to address the perennial attack on Nigeria, stressing that: "If they get away with this, this time, it will happen again."
He said: "We all have the responsibility to make sure that we uphold, very simply, the honour and glory of the country we serve. Honourable minister, let me commend you for your efforts so far; what you've done and what you've been doing. I think we should look at this thing from the premise that the Nigerian state was attacked. It was not a building that was demolished, no; the Nigerian state was attacked.
"I think if we look at it from that premise, we will begin to understand or underscore the importance or gravity of what we are dealing with. In terms of immunity and inviolability, in terms of diplomacy, it also extends to property. We are not just talking about the states. It is trite that the embassy of any country is actually the state – a sovereign location in that particular foreign country.
"That is why if there is any problem in Nigeria today, all the Americans will run to the American Embassies to seek shelter because you cannot even move near there. So, from that point of view, we need to address this in that context that Nigeria was attacked. I'm not interested in the land dispute, it is not an ordinary land dispute. It is not! It has now metamorphosed into a dispute between two countries, not by landowners.
ALSO READ: Court remands husband, one other, over alleged murder of mother, daughter
"The question I want to ask is this: if, peradventure, for argument's sake, it was the US embassy that was demolished in Ghana, do we think the US would be talking about an apology or 'we will look into it'? I want to know. Assuming the US embassy was demolished here in Nigeria…in Abuja, or the UK Embassy or – don't let us mention only the superpowers – any developed country or the US embassy was attacked by Canada, their neighbour, is the US going to fold their arms and be diplomatic in language or subtle in their approach? Or assuming the English embassy was attacked by Scotland, their neighbour.
"It underscores the point that makes it even worse when we were told that this is the second term it is happening. It happened the first time and they got away with it. And of course, they did it again. If they get away with it this time, they will get away with it the third time. It is just a human behaviour. So, we have established a pattern and what we get is an apology and 'we will look into it.' I don't think that should suffice at this point. I have tried to get in touch with him and I will get in touch with him in the next 24 hours – the speaker of the Ghanaian parliament – because it concerns him as much as it concerns me. However, the way we are going to do it, we must put a stop to what has become a recurrent decimal or perennial problem between Nigeria and Ghana.
"This is like sibling rivalry between two sister countries, but even in sibling rivalry, there is a line you just don't cross and they just crossed the line the second time. What are we going to do about it? I didn't know that there is something called 'Non-Citizen Card' in Ghana. If you are a non-citizen, you have to carry the card. And there is a speculation that it was actually systemic and directed at Nigerians because we have about two million Nigerians there. That seeming innocuous policy is actually aimed at Nigerians.
ALSO READ: Buhari to flag-off $2.8bn Ajaokuta-Kaduna-Kano pipeline project by June 30
"So, we need to begin to peel off those layers, to know what exactly Nigeria has done and what exactly is going on. I came in at a time when the honourable minister was talking about court processes and Ghanaians looking into it; I think this had gone beyond court processes. If we have established that this is a dispute between a landowner and a country, it is actually demeaning to Nigeria. If we can agree that this is a dispute between two countries – because that embassy represents Nigeria, whoever did that did it under the colour of law. So, it is between Nigeria and Ghana.
"Will the proper forum for dispute resolution be a Ghanaian court? So, if we can establish the fact that this is an international dispute and under international jurisprudence, I don't know if we should be looking at the UN or ECOWAS. I am yielding that to you. That is the kind of forum we should be looking at because, invariably, if Ghana has a problem and they are operating through subterranean moves, what do we think the outcome of the legal proceedings would be?
"So, I think we should pursue it from that angle. I think we should make it clear to the authorities in Ghana that Nigeria is not going to sit down and fold its arms. Reciprocity is a legitimate instrument in foreign relations.
"For you to now, without any fear for a country like Nigeria or any country – even the smallest country – go under when the cover of a night when police did not come and nobody showed up and demolish the place, it shows high disrespect for the country. And that is why we are here to uphold our honour and glory. That is what we are here to do unless we have become a sleeping giant and laughing stock. South Africa did it, Ghana did it, tomorrow it may be the turn of Uganda, the next time it may be Ethiopia. And what do we do, because of the gentleman that we are as a country?
"Or we continue to send letters and demand apologies. I want us to go on that premise. Let us be a bit more stern and aggressive in our approach. The days of being or trying to be diplomatic and a gentleman, I think we should put that aside, especially because it is the second time that it is happening. You can excuse the first time but when it happens the second time, then something stern needs to happen. The House is here to back you up, Honourable Minister, on whatever we need to do or needs to be done. We are beyond ownership; that place belongs to Nigeria; that is Nigeria. If anything happens in Ghana today, that is where we expect Nigerian citizens in Ghana to run to," the Speaker noted.