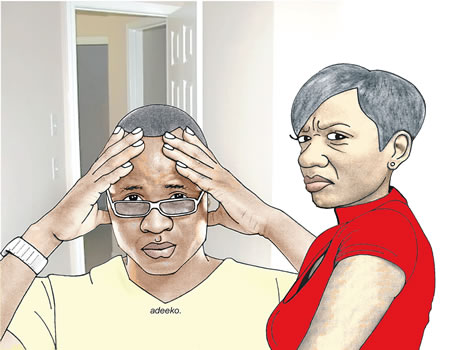 "I shoulder all my husband's responsibilities in the home, but he expresses his gratitude by descending on me with heavy blows. He has ceased to be a good example to our children because he is a habitual liar. I'm fed up with our relationship, "Olamide Oyeniran stated.
Femi Oyeniran  spoke forth, "I'm also no more interested being married to a covetous woman. She compares me with her friends' husbands living abroad. I have told her repeatedly that I won't live above my means and won't steal. If she's insisting on leaving me, then let it be."
Olamide had filed a divorce suit  at Oja Oba/Mapo Court C Customary Court, Mapo, Ibadan, Oyo State, claiming that her husband had failed in his responsibilities as head of the home and breadwinner.
She added that the only way he proved to be a man in the home was by beating her. She told the court she was tired of living with her husband like cat and mouse.
"I daily combine the dual role of a breadwinner and help-meet in our home all because my husband has never been there,  "Olamide told the court.
"He was unemployed when we met and he impregnated me. I was the one running the home from my purse. I helped him in getting an employment, but he refused to be faithful and committed to me and our children.
"I bought all the necessary things for our first child when I was about having him. He, likewise, contributed nothing while I was preparing for the coming of our second and last child.
"He finds it difficult paying for the children's hair cut not to mention feeding or clothing them. I'm the one training our children in school while we both contribute money towards the payment of the house rent, "the plaintiff told the court.
"He's a habitual liar. He lied to me when we met he was single, but I later discovered he had had two children from two women. When he started working, he came home with the first two months' salary, after which he started lying about the subsequent ones.
"He lied that his third salary was taken from him by armed robbers at gun point, while the fourth was delayed in being paid.
"Whenever we have a misunderstanding, rather than finding a way of settling it, he will descend on me with blows. He beats me almost every other day.
"He has betrayed my trust in him. I'm, therefore, no more interested in our relationship. I pray the court to please separate us and grant me custody of our three children, "she stated.
Femi conceded to divorce but refused that his wife has custody of their children.
He told the court, "I accede to divorce, but refuse that my wife has custody of our children.
"My lord, it is true my wife stood by me when I had nothing and I was feeding from hand to mouth, but she later betrayed the confidence I had in her.
"We both paid the rent of the one-room apartment we are presently living, but I'm responsible for our children's education. I hand over their fees to her for payment.
"It's true we fight, and what we often fight over is food. Every time I give her money for foodstuff, she will refuse to go to the market to purchase them. Despite giving her feeding allowance, I still buy foodstuff through the provision made for staff at the office while the cost is deducted from my salary.
"Despite all my efforts to see to her welfare and that of our children, she always refused to cook for me. She told me it's not convenient for her to look after three children and still cook.
"My lord, she didn't say the truth about what caused our last fight. She started coveting her friends' lifestyle. Her friends have husbands who are living abroad and who send them pounds and dollars on a regular basis. She actually wanted me to start living a false life by living above my means which I objected to.  We had a hot argument which ended in a fight."
He went on, "She brings in her friends children to sleep in our room in the night and any time I request that we have sex, she will use the children as an excuse. According to her, the children will be watching us.
"She always picks a date and time we will have sex, "the defendant said.
The court president, Chief Ademola Odunade, after listening to the duo observed that the issue brought before the court wasn't compelling enough to  merit divorce. According to him, what both parties needed was proper counseling.
He thus moved to adjourn the case for possible out-of-court settlement by the couple.  But the plaintiff vehemently stood against this. She prayed that judgment be given.
Ruling, Odunade dissolved their marriage and gave the plaintiff custody of their children.
The defendant was mandated to pay N6.000 monthly through the court as their children's feeding allowance and be responsible for their education and health care.