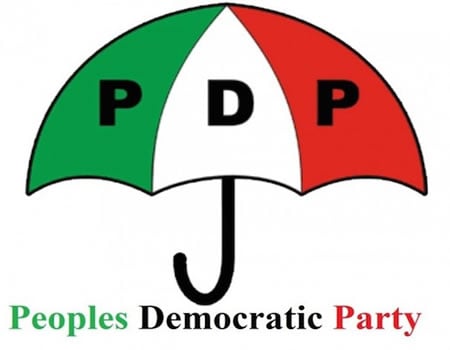 LEADERS of the Peoples Democratic Party (PDP) have not shown that they are strong, clear and decisive in their policies.
What the PDP needs now is to  restore the influence of the party to the whole country. But the members have chosen to be a force de frappe in the South-East and South south.
What are the goals of the PDP  in opposition? What does it seek to achieve? No party can survive without clear-cut goals.
Some strategists of the party are making plans for the general election in 2019. How they miss the mark.
Politics is not only about winning general elections but about propagating easy-to-understand philosophy to the people, creating people friendly policies and promoting a political culture to secure a national majority.
A new PDP must be created. Away with the old. The old hasn't passed the test of credibility necessary to win trust and elicit support from the masses.
It is incumbent on the party to recruit party men with unimpeachable character to lead the party, men of integrity who would be accepted by all without protestations.
They need to rebrand the party. The new leaders of the  PDP need to travel the Nigerian route with a clear purpose to promote party interests.
The PDP needs to be humble, to sell policies aligned towards political integration, as well as  economic and social integration.
The way to get the needed prestige is to win the jousts of ideas and philosophies against the All Progressives Congress (APC) in a very clear manner and in a Churchilian way.
They must work with seriousness of purpose, so as to take the masses that they took for granted seriously; to  understand these masses and build a strong relationship with them for the future.
Nigeria cannot afford to be a one-party state. In Africa, most rulers of one-party states don't  bother to see the  opposition as major stakeholders in the democratic project.
The arrogance is encouraged by the fillip that they will continually return to the Peacock Throne.
Politics is a profession of disagreement. Unfortunately, there are only a handful of politicians with conviction in Nigeria.
Nigeria's national political path is stormy. Administrators must rise to the occasion and steer our polity to life.
A nation cannot move forward if the city of man continually row without synergy.
Without the power of conviction, men become slavish mercenaries on earth.
After all politicians love to describe the beautiful as ugly and the ugly as beautiful. They consciously promote  truth as lies and lies as truth.
It is only by making sensible decisions together by working for national not selfish interests that geographical spaces can be reshaped for the future.
Rivers State