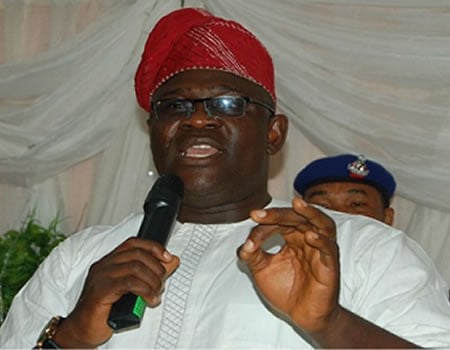 Speaker of the Oyo House of Assembly, Honourable Michael Adeyemo is dead. Some members of the House of Assembly confirmed this to  Tribune Online, on Friday.
Shock, disbelief, tears, forlorn faces and nostalgic tales greeted the news of the death of Speaker, Oyo House of Assembly, Honourable Michael Adeyemo on Friday morning.
Adeyemo slumped and died following a heart attack he suffered at his official residence, Ibadan, not long after he spoke over the phone with his wife and three boys abroad.
Adeyemo, aged 47years, died on the way to the Jericho Specialist hospital, Ibadan while his body was deposited at the morgue of the Department of Anatomy, University of Ibadan.
Family members, friends, members and staff of the Assembly, who stood in twos and threes around the morgue and House of Assembly, expressed shock at the ephemeral nature of life, noting that Adeyemo was boisterous while presiding over the last plenary of the Assembly held on Tuesday, and adjourned till May 3.
ALSO READ: Oyo govt declares 3-day mourning for late Oyo Speaker
A look at the Facebook wall of Adeyemo over the course of the past one month showed reflective posts like, "It doesn't matter where you've been, what matters is where you're going", "Be thankful you're still breathing because someone out there just took their last breath", "God you know my situation and you know I can't make it without you know I can't make it without you", "Thank you for always being here by my side throughout all", "The simplest way to stay happy is to let go of everything that makes you sad".
Speaking at the Department of Anatomy, the University of Ibadan, deputy Speaker of the Assembly, Honourable Abdulwasi Musah disclosed that Adeyemo spoke over the phone with his wife and children, this morning, just before he slumped at his official residence.
Musah, who spoke with intermittent sobs, decried that Adeyemo's loss was another calamity that followed the loss of a lawmaker, Honourable Gideon Aremu to gunmen, on July 2, 2016.
"It's a big blow to us. It happened when we least expected. Ever since we lost one of our members in 2016, we do pray to God to avert this kind of calamity before the expiration of this Assembly.
ALSO READ: Death of Oyo Speaker, a rude shock ―Osun Assembly
"We spoke yesterday (Thursday) and he was full of life. We discussed the business of the Assembly especially the direction of our activities next week and we agreed to see each other at the weekend. Little did I know that that will be the last time we will speak.
"The state has lost a man who loved the state with a passion. According to his brother, who was with him, he (Adeyemo) spoke with his wife and children this morning and slumped afterwards. He was rushed to the hospital but he had lost his life before he got to Jericho Specialist Hospital. This is a calamity not only for his family but to Oyo State," Musah said.
Meanwhile, the Oyo State Government has declared a three-day mourning period starting from Monday, where it directed that flags are to be flown at half-mast during the period.
This is just as Governor Abiola Ajimobi led other members of the state executive council, on a visit to the Anatomy Department of the University of Ibadan, to ascertain the likely cause of Adeyemo's death.
Ajimobi, in a statement by his Special Adviser on Communication and Strategy, Mr Bolaji Tunji described the death as a tragic loss for him and the people of the state.
Especially, Ajimobi lauded Adeyemo's sagacity in piloting the affairs of the Assembly without rancour and ensuring that a cordial relationship between the legislature and executive.
"I received the news of the untimely passage of my brother, friend and dependable political ally, with grief and utter shock, this morning (Friday).
"He was a fine gentleman and bridge builder, who was committed to the development and progress of the state. His death has left a gaping void that will be difficult to fill.
"He was an energetic young man that was always prepared to sacrifice his time, expertise and resources to ensure that the relationship between the Executive and Legislature did not break down at any time, no matter how thorny the issue might be. He was my bridge builder.
"Political leaders from Ibarapa zone deferred to him because of his candour, gentleness, respect and his amiable disposition to all, young and old. He was a rallying point for the Assembly leaders, who held him in high esteem because of his unassuming nature," Adeyemo said.