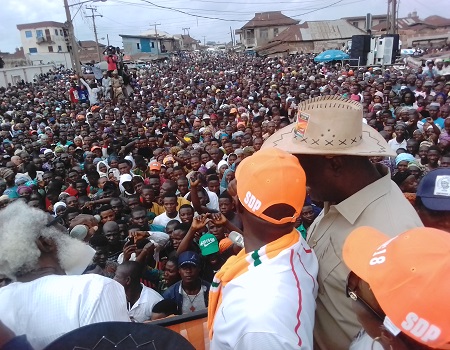 THE governorship candidate of the Social Democratic Party (SDP) in Osun State, Senator Iyiola Omisore, and other leaders of the party received a rousing welcome from Iwo people, as the party held its Osun West campaign rally in the ancient town, on Monday.
A national leader of the party, Ambassador Yemi Farounbi, while presenting the SDP candidate, Omisore, to the people, lauded his achievements as a former deputy governor and member of the Senate, and charged that if voted in as the governor, he would transform Osun State to a pride of all and make life better for all and sundry.
Farounbi, describing Omisore as a lover of workers and people in the state, said when he served as the chairman of Osun State Broadcasting Corporation (OSBC), he made a case for 109 staff of the organisation who had been sacked, but as he informed Omisore about their predicament, then as a deputy governor, all of them got a reprieve and were reinstated.
"Omisore is a man who has the interest of Osun State people at heart. He is a lover of workers and other categories of people in the state. You can be sure that if he is elected as the governor of Osun State in the coming election, he will transform this state for the better.
He did it as a deputy governor in the state and as a member of the Senate, he can still do more," Farounbi said.
In his address to Osun West people, Omisore thanked them for their support, and the warm reception accorded him and his party leaders on their arrival in Iwo, while he promised he won't disappoint the electorate on his campaign promises, assuring them that a better life is coming back to Osun State with Omisore as the governor, noting that the level of damage to public utilities and human dignity in the state should not continue for the next four years.
Earlier, in Osogbo, Omisore had cleared the air on an insinuation that he had a pact with the PDP to remain in the party, which he said was not true, but a gimmick designed by the opposition to deceive his supporters, saying, "PDP in Osun State died the day I left the party," hence, he had nothing to do with the party again.
Speaking further, featuring on a phone-in radio programme on Rave 91.7 FM, on Monday, where he also assured his supporter of victory in the coming election, Omisore said, "it is now obvious that this election is between Omisore and others, that is why they are using my name for campaign, saying all sorts and associating me with PDP, a party which is already dead in Osun.
ALSO READ: Banks dump N641.33bn excess cash with CBN in 2 weeks —Investigation
He said if governance had been handled by experienced hands, the state would not be thrown into a state of indebtedness that would make it a debtor state fifteen years after the government would have handed over power, while he also regretted that the situation had adversely affected workers and retirees in the state to the extent they could no longer be paid their salaries and pension arrears.
"The allocation is enough to pay salaries and pension arrears, which I will promptly pay when I assume office as the governor of the state. Osun workers know that I have done it before. Salaries and areas are mandatory payments, including pensions and gratuities. But what is lacking in governance, discipline and prudence will be instituted as I assume office," Omisore said.
He said another thing lacking was employment for the youths which he had already made provision for in his plans for governance, which he said was a reason he picked a youth, Hon Yemi Lawal, as his running mate, adding that, "we respect the youths as the future of the country, and they will be gainfully employed under the governorship of Omisore in Osun State.
"We have taken governance beyond the pedestrian, it has gone academic and professional. Within our 100 days in office, we will face the payment of workers salaries and wages, also gratuities and pension arrears. Our youths will be gainfully employed with pensionable jobs.
All categories of people will be taken care of, and I can assure you that, once again, Osun State will be the pride of all," Omisore said.