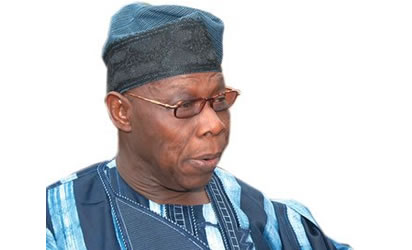 Founder, Christ for All Peoples Church, Ojoo, Lagos State, Prophet Samuel Oyadara, has called on former President Olusegun Obasanjo, to repent and beg God for forgiveness of his sins before he dies, as he urged the National Leader of All Progressives Congress (APC), Asiwaju Bola Ahmed Tinubu, to pray against plot to assassinate him in 2018.
According to Prophet Oyadara, in his 2018 predictions released to Tribune online, the message to the former president is a warning from God.
The prophet also called on vice President Yemi Osinbajo to pray seriously in order to overcome evil machinations of his enemies.
"God is warning Obasanjo to repent before he dies. Osinbajo needs to pray hard to escape plan of the enemies. Tinubu should pray against assassination," he said, just as the cleric charged the Lagos State governor, Mr. Akinwunmi Ambode, to pray against accident in the New Year 2018.
Giving further predictions, the man of God said in his message concerning the 2019 that if former Vice President Atiku Abubakar was committed to realising his presidential ambition, he would need to conquer his strong political enemies through fervent prayers.
This is just as Oyadara, who claimed that there is no God's anointed presidential candidate for 2019, said God revealed to him that President Muhammadu Buhari would be working towards rallying strong political forces in the North to make him win his 2nd Term as president of Nigeria in 2019.
"What Atiku Abubakar must do if he wants to rule Nigeria is that he would need to conquer his strong political enemies through serious prayers," Oyadara said.
Oyadara, further in his predictions, said in 2018, the Peoples Democratic Party (PDP) would become strong again, declaring: "I saw PDP umbrella rising up," while he predicted that a former president, who he did not mention, would fall sick in the coming year.
According to him, also in the new year, many of Nigerian fake pastors would be exposed and many of the serving leaders now would in near future forfeit their properties to government.
On the foreign scene, Oyadara warned that China, USA, Australia and Japan should pray against natural disasters in 2018, saying that they needed prayers to avert such ugly occurrences