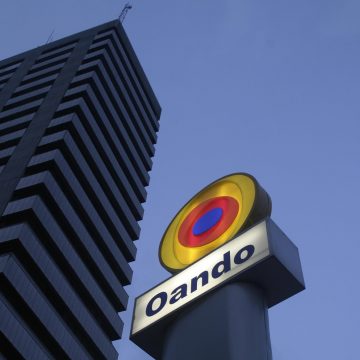 THE management of Oando Plc said it has reached a peace accord with the leading shareholders of the company who petitioned Securities and Exchange Commission (SEC) over affairs of the company.
The leading shareholders who wrote the petition are  Alhaji Mangal and Ansbury Inc.
According to a press statement issued by Oando, "Alhaji Mangal has confirmed his status as a substantial shareholder in the Company and all the issues he raised in his petition to the SEC have been successfully addressed and clarified."
"This action is in line with the Company's promise at the end of last year where it committed to the successful conclusion of the SEC investigation so that it could refocus its energy on managing the business optimally."
Oando PLC's Group Chief Executive, Jubril Adewale Tinubu, stated, according to the statement, that "I am pleased we have been able to reach an amicable agreement with Alhaji Dahiru Mangal and successfully address the concerns he raised in his petition to the SEC."
The statement also stated that Alhaji Dahiru Mangal said: "Following the clarification I have received from Oando's management team, I have withdrawn my petition to the SEC."
The successful execution of the Peace Accord was mediated by the Emir of Kano, Emir Muhammadu Sanusi II (CON), who said "The development of the Nigerian economy is hinged on local participation; it is, therefore, an imperative that as a people we come together to make indigenous participation and success a reality.
"I have watched Wale Tinubu from his days in Ocean and Oil and I am extremely proud of his growth and the company he has built." Oando is proudly a Nigerian company whose impact has been positively felt by every Nigerian.
"The Company is evidence of the progress we have made from an IOC led sector to one that is thriving with a mix of indigenous and international players.  I call on Alhaji Mangal and Wale Tinubu to see themselves as partners focused on achieving one goal; attainable only if they have confidence and trust in one another.''
Following the Peace Accord and declaration of his substantial shareholding, the Company has encouraged him to exercise his rights as a shareholder by having more oversight of the Company's affairs; the belief is that this will enable him to gain a better understanding of the Company's business development plans, initiatives and operations.
"We encourage him to exercise his rights as a substantial shareholder and be more involved in the affairs of the Company. Shareholders must be confident in the operations of the company they are invested in; this can only occur through dialogue and active participation.'' Wale Tinubu said.