Nigerians should have been advised it'll take a while to see benefit of power privatisation —Ugbo, NDPHC MD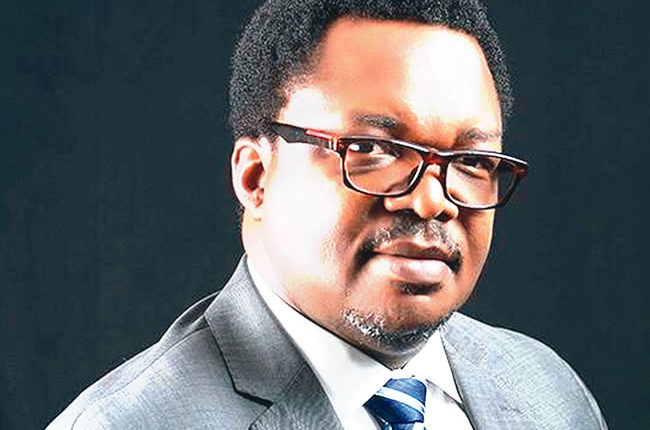 The argument that convinced Nigerians of the need for privatization of the power sector was that just like they witnessed in the telecoms sector, they will begin to enjoy uninterrupted electricity supply as soon as private investors take over. Almost eight years after however, it is not yet Uhuru. In this television interview monitored by SANYA ADEJOKUN, Managing Director, Niger Delta Power Holding Company (NDPHC), Mr. Chiedu Ugbo gave reasons for the delay in realizing objectives of privatization.
How far about the power situation in the country?
We still have a long way to go in the delivery of electricity to Nigerians but I assure you that a lot of work is being done across the value chain. We are predominantly fueled by gas and a lot of work is being done in that area, in generation as well and in transmission and distribution. It is a chain.
What is the mandate of NDPHC?
We have 10 power plants with capacity to produce 5,000 megawatts of electricity. We currently have installed capacity of 4,000 MW. We have contractor issue for the remaining 1,000 at Egbema in Imo State and Omoku in River State but we have recovered the projects from the contractor and with the approval of the Board and Bureau of Public Procurement, we re-awarded them. In Egbema, we have just finished with the Chinese company that built Omotoso. We are also concluding the process of awarding it and it should be signed within the next two weeks.
Out of the about 8,000MW available capacity, we supply about three thousand MW of it. When I was appointed, steam turbine of Olorunsogo plant was down but we are now working on repairing. Out of our available capacity however, we are only generating about 700MW because of systemic constraints.
How do we address those systemic problems?
It all goes back to the money flow in the system. There are serious interface issues between transmission evacuation and distribution. The network challenge is being addressed. NDPHC is playing a big role in improving the transmission capacity of Transmission Company. We have just commissioned a 2×60 megawatts in Awka recently that will improve transmission capacity by about 100 MW, but will the distribution company be able to absorb the 100MW? In virtually every local government, NDPHC has presence in distribution projects.
We are trying to help the distribution companies to improve their capacity. However, the transmission company has its own expansion plans which it is also working on. Federal Government through the Presidential Power initiative, which is the arrangement with Siemens. It is also working to improve the network capabilities in the country. Generation is not more than 5,000MW because of network issues. Presidential Power Initiative will push it up in the short term to 7,000MW, medium term to 11,000MW and within five years to 25,000MW that is investment strictly in transmission and distribution in addition to other efforts by NDPHC and TCN. After resolving these issues, distribution companies will then take the electricity, bill for it and then pay back. There is also intervention through the CBN. There is a loan arrangement of about N120 billion they are working out aside from the N180 billion metering intervention also by the CBN.
What are your major challenges at NDPHC?
I am managing generation assets: I have tariff that is 28 percent lower than my peers meaning that I am subsidizing the sector by 28 percent. We have met the regulator a number of times on this to say that government has to take a decision on whether we are a social company or a business entity because if they increase our tariff, it will lead to overall increase in revenue judging by the capacity of 4,000MW that we have.
Again, I have over 3,500 MW capacity but I am told to supply only 700MW and it is on that that that I get paid. Now, with the good effort and all the service based tariff- service-based tariff from the regulator also comes with a commitment from DisCos to remit up to a particular amount so they remit about 50 percent now. It means that I get paid 50 percent. Right now, what is owed to NDPHC by the industry is somewhere around N150 billion. Which company survives with that level of debt? With abundance of sources, why have we restricted ourselves to thermal and hydro alone? What has happened so far is optimization of available resources. Nigeria is defined as a gas territory with some oil. We have abundance of gas and that informed our having a lot of gas thermal power plants and of course, the hydro plants are there with huge capacity.
There has been a lot of work in other renewable sources mainly solar and wind. There has also been a lot of private investment in solar. As a matter of fact, I know the Rural Electrification Agency is doing a lot of work in that regard. In my organisation, I have set up a thriving department to handle renewable energy. We are working seriously. We have some interventions in solar. We did about 20,000 Solar Home Systems and we are working on another 100,000 under the Economic Sustainability Plan ESP) of the Federal Government. We are also focusing on grid solar to optimize the radiation resources in the north and do the grid power solar in the next phase of our project. So, we are working on solar grid, mini-grid and off grid systems
So, why should a gas nation find it difficult to devote enough gas for electricity?
You just touched on the commercial aspect of electricity generation. If there is money, there will be gas. Gas producers are investors in business make profit. We have an installed generation capacity of about 13,000 megawatts. Available capacity is somewhere around 8,000 megawatts. There is also actual generation. Actual generation means commercial availability. I am technically available but I need gas to fire the plant, I need evacuation to take the product because there is no point generating without dispatch from the transmission company. That is actual generation, which is somewhere around 5,000 megawatts.
What actually is the energy need of Nigeria at this point in time?
I am sure Nigeria would need anywhere between 25,000 and 30,000 megawatts for now. However, the whole problem of the power sector is money. If there is money, investments will be made. The sector has been liberalized and substantially privatized and so, investment is expected to be led by the private sector. Private investors will deliver service but the service has to be paid for. Power sector is a chain starting from fuel source, operational maintenance of the power plant, transmission- money for expansion, operation and maintenance; distribution needs money for expansion. This is what the regulator calculates before arriving at end-user tariff. NDPHC is predominantly a generation company although we intervene in transmission and distribution. That is why we suffer because the money doesn't travel back fully. That has been the challenge and if it does not travel back to us, we are unable to pay gas producers. So, there is no incentive for gas producers to also give us gas.
Almost eight years after privatization, electricity situation has hardly improved. Was the process faulty?
At the time of the privatization, Nigeria had the biggest deal all over the world. It was about $2.6 billion transaction. We were transitioning from PHCH, which was public service to a market, obviously there will be challenges. There were public expectations around that 2013-2014, which stakeholders did not properly manage. The public should have been advised that the process will take a while before they would begin to enjoy the benefits of privatization. There was a performance agreement for five years and you are not going to deliver overnight.
There were also issues that emerged after the private investors took charge. At the time of privatization, the tariff will take into account the lost levels in the system and that will be built into the tariff. The tariff at that time had somewhere around 22.5 percent as lost level but transaction advisers said lost level was around 35 percent. However, there was a clause in the agreement that distribution companies were sold on aggregate technical commercial and collection loss reduction plan basis meaning that when they take over, they would do their loss study and then government would adjust the baseline loss after it would have been approved by Bureau of Public Enterprises (BPE) and Nigeria Electricity Regulatory Commission (NERC). They then came back with a loss level of an average of 50 percent. That alone has messed up the tariff structure.
These were the issues being addressed during the interim period in 2014. The sector had to quickly adjust and say if the tariff is not enough, it means that money will not be enough. So, how do we apportion the money down the line? And then when this government came in 2015, it looked at the issues and discovered that there is this tariff gap and then in December 2015, it came up with a tariff review which was to take effect in 2016 but along the way, DisCos raised issues with the regulators about what tariff should recognise.
At the time, debts of MDAs were previously treated as losses. The regulator removed that as losses. A particular category of end users was also frozen in terms of the tariff they should pay. It was supposed to be a 10-year multiyear tariff order, which would require minor adjustments twice per year to take into account issues around generation levels, foreign exchange issues, interest rate issues etc but those things were not effected. The present regulators have however, decided to face the challenges and deal with them once and for all.
So, why does it appear as if Discos are the bad guys?
It is because they are the ones that interface with the public. In the last five years, remittance from distribution companies to the bulk trader NBET was average of 25 percent or 35 percent maximum so, no matter how efficient you are, your gas cost is anywhere between 60 and 70 percent and you are being paid 25 percent. It means that you cannot even pay for your gas. That is where the problem is. But DisCos are not also to get all the blame. There were two liquidity problems- market shortfall and tariff shortfall. Tariff shortfall is due to inadequate tariff but market shortfall is from collection inefficiencies due to lack of metering and theft by consumers. All these losses accounted for the shortfall in remittances to generation companies and by extension the gas companies. Right now however, remittance has gone up to average of 50 percent. That is why government is still putting money in the sector. Government then sources for finance to give to NBET which then sort out the downstream end.
What are the other challenges facing the DisCos?
By the time they purchased those assets, they have performance targets in their performance agreements. The performance targets were based on aggregate technical commercial and commercial loss reduction. When they took over, they were supposed to do a study to establish baseline losses. The plan would then be adjusted. Some of them had 10 percent reduction every year which means that they had to make investment. When they came in, tariff was not right; the loss factor was not properly evaluated. This led to serious inadequate revenue within the sector. CBN then made a N213 billion intervention as a loan to the market and not to DisCos alone but it was written in their books. It was to be recovered as tariff increases over time. Recovery will be factored into end user tariff over time.
However, DisCos are now claiming that it has caused problems for them because the amount sits in their books as debts. However, tariff was literally frozen for a long time. In 2016, generation level dipped because of pipeline vandalism leading to shortage of gas supply. It messed up generation level which led to increment of unit cost of electricity which they were not able to recover and pay back generation companies.
Have we now resolved the issue of gas?
At NDPHC, we recently had serious gas shortage because we didn't have money. International Oil Companies insist on full prepayment before delivery. So, I am prepaying 100 percent but I am getting 50 percent revenue. Secondly there were gas pipeline issues, gas producer issues, community issues also affected our operations within the first four months of 2021.
YOU SHOULD NOT MISS THESE HEADLINES FROM NIGERIAN TRIBUNE
We Have Not Had Water Supply In Months ― Abeokuta Residents
In spite of the huge investment in the water sector by the government and international organisations, water scarcity has grown to become a perennial nightmare for residents of Abeokuta, the Ogun State capital. This report x-rays the lives and experiences of residents in getting clean, potable and affordable water amidst the surge of COVID-19 cases in the state…
Selfies, video calls and Chinese documentaries: The things you'll meet onboard Lagos-Ibadan train
The Lagos-Ibadan railway was inaugurated recently for a full paid operation by the Nigerian Railway Corporation after about a year of free test-run. Our reporter joined the train to and fro Lagos from Ibadan and tells his experience in this report…