Nigeria will have gone into extinction if not for Buhari ―Amosun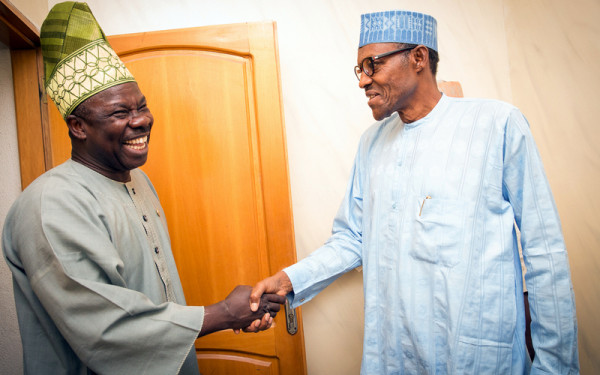 Governor of Ogun State,Senator Ibikunle Amosun, on Saturday, declared that Nigeria as a nation would have become history if not for the coming on board of the President Muhammadu Buhari's administration.
Just as he said that only health status would prevent Mr. President from contesting in the 2019 general elections.
Amosun spoke in an interview with newsmen after a book launch and scholarship scheme to commemorate the one year remembrance of Chief Lamidi Sofenwa, a renowned educationists, held at the Nobel House College auditorium, Abeokuta.
He noted that the Buhari-led government came at a time the country had security challenges which resulted in loss of lives and property in the North East region of the country.
Amosun said, "The only thing that can probably prevent Mr. President from contesting is on health ground because if not for this administration of President Muhammadu Buhari, only God knows where Nigeria would have been.
"As human beings, we quickly forget things if we would be fair to this administration,they came in, at a very deep end and imagine where the country is today. We were in recession and now we are out of it and it not easy to get to this point.
"Again I am saying it, the only thing that can stop Mr President is on health ground but as we can see today Mr President is back rejuvenating and very soon it would be clear for everybody to see that Mr President is so well now."
The governor, who was apparently reacting to an open declaration and support for the presidential bid of former vice president, Alhaji Atiku Abubakar, by the Minister of Women Affairs, Hajia Jummai Alhassan, insisted that if not for Buhari, Nigeria would have gone into extinction.
She advised the minister to resign her appointment as a woman of honour.
He said "She is entitled to her opinion, but I would have saluted her if she had honourably resigned her appointment, because you cannot blow both hot and cold at the same time.
"Yes, I would have saluted her if she had resigned but falling short of resigning has taken everything away from what she had said. Well, I am not Mr President and I know that at the appropriate time he will review things.
"For somebody to have come out and say such thing means clearly she is even working against the government and she will not want that government to succeed, that is my own believe. I may be wrong but if I am in her shoes she should have done that and resigned.
"I don't think there is a sabotage in that government because she is just an individual and unfortunately am not from that region,so I won't be able to say more than what she said. She should have followed it up with a resignation from that organisation."
He described Sofenwa as a detrilabised Nigerian, sportsman and a renowned educationist who had contributed in no small measure to development of education sector in Nigeria.
The governor promised to facilitate post-humous national honour for the late elder statesman.