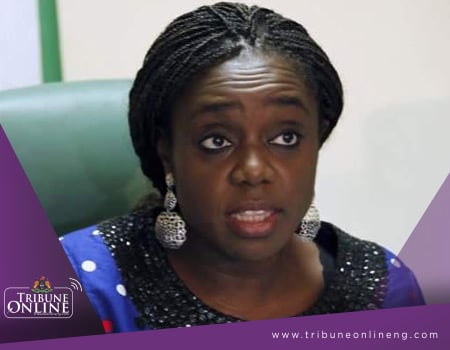 AT the groundbreaking ceremony of Regional Office of the African Export-Import Bank in Abuja on Tuesday, Minister of Finance, Mrs Kemi Adeosun disclosed that 40 per cent of the total loan portfolio of the bank are to Nigerians.
And Managing Director of Afreximbank, Dr Benedict Oranmah said as, at December 2017, total loan exposure of the institution to Nigerian entities stood at over $17 billion.
Afreximbank first applied for a piece of land to build its Anglophone West Africa's regional office in 2006 but it was not approved until this administration.
Adeosun described the ceremony as a symbol of Oranmah's commitment and expression of the bank's salutary achievements in financing, promoting and expanding intra- African and Extra – African trade.
"Over the years, Nigeria has consistently been at the forefront, supporting the Bank.
"In fact, the strong relationship between the two parties began at the inception stage of the Bank in 1993, where Nigeria hosted the first General Meeting of Shareholders of the Bank in Abuja.
"It was at that meeting in Abuja that the Bank finally took its functional form and shape."
The Minister also recalled that Nigeria was among the pioneer shareholders of the bank adding "with an equity commitment of US$50 million, the country became one of the largest shareholders of the Bank which helped to attract the interest of others in the equity participation of the Bank."
Just like many other member countries of the Bank, Nigeria continues to support the Bank's capital mobilisation by reinvesting its dividends in the Bank's capital.
Oranmah who is also Chief Executive Officer of the pan African finance institution Nigeria was not just a pioneer founding member of the bank but made it possible for the establishment of the bank 25 years ago here in Abuja.
"Nigeria supports the bank immensely and we continue to appreciate her contributions and role in the growth of Afreximbank."
According to him, without the bank, the Lagos Mass Transit Rail project would not have been made possible.
"Many banks in Nigeria in hard times and good times, need AFREXIMBANK as last resort", Oranmah said.