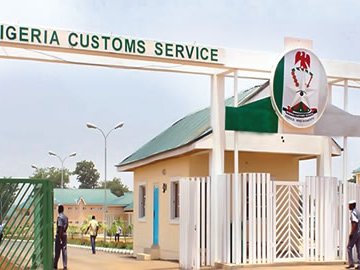 THE Nigeria Customs Service (NCS) has advised importers to be transparent to improve ease of doing business in Nigeria.
Mr Bukar Amajem, the Controller of Federal Operations Unit (FOU) Zone 'C' of the NCS in Owerri, gave the advice on Tuesday while displaying some seized contrabands before journalists in Owerri.
He said that the service was mindful of the Federal Government's policy and position on ease of doing business and transparency and would ensure they were strictly adhered to by importers.
"The Federal Government is insisting on transparency and ease of doing business, but this cannot be achieved with the way people smuggled goods into the country.
"Transparency can only be achieved with honesty," he said.
Amajam said the zone had confiscated contrabands with Duty Paid Value (DPV) of N142.9 million around Port Harcourt and Oron axis.
He said the seizures included a 1×40 ft container with fabrics/linens materials with DPV of N14.1 million, a truck with 530 bags of 50kg rice with DPV of N15.26 million and another truck carrying 803 bags of 50kg rice with DPV of N23.13 million.
They also include a 1×40 ft truck with 3,030 pieces of assorted bags, 7,700 sewing machine hooks, 240 pieces of jewelries, 6,600 pieces of sewing machines, 3,080 pieces of sewing machine motors and 47 pieces of empty gas cylinder.
Others are 2,150 packets of cultural beads, 7,200 pieces of scissors, 9,900 packs of measuring tapes and 303 pieces of suitcases with DPV of N90.4 million.
Amajam said that the 1,333 bags of 50kg rice confiscated would be sent to the IDPs camps according to Federal Government's directives.
He said that smuggling was impeding the country's economic growth by "sucking" revenues accruable to the government.
Amajam warned those in the illicit business to desist forthwith in their own interest, saying the NCS was determined to dislodge smugglers.
NAN reports that the unit also said ii impounded illegally imported exotic cars and other items with DPV of N137.8 million in June.