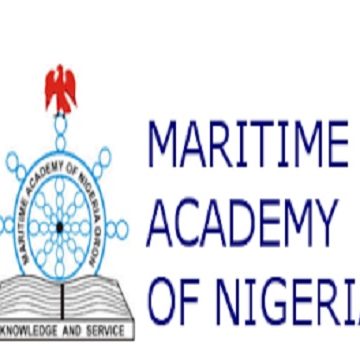 THE Maritime Academy of Nigeria (MAN), Oron in Akwa Ibom State has revealed that with effect from next admission, the numbers of intakes will be slashed to ensure quality instead of quantity as regards training of cadets in the academy.
Speaking on Tuesday at the 2018 World Maritime Day organised by the Federal Ministry of Transportation in Lagos, the Rector of the academy, Commodore Duja Effedua (Rtd) said plans are already on to build the academy's simulation centre.
According to Effedua: "For the new intakes expected to be admitted in our next admission programme, we will be deviating from what used to be where cadets are admitted based on political or whatever affiliations.
"For instance, we used to admit between 1,200 and 2000 cadets per stream. That won't happen anymore. In our next admission, we are taking only 88 cadets for the National Diploma level and about 150 for the Higher National Diploma level.
"Gone are those days when cadets are admitted based on affiliations to somebody up there, and at the end of the day, what the academy produces is quantity and not quality. It is important the academy manages what it can handle."
ALSO READ: N22bn benefit: Tragic as former Nigeria Airways worker died at venue for payment
On progress so far in the academy, the Rector explained that about 60percent of reforms have been implemented. "We have restructured. We have implemented, and have attained 60pwrcent reform goals. Presently, we are sourcing for lecturers, qualified ones both from home and abroad.
"We are remodelling the classrooms, the hostels and the library. We are also building a new simulation centre which NIMASA has pledged to help us equip. NIMASA has asked us to set up a three-man committee to work on the simulation centre. I believe that by the next 6 months, MAN, Oron will be one of the best academies in the continent.
"For the stakeholders, we will no longer be begging you to come and take our cadets onboard vessels after they graduate. We will make our cadets very attractive that stakeholders will come scrambling for them during their graduation.
"We hope the next World Maritime Day will be hosted in the Maritime Academy of Nigeria auditorium which is being newly built.
"We are having our graduation in the next three weeks, and we will like the maritime stakeholders to come and see for themselves what has transpired in the academy in the last six months," the MAN, Oron Rector stated.