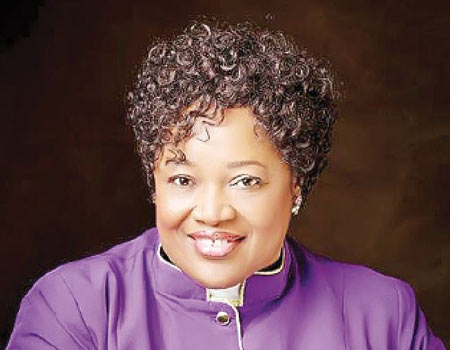 Bishop Peace Okonkwo, the Resident Bishop of the  Redeemed Evangelical Mission (TREM),  clocks 65 years of age today, and in this interview by YEMISI AOFOLAJU,  she speaks on her  activities towards making life better for the less-privileged as well as her advice for Nigerian women in this time of recession . EXCERPTS:  
Why the PEACE CAMPAIGN?
PEACE Campaign is an initiative that came out of what I saw and witnessed at a seminar that I attended where slides of women who were dying of cervical cancer were shown. I was not too happy after watching the slides because I believe it is a treatable disease if detected early. There and then, I asked 'God, how do I become a blessing?' This was what gave birth to PEACE Campaign. When I turned 60, I said life is nothing if one is not affecting others positively by being a blessing particularly to women and children. Since I turned 60, it has been an annual event. So far, more than 8,000 women have benefitted from the cervical screening while over 16,000 had been medically checked.
How do you get the campaign going financially?
After being diagnosed, the women are linked with general hospitals where they are promptly treated, and we ensure they are followed up. If it is discovered that finance would be an obstacle, we give financial assistance. You asked how do I source for money? We have volunteers who join me to bless the initiative because if you believe in a course, you put your totality in it. Now that I am 65, I know how much I have put into the exercise because this gives me joy.
Apart from assisting women and men of late in combating cervical and prostate cancer, what have you for children?
Children of all ages are dewormed, while general diseases are attended to. In fact, the Eye Foundation has come out to say that whoever is diagnosed of glaucoma or cataract would be treated free on the day they are asked to present themselves at the designated hospital.
From your interaction with women in the rural areas, which disease is predominant in such settings?
The only disease that is ravaging rural women is poverty. You can understand a woman in the village who cannot afford to eat even two square meals! Such a woman/man is susceptible to any disease. Poverty is the major disease. PEACE initiative is also about widow empowerment that is held annually in the village, apart from the one that is done in Lagos. I am always moved into pity whenever I go to the village seeing women suffering. Women are kitted with tools, food for their children, clothing and money for trading. My first shot at this really moved me to tears as I cried, though I always have the feelings that I am a strong woman as the beneficiaries prayed for me from 10 to six in the evening.
Looking back, at 65, what has life taught you?
I  came from a very humble background and life has taught me to be a blessing to humanity. It's not  about me, but  about what you can do to put a smile on someone else's face. Though  it has not been easy, but God has been helping me.
How do you feel being 65?
Age is a number; a lot of people do see me and say 'mummy, you don't look 65'. I always reply them by saying 'it's the grace of God'. I don't feel any difference.
Do you do anything extra-ordinary to keep your health?
I do a lot of work and walking. I always tell women, especially ministers' wives,to work and exercise to look healthy. In this part of the globe, we eat wrong food because having money here is synonymous with junk foods that are not good for human consumption. It is advisable to eat fresh foods and vegetables that are in abundance in the country.  I don't even drink soda, but a lot of water.
Do you still cook with your busy schedule?
What I do most times is to supervise the cooks who I have taught so much. I only go to the kitchen to ensure they are handling the meals properly, especially when they are preparing native delicacies.
What is Bishop's favourite food?
Bishop is not particular about food. He eats what every other person eats when necessary. He eats once a day.
Is this outreach on annual basis?
Yes, but not only in Lagos. It is done on zonal basis.
Is it only targeted at the members of TREM exclusively?
No, it is for all who are interested in living healthily.
At 65, what should we be expecting from PEACE Campaign?
I want to do all I can to do much more. As God gives me power, strength and wherewithal to do much more for humanity, I will do more.
As an international minister of note, did you, while growing up, envisage that you would become one?
I am humbled by your description of me. Don't forget I earlier said that I am from a humble background, but my grandmother and mother are women of prayer. We call my mother 'Deaconess' in my house. I never thought of where God has placed me. I am an Anglican by birth, where I developed serving God because nobody who passed through my grand mum escaped going to church in those days. Look at what God has done now to His glory.
Who influenced you the most while growing up?
My daddy died while I was a small child. I was influenced by my grandmother because I lived with her.
Is your mother still alive?
Yes, she is alive. She is 87 years old on her feet and she does everything herself.
What advice do you have for young women who are not ready to face life challenges?
The life we are in now is a different generation. What I have observed overtime is that young girls do not want to wait. They are not prepared to go through any form of challenge; they want it to happen immediately. But I will say they should tarry a while by doing what they know how to do and ensuring that they know who God is and allowing Him to help them. Young ladies want to wear designer shoes, dresses and other nice things, which to me are not all that necessary because there will be a time when those things will mean nothing to them again. I keep telling the younger generation in our church that they should ensure they go to school as much as they can and keep themselves.
As a mother, what is your advice for Nigerian women on coming out of recession?
Women should endeavour to do more and come down from whatever height they might have erected to get occupied with any venture that will fetch them money. No business venture is small as one can grow big by starting small. Women can only stoop to conquer by asking God for assistance on what to do so as to overcome the financial hardship to enable them take care of their children. Wife battery is on the increase, while some men are leaving their wives and children now because of recession which, to me, is uncalled for because this season will pass. We cannot be in recession for life. Women should find something doing for now and trust God for the rest.
How far with Rehoboth Homes?
Rehoboth Homes Skill Acquisition Centre is well and alive. It is where I take stranded ladies to for rehabilitation. I started this home when I heard of a lady who died in a restroom. She did not have a house and was ill; was going from one rest room to the other to sleep. When I heard of her demise, I was concerned about others in her shoes. This prompted my having to build a four-storey building in Ketu, Lagos State, purposely for this assignment. The home has a matron and supervisor who interview the callers on their mission to the home. The home has four university graduates now aside those who have taken to vocations. We not only train the ones who take to vocations, but we empower them with tools to work with after graduating. This feat is replicated in my village Onwumunike, Anambra State, though people are scared of staying in the villages because of kidnappers, abductors and armed robbers. The centre was dedicated last year and it has produced 33 graduates now. The centre is now for boys and girls.
Can you share two of your happiest moments?
It is when I see people who would have died and by the grace of God, I was able to help them, like when I went to the refugee camp where by the  people were dying of different diseases, then I donated what I could. So, my happiest moment is when I see someone else better, like I said, it's not about me but God.
Many people will believe that you have it all, but at 65, what else would you like God to do for you?
I believe God for everything, all that I do, I trust in God even this annual P.E.A.C.E campaign. It's not about building luxurious houses, but what matters is what impact is one making on other lives.
What is it about Bishop, that you would  love to change?
Maybe there is, but I haven't seen one. He is such a loving person, it's not because I am married to him. He goes out of his way to make others comfortable.