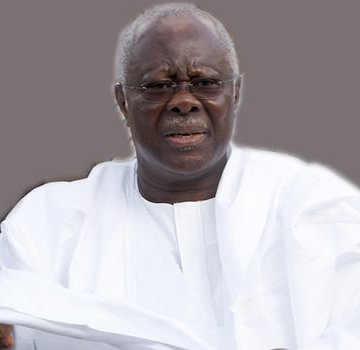 PEOPLES Democratic Party (PDP) leaders and members in Surulere, Lagos State led by the newly appointed member of Board of Trustees (BoT) of the party, Dr Remi Akintoye, have rallied support for former PDP Deputy National Chairman, Chief Olabode George, describing him as supreme leader of the party in the state, vowing that they would do all in their powers to resist attempts to rubbish him by any individual or group.
The PDP in the state is embroiled in some form of crisis as the Hon. Moshood Salvador-led exco is being challenged over some decisions it had taken in recent time, while the Lagos West Senatorial District of the party, only last week, met at Alimosho to hand over a vote of no confidence on his leadership.
Salvador, in his own reaction, while saying that the gathering at Alimosho consisted of disgruntled ex-chairmen of PDP at local government who failed in their bid to return to office, disclosed that he planned a mega rally for this week Thursday to showcase the support he still enjoyed, but the Nigerian Tribune learnt that the Lagos East of the party planned to have its "no confidence vote" for same day in Ikorodu area of the state.
At the Surulere event, where party leaders, including former governorship aspirant, Dr Adegbola Dominic; state secretary of PDP, Muiz Dosumu; former organising secretary of the party, Prince Abayomi Kuye: Hon. Ola Apena, Elder Babatunde Agbaje, Hon. Wale Onileere, local government chairman of the party, among others, gathered in honour of the newly appointed BoT member, Akitoye, speakers eulogised Chief George, insisting that he represented the face of the party in the state and that all should join hands with him to unite the Lagos PDP in order to move it forward.
Akitoye, a former commissioner in Lagos, is also former Acting National Secretary of PDP.
ALSO READ: PDP convention: Fayose rallies Bode George, Ladoja, Daniel to a united homefront
Speaking, Elder Agbaje, in his remark, sadly noted that a lot of intruders had infiltrated the party in the state, charging the new BoT member to ensure that nobody was allowed to rubbish Chief George, who he also described as the supreme leader of PDP in Lagos State.
"We have a lot of intruders in Lagos PDP, we don't want anybody to rubbish our supreme leader, Chief Bode George, and you would not allow that. You are going there at the national to be our eyes and ears, we trust you to achieve for us in Lagos PDP as a member, Board of Trustees," he said.
Also, a party chieftain in the area, Chief Soyoye, said, "We are encouraging you (Akitoye) to work harder so that we can get more benefits for Lagos PDP," even as he charged leaders and members to work for the party and be faithful to it, declaring that the party was supreme.
Other speakers, including Dr Dominic, Dosumu, Prince Kuye and Hon. Apena, expressed delight at the emergence of Dr Akitoye as PDP BoT member, even as they paid tributes to some of his qualities, such as humility, integrity and loyalty to the party's cause.
Akitoye, in his response, while thanking leaders and members for the honour, said he was resolved to uniting the party, admitting that as a member of PDP BoT, he had more responsibilities to discharge for the growth of the party at the national as well as in Lagos State.
The politician, who said he was dedicating the membership of party's BoT to Lagos in particular which would also be to the benefit of Surulere, however, remarked that with the return of Chief George from his recent trip abroad, peace and harmony would come the way of the party and all wounds would be healed.