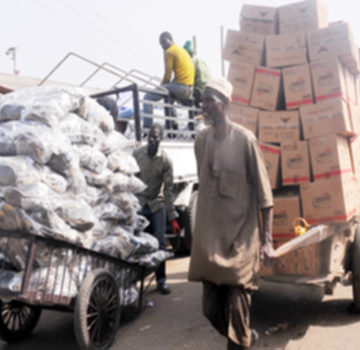 LAGOS State Government on Saturday placed a total ban on the operations of cart pushers and wheelbarrow operators in the state, declaring that their activities were inimical to the environmental cleanliness in the state.
This was just as the state government urged residents to desist from patronising them or risk prosecution.
Secretary to the State Government (SSG), Mr Tunji Bello, made the announcement in a statement, saying that with the flag off of the Cleaner Lagos Initiative (CLI), the continuous activities of cart pushers would pose a threat to the success of the initiative.
Bello, while saying that investigations had also revealed that the cart pushers were responsible for most of the illegal dumping of waste in canals and road medians at night which causes flooding, added that aside constituting an environmental nuisance, there were also traces of security threats.
"What the state government has discovered is that these set of people use the night to perpetrate all sorts of dastardly acts. They dump refuse indiscriminately on the median of major roads and highways. They also pose serious security threats because they use those carts to hide arms and ammunition and hide under the guise of carrying refuse to rob unsuspecting residents," the SSG said.
According to him, the state government has finalised plans to ensure that the CLI would cover every area of the state and ensure that refuse are well packed and collected, urging residents to desist from patronising cart pushers and wheelbarrow operators or risk prosecution.
"The state government has declared zero tolerance for the activities of cart pushers and wheelbarrow operators. Security agencies in the state have been directed to ensure that those found still operating are arrested and prosecuted according to the State Environmental Laws.
"The law also applies to residents who patronise cart pushers. It is an offence and the state government would not hesitate to enforce the law to put a stop to such practice," Bello said.
---
---