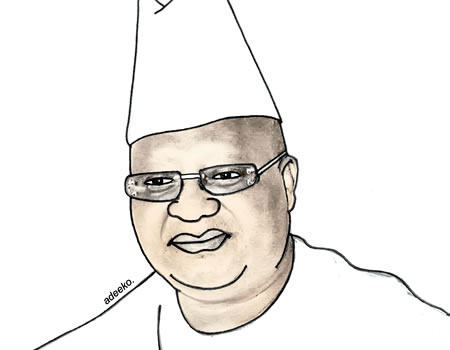 THE First Executive Governor of Osun State, Senator Isiaka Adetunji Alani Adeleke, came around as a distinguished Nigerian who traversed the world like a colossus. This great personality, who was different things to different classes of people, was humility-personified. But essentially, Senator Adeleke was a man of the people. He lived his life for them, and they in turn gave everything to appreciate the kind gestures he extended to them. This was shown by the fantastic show of sympathy and commiseration they extended to him when he transited to glory on April 23, 2017.  My boss, brother, benefactor and great friend, was an accomplished man in all facets of life. This was one great personality that will forever be remembered for his large hearted. A charming personality, very rare to come by among his peers. He loomed larger than life. He radiated elegance, charisma  and dignified carriage, that was second to none. I stand to be corrected.
Senator Adeleke was simply Mr. Generosity, a great administrator and astute politician that played politics without bitterness. He abhorred violence all through his life. He came into politics to better the lives of the down-trodden masses. He was never tired of doing that very cheerfully, until he breathed his last. To all those, who heard of his sudden death on April 23, 2017, it was a great disbelief and shock, and when the reality dawned on us all, it was a spontaneous flow of hot tears, that rolled out of the eyes of his teeming voiceless supporters, admirers and well-wishers. Nigerians from all walks of life thronged his Ede country home to bid him farewell. His unexpected transition but glorious exit and kingly burial on April 24 2017 was second to none in the anals  of eminent Nigerians in this part of the world. Senator Adeleke's deeds to all manners of people while he was living turned out to be great testimonies that many believed have secured a place for him in Aljana Fridaous.
To those of us living, Senator Adeleke is smiling in his grave, though we cannot see him. Whatever were the unjust contradictory remarks by whomsoever, the fact remains that the leader of Osun politics that he was made the world stand still for him in the course of his triumphant exit to the great beyond. It will remain a reference point forever. Even the air stopped blowing momentarily. The creatures of all descriptions found themselves in awe of a departed hero of Osun politics. Take it or leave it, many will testify to the fact, that there can never be another Isiaka Adeleke, at least in our own generation. I personally enjoyed an excellent working relationship with distinguished senator spanning 25 years, all of which were laden with successful outings on my part as his media consultant. There was never a dull moment in our inter-personal relationship. I shall forever miss the sweet company of a great boss.
While he was the Executive Governor of Osun State, Senator Adeleke got me appointed as Executive Chairman, Directorate of Information, Public Relation and Think Tank in the Governor's office, just by writing my appointment letter by long hand using a ruled A4 paper. That was the depth of friendship and trust, that existed between us. I am not the only beneficiary of his kind gesture, many Ede indigenes, who are today Directors in the Local Government Service Commission of Osun State, would testify to how, Senator Adeleke got them appointed into the Commission in a jiffy. He extended love and care to the less-priveleged in such a way that, you only need to knock at his door and you would leave happier than you came in. Such attestations have not stopped coming from thousands of beneficiaries since his glorious transition. The Asiwaju of Edeland was a source of inspiration to the youths, many of whom he empowered for skills acquisition. A colorful politician of no mean repute, Senator Adeleke made many young people to take a foray into partisan politics and become success stories in their own right. The sudden death of Otunba Adeleke has created a big vacuum in the political arena. He left big shoes behind. Senator Adeleke's sojourn here on this transient world was remarkable and positively eventful, to the extent that many wished death had spared him and take them away, so that he could continue with impacting resourcefully on the lives of the down-trodden.
Many will remember him as God-sent, the type very rare to come by. Their type comes once in a generation. A thorough family man, Senator Adeleke was an outstanding father and husband not only to his biological children but to many whom he placed his generosity at their beck and call. The first executive governor of Osun State believed in the policy of living and letting others enjoy life more abundantly. He lived a very humble but distinguished life as exemplified in his simple and non-materialistic inclination. His Ede country home was a home to all and sundry, whether low or mighty. Knock at his bedroom door and "come in" was always the next word from Senator Adeleke. No privacy. His life and properties were for the people with whom he shared all without complaints. The man of the people deserves the best of accolades from all and sundry. The sweet memory of Senator Adeleke lingers on reservedly and honorably in the hearts of his numerous admirers.
The mere mention of the name Isiaka Adeleke will forever make tears to flow freely from the eyes of his teeming well-wishers from across the world. The First Executive Governor of Osun State was first among equals in the political firmament of Osun State, no matter what anybody or group of people may want to say to the contrary. He carved a niche for himself. He employed his philanthropic gestures to make life worth living for countless numbers of people. He built the solid foundation on which Osun State stands today. For the traditional forty days of mourning, it has been stream of sympathizers from across the globe. To his immediate family, I send deep condolences.
Lawal served as Special Adviser (Media and Publicity) to Senator Adeleke