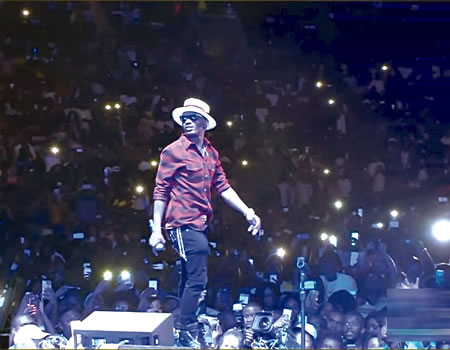 The world has, indeed, become a global village. From the streets of Ojuelegba, Bariga, Accra, Soweto, Ajegunle, Apata, Orita Challenge, Jos among others, entertainers are rising beyond their environment and becoming world acclaimed stars. For artistes like Wizkid, Olamide, P Square, Yemi Alade, Davido, AKA, Khuli Chana, Sarkodie etc, the world has become a stage, as they move, frequently, around countries, dispensing their craft to the delight of various audiences. According to entertainment critics, now is the time for Africa and its music (Afrobeats).
The world is consuming more music than ever before, and from a wider range of sources, says CNN, adding that emerging markets in Africa, in particular, are becoming more profitable. UK-based record company, Beggars Group, for example, reports that 20 per cent of its revenue comes from emerging markets. It is now licensing music for the first time in Nigeria, Uganda and Angola, according to the IFPI report.
At some point the power and influence of African music will be unavoidable. South Africa, for example, saw overall digital revenue in music double in 2013, according to IFPI's 2014 report. And this has been made possible with internet and mobile streaming which has made content available on demand.
"Bits of the world that you don't see regularly as record markets are much bigger for us in the streaming world than the download or physical world," says Beggars Group founder and chairman, Martin Mills in its report.
Also economies of the two West African giants, Nigeria and Ghana, have picked up, so has the desire for home-made entertainment alongside American hip-hop and Hollywood movies. The start of Nollywood (Nigeria's Hollywood) also became the start of a new era for Afrobeats and young urban Africans making it big on the music scene.
Internet streaming is becoming more popular globally; it rose 93 per cent in 2015, according to IFPI. And as smart phone penetration in Africa increases; it went from 2 per cent in 2010 to 11 per cent in 2013, streaming services are gaining ground, giving the music made on the African continent more opportunity to find a global audience.
In South Africa, it is estimated that 40 per cent to 50 per cent of digital income now comes from iTunes, according to IFPI's 2016 report. "This is an amazing time for African music," Nigerian Afrobeats artist Mr Eazi told CNN. "Because of the internet Africans are exposed to the rest of the world without traveling. Afrobeat is now urbanised, the internet has made everything well-packaged.
"Now you see A-listers all around the world, like Drake and Nas, sampling African music; I've even heard Japanese music with African drums. It's invading pop culture and it's a marvelous time for African music."
Another A-lister who may have been influenced by African music is Alicia Keys, after releasing her single In Common, she had people wondering if it was, in fact, an Afrobeats song.
Most people are familiar with the Afrobeat styles of Fela Kuti – Afrobeats is something different; with the addition of the letter 's' comes a whole new chapter in global pop music. London's DJ Abrantee, the man who allegedly gave the name 'Afrobeats' to the hottest scene in the United Kingdom for over a decade said,  "I've been playing this music to three or four thousand people at African events in the UK for years," he explains. "Things like the Ghana Independence celebrations or the Hiplife festival at the O2 in London last year.
Bringing it to the mainstream is a different ball game, though – D'Banj getting played on New Year's Eve at the Thames, that kind of certifies it now – this is serious! For years we've had amazing hiplife, highlife, Nigerbeats, juju music, and I thought: you know what, let's put it all back together as one thing again, and call it Afrobeats, as an umbrella term. Afrobeat, the 60s music, was more instrumental – this Afrobeats sound is different, it's intertwined with things like hip-hop and funky house, and there's more of a young feel to it."
As the internet serves African music to the rest of the world, an appetite is developing for this market. It is estimated that the South African entertainment and media industry will generate R175.4 billion ($122 billion) in revenue next year. Total exports from Africa's entertainment sector currently bring in roughly $480 million a year, according to Politifact.
The formula for international success seems to be good music and even better marketing. "The artistes started thinking beyond the continent of Africa and applying business strategies to their releases, securing international collaborations, making commercially appealing tunes and utilising the power of social media to get noticed,"  DJ Abrantee Boateng told CNN.
In two of sub-Saharan Africa's largest economies, Nigeria and Kenya, income from consumer spending on recorded music is predicted to reach $43 million and $19 million by the end of last year, respectively, according to a report by PricewaterhouseCoopers.
And as digital music sales grow, the artistes hope this means increased recognition for their work. "My hope is that an African pop star will win a Grammy, and occupy the number 1 position on a billboard chart," South African singer Lira tells CNN. "At the moment, we work as best as we can with the platforms that are available to us, at some point the power and influence of African music will be unavoidable."
"I'm predicting that DJs like Calvin Harris and David Guetta will start coming down to infuse African music in their sound," Mr Eazi adds.
The Notting Hill Carnival is an annual event that has taken place in London since 1966 on the streets of Notting Hill, in the Royal Borough of Kensington and Chelsea. Held every August, the carnival is led by members of the British West Indian community and attracts around one million people annually, making it one of the world's largest street festivals.
For this year, participants are in for what could be dubbed 'Afrobeat Rumble', as Femi and Seun, sons of late Afrobeat music legend Fela, are currently in London for the street party. The concert is part of activities to mark this year's Felabration, a celebration of life and times of late Afrobeat legend Fela Anikulapo Kuti.
Conceived by Yeni Anikulapo-Kuti, eldest child/daughter of Fela, the event has brought together over the past decade, leaders and controllers of global music industry. It has also provided a platform for thinkers in African philosophy to bare their minds on issues of Pan Africanism, Blackman's Future and contemporary challenges of governance in Africa. Across the globe each year, about the same period, franchises replicate the festival in their territories. And each comes with individual peculiarities, without losing the brand's essence. Such is the phenomenal status of Fela and Afrobeats, worldwide.
This has had some amusing knock-on effects for black British fans. Abrantee has, he says, heard stories of UK-born kids saying to their African parents: "Can I have some money to go to this Afrobeats rave?' and they've gone, 'Afrobeats? What is this, African music?'. And the parents are really pleased, and proud, that their kids are all of a sudden embracing their culture. It didn't used to be cool, but now they're going through their parents' record collections going, 'Have you got this old song by Daddy Lumba?'." He seems proud of having inadvertently united the generations. "I'm getting a lots of tweets saying, 'My mum loves you,' or, 'My dad's blasting your mix CD.'"
It's not just the Afrobeats fanbase that's growing rapidly in the UK, but the interest from British and American urban music acts too. Ghanaian rap superstar Sarkodie has already collaborated with UK artists Donaeo and Sway, and on a video appeared on YouTube of him teaching Wretch 32 and Chipmunk how to do the Ghanaian Azonto dance, while they worked on songs together.
"You're going to see more and more UK artistes doing Afrobeats collaborations now," Abrantee says, pointing to further interest from Alexandra Burke and Tinchy Stryder. Years ago, in the US, Kanye West signed D'Banj, following his collaboration with Snoop Dogg on 'Mr Endowed', while Akon swooped to sign three Nigerian Afrobeats artists in one go, Wizkid, 2Face Idibia and P-Square. Tinie Tempah has gone further to sign Wizkid on a management deal that would see him (Wizkid) become arguably the biggest bankable artiste from Africa.
According to Abrantee, the funky party sounds now emanating from Ghana and Nigeria are providing an injection of new energy into UK urban and US hip-hop. "The floodgates have opened. Music is always evolving, and everyone's always looking for the next drug. Funky house has died out, grime is still there but it's gone back underground, electro-pop's got UK urban music in the charts, but that'll die out too, it's got a short shelf-life. So everyone's looking for the next thing, the next hype – and people are finally noticing I'm getting 3,000 people coming out to dance to Afrobeats."
Additional information from CNN, google
You may also like: