I'm close to Ooni, Alaafin for a purpose —Olugbon
The Olugbon of Ile-Igbon, Oba Francis Alao combines outspokenness and reservation in equal measures. Circumstances determine his choice of actions and reactions. In this interview by TUNDE BUSARI, he explains his relationship with the Ooni of Ife, Oba Adeyeye Eniitan Ogunwusi and the Alaafin of Oyo, Oba Lamidi Olayiwola Adeyemi. Excerpts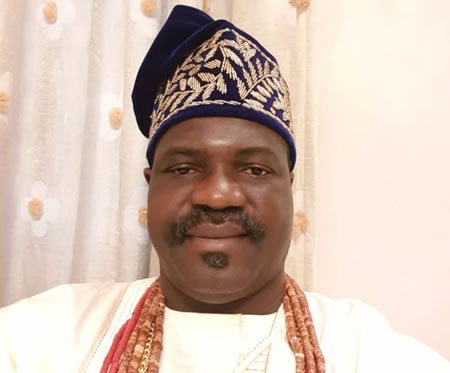 You have promised the world that you were putting up a palace befitting your status as Vice-chairman of Oyo State Council of Obas and Chiefs. What is the state of the palace now?
Construction of the palace is a project which is dear to my heart because the palace is the official residence of traditional rulers. In fact, the palace is the face and image of a town. You assess a town from what its palace looks like. It is still under construction only that the work is a bit slow because of issues I have with my family members but we are approaching resolution of the matter soon. I am still going to give Ile-Igbon a palace to be called a modern palace.
It is believed that you would have your favourites among your fellow traditional rulers, can you unveil close friends among other traditional rulers?
And you think I would answer such a question? Look, as a traditional ruler, we are tutored to see ourselves as friends to all. A traditional ruler is not discriminatory. He is father to all, regardless of age, sex, religion or any other thing you can think of. What I am saying is that if you throw same question to another traditional ruler, there is likelihood that he would give you same answer I am giving you. There is nothing like having a favourite among other traditional rulers. If at all I have favourite, pages on newspaper is not the right place to name them. All I can tell you is that I am friendly to all traditional rulers that come my way. We are traditional rulers bonded by an institution which has long been preserved from the days of Oduduwa. So, ordinarily, traditional rulers should be one and act so. But unfortunately, western civilization to which we are all exposed has a way of influencing some of our actions and attitude to one another.
You are often seen in the company of the Ooni of Ife, Oba Adeyeye Ogunwusi while you are the vice-chairman to the Alaafin of Oyo, Oba Lamidi Olayiwola in Oyo State council of Obas and Chiefs. Can we say you have a special relationship with these two prominent traditional rulers?
I don't want to believe that this is the reason you asked me about my favourite among traditional rulers.
No. It is a general question to feed the reading public fresh insight into your story on the throne.
I believe you know the significance of the status of the two royal fathers in the history of Yoruba. This should guide you on my relationship with them. Regardless of my exposure to outside world and, if you like, my faith, I remain a culture man because I believe that Yorubas are blessed with a culture which should be promoted. And when you listen to Baba Alaafin of Oyo, you would be happy and proud you are a Yoruba. Baba would take you round and lecture you on the richness of Yoruba culture and tradition. In fact, he is an embodiment of our culture. How he was able to transform himself to a digital and culture scholar always surprise me. I think, his number of years on the throne has made him an institution on his own. If you are close to the Ooni, you would be inspired by his liberal disposition to issue while at the same time he does not compromise culture and tradition. His disposition to our culture since he ascended to the throne has made him attractive to people who are genuinely interested in Yoruba culture and tradition. He has travelled to different countries where he projected Yoruba culture. I was on some of those trips and can confirm to you the kind of reception we received. Without being immodest, the Ooni is also an epitome of our culture and tradition. May God bless him and the Alaafin.
The Ooni recently conferred an important traditional title on  Chief Adebutu Kessington who is now the Odole Oodua of the Source. What is your position on it?
You should not expect me to have a different position on this title which can be best described as round peg in a round hole. The title fits Baba Adebutu who is known for his philanthropic gestures over the years. Through his businesses, he has created employment opportunities to thousands of people. Must we wait till he leaves before we show appreciation to all he did? I can say it anywhere that the Ooni thought it right to have conferred him with that very important title.
As the Vice-chairman to the Alaafin, what are your duties?
I have to say it based on this question that it is good to have Baba Alaafin as chairman. How do I mean? He makes the job easy for the vice. The Aseyin of Iseyin and I are at home with him. And whenever he delegates responsibilities to us, we do it. In a nutshell, we work together; we collaborate together as expected of us. We cannot afford not to work together when you have a permanent chairman who is an institution. All he needs is to understand us, and I know he understands us.
Politicians seem to have started preparation towards 2023 elections, somehow creating tension. How will you react to this development?
If I must be honest with you, the politicians have lost out in their objectives and promise they made to Nigerians. We are in a serious dilemma. We just concluded 2019 elections, not yet getting dividend of that election and they are already in horse-trading for 2023. It shows how parochial and insensitive they are. It shows they don't mean well for the country. It shows that the greed for power has beclouded their sense of serving the nation. Unfortunately, they have willing accomplice in the INEC (Independent National Electoral Commission). It is unfortunate that the INEC lacks independent to defend the masses. The INEC has turned to a tool in the hands of the political parties. This is not the democracy we craved for. This is abuse of that system of government. I want international community to show interest in our situation since the world is a global village where we are all interconnected. Anything that happens in Nigeria would have adverse effect in other countries.
Do you think Nigeria as a nation is threatened?
There is no better way to describe it. The truth must be said, no matter how bitter. As a traditional ruler, I have every responsibility to speak up when I am not satisfied with what goes on in the society. The kind of politics being played is a threat to the existence of the nation. Ordinarily, our diversities in ethnic and religion should be our strength. But this strength is being weakened on daily basis by the greed being demonstrated by the gluttonous politicians. There is no better time to say it than now. May be, they would understand that the nation is not performing well. A situation where politicians aid and encourage division can only lead us to somewhere which is predictable. Can you imagine a government not obeying court order in a country which is expected to respect Separation of Power? One principle on which democracy stands is Separation of Power whereby each arm of government functions independent of one another and make a way for the rule of law.
Kaduna state Governor Nasir el-Rufai carpeted Nigerian politicians with a strong word, a kind of support for what you just said. What do you say to this?
Governor el-Rufai is one of them. So he knows what he was saying. He said 75 per cent of politicians in government are bad people. I commend him for coming out to say that truth. But I am adding 15 per cent to his figure to make it 90 per cent. I am saying that 90 per cent of politicians in government are not supposed to be in government. I am using this opportunity to tell General MuhammaduBuhari to reform himself to be a democrat and act as one. Anti-masses policies cannot take this government to anywhere. This is 2019 and not 1984. He should be reminded of that difference. Nigerians want to see government of the people for the people and by the people. That is simple definition of democracy. That is what makes democracy popular among other forms of government world over.
There is a little left for traditional rulers in Nigerian Constitution, a factor which restricts you on certain things. What do you want the government to do on this?
What we want the government to do is very simple and straight forward. National Assembly should formally recognize the fact that we are the closest to the grassroots and give us constitutional power that will reduce pressure on government.