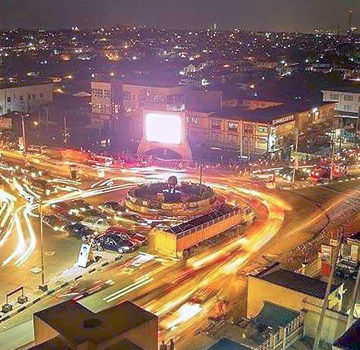 IBADAN at night has no dull moment. Tourism seems to be of high concern in Africa of today due to the area of economic advantages. The importance and relevance of tourism to the world at large cannot be underestimated, especially for the Third World countries. If truly tourism is about culture, environment and humanity. These three factors are very important in the consideration of what we can regard as being African, due to the fact that African cultural values centre on festivals, such as; Eyo, Egungun, Ijala, Osun, few among countless festivals . It can be concluded that Africa and her environment encourages entertainments of different types and kinds. Africans are fun loving people, this is one of the reasons we are considered as part of the happiest groups of people in the world. When it comes to the level of fun, Africans are no respecter of class or gender. At that celebratory moment of togetherness, Africans show a great deal of love, sex, music, dance and other forms of excitements.
This plays riddle for Ibadan as one of the most popular cities in Africa, first in most of the development in Africa such as; the Premier University and the First Television Station. This may give a wrong perception of Ibadan to be home of rigorous life without much excitements. However, thank God is Friday tour of Ibadan reflects contrary to this view as the city harbours classic, classy and exotic club houses and arena such as; Kokodome, Gentleman Quarters (GQ) Lounge, Hexagon, E-Bevande, Mauve Louge, 411 Night Club, Perfecto Hotel,  OfficialclubE3, Plat'num night Club, Club 0305 among many others. This factor reflects that Ibadan can be rated among top tourist cities in the world such as Paris, Malaga, Barcelona, City of Sin and Seville. Challenge-Ring Road axis, this vicinity houses highest number of clubs, bars and hotels, places like Bodija and University of Ibadan should be left out. The chain of ladies out in the night will make one forget the vows taken on one's wedding day.
Finding my very self at 11:45 pm outside Infinix Club, for those not with the luxury of expensive drinks there are severe mini restaurants and bars down to Bubbles Plus, this serves as sources of income for countless unemployed people,  there is Solo-Jedi Joint across the street, apart from several women selling locally made drinks, mini pack drinks are sold by some traders, food are sold by almost all the three tribal groups. Talking to a sex worker, she disclosed that most of her clients are foreigners, she concludes "I get paid in Dollars". Not to forget my interview with a big fan of Bubbles name witheld well-known with bottles of Hennessey on his table, he is the opinion that discrimination has nothing to do  with money, but one's pocket determines one's level of fun, "Nobody cares here about who you are, we all come here for the fun of life, be you rich or poor, black or white we all meet here.  Life is full of stress- we have fun not to be hypertensive, so we won't die early." Africans are fun-loving people. It is wrong to talk about what one has not seen for himself.