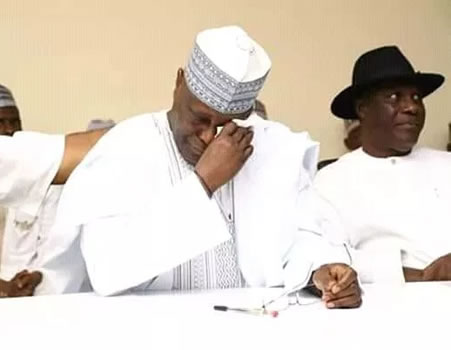 FORMER Vice-President Alhaji Abubakar Atiku, and leading presidential aspirant on the platform of Peoples Democratic Party (PDP) in the 2019 General Elections, on Monday, said one of his regrets out of office was his failure to win Lagos for the party when he had the opportunity in 2003.
This was just as he debunked the claim that President Muhammadu Buhari cannot lose election in the North, declaring that whenever Buhari contested election with any Northerner, he always lost.
Atiku, who is also the Turaki Adamawa, made this disclosure in Lagos at a meeting he held with party chieftains and delegates at the PDP state secretariat at Sogunle, Ikeja in continuation of his tour of state chapters to seek support for his aspiration.
Party leaders from the state, who were on ground to receive the former vice-president and the PDP presidential aspirant, include former Minister of Works, Senator Adeseye Ogulewe; Dr. Abimbola Ogunkelu, former PDP chairman, Capt. Tunji Seleh; Chief Muiz Dosumu, Hon. Rahman Owokoniran, among others, while Atiku was accompanied by former Ogun State governor, Otunba Gbenga Daniel, Elder Godsday Orubebe, Duben Onyia, among others.
According to Atiku, his boss, former President Olusegun Obasanjo, had prior to the 2003 elections, given him the task to deliver the six South-West states, then controlled by the defunct Alliance for Democracy(AD) to the PDP, saying he did his best to carry out the assignment in the elections as he delivered all the states to PDP except Lagos.
Atiku said he deliberately did not do much to win Lagos because of his relationship with former Governor Ahmed Bola Tinubu, who is now National Leader of All Progressives Congress (APC).
The PDP chieftain, however, tendered his apology to party members for what he termed as his mistake, expressing the belief that Lagos would have been better if he had then delivered it to the PDP.
ALSO READ: PHOTO: Passenger protests half naked in middle of busy road in Lagos
"When we came to power in 1999, the entire South Western states were controlled by the AD. And when we were approaching the 2003 elections, I told my boss, give me the chance to take over the South-West
"And he gave me that authority and I took all the states with the exception of Lagos. Why? Because Asiwaju Bola Tinubu and I came a long way from the SDP, PDM and all of that and I felt I should leave Lagos for him. And he asked me to leave Lagos for him. In fact, I could easily have taken over Lagos and live will be less. Today, we have lost South-West again to the All Progressives Congress.
"I want you to forgive me for leaving Lagos out of that arrangement. If I have that opportunity again, Lagos and other five states will return to PDP controlled states. I can tell you that and I know what I did to preserve Lagos.
"I want to appeal to Nigerians and members of PDP, to give me that opportunity to return, in order to correct the mistake I made 14 years ago," Atiku added.
The former vice-president stressed that the 2019 election was very important, warning that Nigerians must ensure that APC was not returned to power if actually, they wanted solutions to present challenges facing the country.
"If we make the mistake to return APC to power again next year, we will have ourselves to blame. For instance, Lagos State and its resources have completely become the property of one person. So, if you continue with that, it means that you will still be under control of one man for another four years."
Speaking further, Abubakar said his decision to seek the number one seat in the country was to reposition it and put in on the path of progress.
According to him, the country is having serious issues in the areas of economy and security because the ruling APC had failed to deliver the promised change, assuring that he would fix the problems and reposition the country if elected, come 2019.
Speaking on his chances, the former vice-president said it was wrong to assume that President Buhari cannot be defeated, contending that he (Buhari) had never won any election against any Northern presidential candidate and was able to do so because he gave him his support in 2015 poll.
Atiku, while urging for support from Nigerians for his aspiration, said he was committed to the idea of restructuring the country because he believed it was key to the nation's progress.
"I want to appeal to Nigerians to give me another opportunity to correct the mistakes that I made in the past and that mistake was by supporting to being President Buhari to power.
"This mistake has brought us to have the worst economy since 1999. We are still trying to recover from recession. Life has been made very impossible because of insecurity. I have not seen this country so unsecured.
"In the North, we find it difficult to go to farm for fear of being kidnapped or killed by herders and by the end of this farming season, we may have food scarcity," he lamented.
On restructuring, Atiku, further lamented that the country had never been as divided as it was now, promising to restructure it within just six months if voted into office.
"Our unity in this nation has not been so divided. This government is insensitive to the plight of the people. I will use six months to restructure Nigeria," he said.
For instance, he affirmed that the Federal Government was too powerful, promising to ensure that he devolve powers to the other federating units if elected.
"If I am elected, I will make the centre unattractive and ensure that power devolves to the states," Atiku said.
Earlier, the Director-General of the Atiku Campaign Organisation, Otunba Daniel said Atiku had the capacity to reposition the country, adding that the former vice-president had the passion and the experience to lead the country and that he would not disappoint Nigerians if elected president.
Daniel, therefore, appealed to party members in the state chapter to be united and support the aspiration of Atiku.
The only PDP member of the Lagos State House of Assembly, Hon. Dipo Olohunrinu thanked Atiku for the visit, saying members in the state chapter had confidence in him to reposition the country.
"We will support you, we will be with you. We are 100 per cent with you and your aspiration," Olorunrinu said.