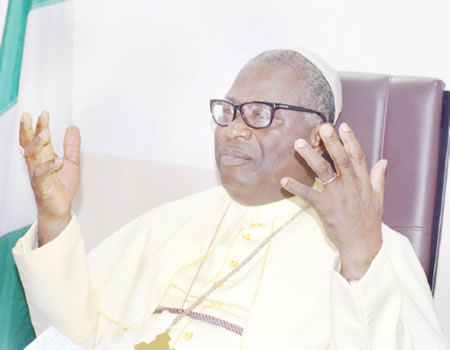 Prelate of Methodist Church in Nigeria, His Eminence, Samuel Chukwuemeka Uche, in this interview with SEGUN KASALI, SYLVESTER OKORUWA and LANRE ADEWOLE, shared his story from childhood, the circumstances surrounding his birth and how he ended up in priesthood.
HAVING been on the seat as the prelate of the Methodist Church of Nigeria for some years now, the seat should be cooler than when you got there?
I think so but the work is very challenging. You know it's not easy for one man to be in charge of the whole of the Methodist Church in Nigeria. It has over 6,000 local assemblies, with over two million membership and more than 100 reverend ministers; then, archbishops and bishops are 80 under one man. So, it's not easy. There's church in Diaspora: Togo, Benin Republic, Gabon, and Guinea-Bissau. There's a branch that is opened now in US at Maryland, Baltimore and another branch in the UK, the chaplaincy outlet. So, all these things are on one table. All the demands come to me. God, release the grace is all I can say.
So, the seat is still hot?
It's very, very hot. We deal with governments, ecumenical bodies, media houses and the church itself has a core assignment. It has not been easy, but God's grace is sufficient.
Beyond the ecumenical and some administrative jobs, is there church politics, which could also make the seat hot?
Well, our church is well-structured. We have a constitution guiding us. The politics in our church is not so much because the church is guided and we have a way of doing things. We already know who will do what and at what time. For instance, my re-election for another five years, which will commence from October this year, was a unanimous decision of Conference. Once they voted that I shouldn't continue, there will be no Jupiter that could stop it. I will just step down or step aside. But they agreed unanimously that I should continue. So, I'm here on the mandate of the people and I'm very happy regardless of what happened in the church. Not everybody will agree with you. There might be few dissenting voices. But if the majority says 'go ahead, we are supporting you,' you are good to go.
Could you please share your experience regarding the election that brought you in?
The election took us long hours. We entered into the election hall around 7 o'clock and we came out by 3 am, which was when the result was announced. It was a thorough process.
Shouldn't it be the Holy Spirit choosing for the church of God?
Yes, but there are human elements because you know people are educated. In fact, there might be a breach in the constitution. People might detect this and it might cause grudges and skirmishes which are normally settled. The very cordial, harmonious and happy situation in our own was that the crisis was resolved by us. We were in court for 14 and half years. Eventually, we went on our own to the court to withdraw the cases because we all signed a joint agreement that we have discovered that the judge cannot solve our problem.
Close associates must have disappointed you…?
Very many but I will not mention their names. There are some people you feed with your hands and they want to bite your hands off. They are in the secular world. They are among the clergy. They are in the social services. As you are seeing me, I have not only served in the church. I have served many governments. Governments have appointed me to boards and parastatals, both at federal and state levels. So, you see disappointments sometimes, but it's normal.
Were you rascally as a child?
I was a rascally person. I was rascally because when football was seen as a sin, something a child should not do, I was playing football and my father was beating the hell out of me. He would beat me and say 'go and read and study' but I would sneak out to go to the field. But I wasn't engaged in womanising or fornication and I was so serious on my studies to the extent that I couldn't have a girlfriend. But I had Christian friends, who were both boys and girls and we studied together. There were more of study mates and groups. There was humility then, not now that children watch films and are interested in money.
Brilliant minds, then, hardly made priesthood their dream.
When the Holy Spirit catches you, you can't resist and if I had resisted God, I would not have been alive today. So many things happened in my life that I remember God saved me. I fell down from a mango tree. I was shaking it and the branch broke. From there, I fell down 18, 19 to 20 feet. I didn't break any leg. In fact, I jumped as if it was a deliberate one. I nearly drowned and I didn't die. Also, I stepped on snakes several times because I was going hunting in the bush. But I did not die. When I calculate all these things, I say God preserve me for a purpose. But most of my peers died and God kept me alive. So, there's a way of paying back and as a result, I said I would serve him with my all.
You have this yet-to-be completed personal civil war story…
There was a time I was nearly stranded in the war but when our brothers who were on the other side were approaching, I didn't know how I escaped even up till now. There was a cave where I ran into. They came around the cave searching for me but couldn't see the hole I was hiding in. God did something miraculous.  I entered the hole and a spider made its webs and they felt nobody was there but I was there. So, it was the spider I removed and came out when I noticed they had left. One would have been dead by now.
That means you started early in ministry…
I became a chorister at the age of 8 though I was rascally and people would always drive me out, saying 'why are you in the choir? Go to Sunday school?' But my father would say 'leave him.' I remember that my apron was odious because I would use it to sweep the floor of the church. So, immediately I finished my school certificate examination in 1974, I started serving the church as an evangelist.
Were there special circumstances that surrounded your birth?
My name is Samuel. It's not a coincidence. My mum was seven years in marriage without a child. My mother had her first baby in 1949 but the girl died. In 1951, the second baby was premature and died. So, people started saying so many things, pushing my father to go and remarry from a particular family. My father was a church man, in charge of Methodist Church, Okigwe Township, which was a divisional headquarters in those days. So, whenever my father went for clerical activities, my mother would go rolling herself before the altar and say God, if you give me a boy, I will devote him to you. Why she emphasised on a boy was that in those days, she didn't know that a lady could do a pastoral job. So, God answered her call and I came. I came on 29th January, 1953.
Your mum must have spoilt you as a child of promise?
Ahhh! Yeah. My mother pampered me a lot. When they say children should not eat egg, my mother would cook one for me and she would say eat the egg and drink water. And she would give me meat when preparing soup. She normally brought fish and put in my mouth. She's known for saying to me: 'my son that opened my womb.' She saw me as a precious gift.
ALSO READ: Don't forget your crucial role in nation's building; rep tells church leaders
So, there was no flogging?
My mother was soft. The person that was a disciplinarian, that would cane you until you urinate, is my father. Not that he hated us o. It was when we grew up we knew that he never hated us. He meant well for all of us. He used the rod on all of us. He produced seven and I produced seven. He disciplined all of us. You cannot touch somebody's penny. If you didn't remember to take your purse during a visit to our house, we must send it to you with your money intact.
Are you also using the rod?
Yeah, why not. I used it on my children. Even on my grandchildren, I've started using it. I learnt that the Nigerian constitution will not allow them call police for me.
How is your wife coping with your little financial resources as a priest?
I bless God. My wife was one of my pupils in Sunday school. I taught her as a small girl. When I was teaching my wife, I was about 18 to 19 years and my wife was 11 years. But I was observing how sharp she was. She was walking alone. You don't see her playing rascally with boys. When I invited her to our house, she came and I told her I would marry her. My father gave her money. Fortunately, she told the parents and they came to thank my father. When my father saw this, he told me 'this is the girl you would marry because I gave her money and she went to tell her parents.' So, she's a blessing to me. My wife knows how to manage poverty and she also knows how to dwell in affluence. She was as a civil servant between 1993 and 2015, not because she was due for retirement but because she wanted to be involved in the work of the ministry.
Do you shop for your wife?
Yes, of course. Anywhere I go, maybe Italy, UK, Canada, US and even Zimbabwe, Kenya, South Africa and so many other places, I must buy something for my wife. I must buy something for all the children.
You sound like a man who would follow his wife to the salon…
I was doing it before. I was cooking with my wife in the early years. I would join her in the kitchen. We cooked together and when the food was done, she would tell me to taste it. But I only left the kitchen when the children started coming. But for the first five or six years, we must be in the kitchen together.
Men of God find it difficult to be romantic…
Ah! I have the license. Go and check the Word of God. I do all sorts of things with my wife, but I will not tell you (Laughs).
Did the opposite sex trouble you?
Why not? I told a minister last time that women don't fear cassock. Why I rushed to marry was because I was under pressure in my first station. Somebody, unsolicited, would go and buy a dozen set of underwear. That time, there was a type of body cream we were using called Nku cream. They would bring you Nku cream. What were they looking for? Sometimes, they would visit you. They would be there to eat your morning, afternoon and night food. My dear, what were they looking for?  They were looking for something. Today, I am happy that I disappointed all of them because before I went to the field, I already had my wife.
Are they still looking for something now that you are a Prelate?
Even if you a Prelate or Pope, they will still look for something. Recently, I went to Abuja. A lady knocked at my door in the morning. I peeped and I saw that the lady was badly and dangerously dressed. I screamed: 'what are you doing there?' and she said 'sorry sir, sorry sir.' She left. You know, they come to look for men. For some people, it's a welcome development for them. They would tell her to come in even though they don't know them before. They become victims. Some of them are robbed in the hotel but they can't talk. This girl you are romancing can put something in your water or tea and you sleep off. By the time you wake up, you are naked. I have helped somebody but not from Methodist church. We went for a conference. I knew he brought in a girl. This is a minister of one church. We had to contribute money for him to buy something to wear because they robbed the man at night. We had to beg the hotel to open the door and when we opened the door, we saw the man in pant and singlet.
What's that misconception about you?
Some say this man doesn't laugh, he's a hard man. He hardly forgives, but I am not because I forgive. But I am a disciplinarian. If I laugh with you as my child and you misbehave, I will deal with you. Methodist Church has never suspended a bishop since its inception. But under me, a bishop has been suspended indefinitely. Another one has been suspended and brought back recently. There must be discipline in the church. If you say you want to serve God, you must be responsible. You don't have to mess up. Otherwise, go and be a policeman or something else.
Why are you vocal?
It's the Lord's doing. In fact, they had to warn me from Aso Rock that I was criticising Buhari's government. What did I say? During the Armed Forces Remembrance Day of 2016, I preached. On that occasion, I said that Boko Haram was sponsored by some politicians of Fulani and Kanuri origin. So, they said I was attacking Buhari. As I am here now, I don't spare anybody. I condemned the election in Ekiti State. It was daylight robbery. If PDP did it, I would condemn it. If APC does it, I will condemn it. Any party, I will condemn it. I want an egalitarian Nigeria. A Nigeria where there's equity, justice, fair play, the rule of law. That's what I advocate. So, I am not biased.