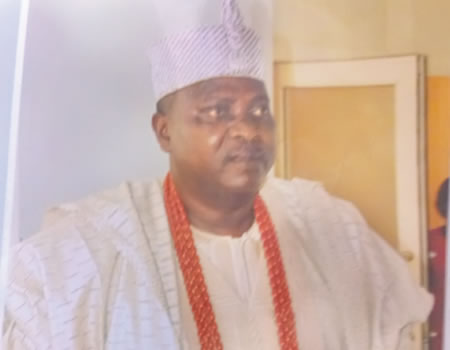 Oba Omoniyi Olufunmilayo is the Akapinsa of Ipinsa in Akure South Local Government Area of Ondo State. In this interview by HAKEEM GBADAMOSI, he speaks on how his domain came into being, the challenges inherent and efforts towards developing the town among many other issues.
How did Ipinsa come into existence; is it part of Akure?
Traditionally, Akapinsa is the first son of Deji of Akure because we migrated from Akure to this present abode of ours. The first Akapina, Ekikejejeje, was the son of Deji of Akure. At the age of 30, he told his father to vacate the throne for him that he wanted to be the traditional ruler of Akure then.  But his father had to send him to this side and he settled here.
Before he came here, this place was called Igbo Ogun while the name Ipinsa emanated from what we know today as stubborn grass. It was plenty here. We had a lot of buffalos here; there was a man who would cut the stubborn grass and sold it to people and because of the abundance of the grass, known as "Isa" here, people named this location by that. So, there is a relationship between Akure and Ipinsa. I am the first crowned king here. Initially any traditional head from Ipinsa was installed by Deji of Akure in his palace and we would come back to Ipinsa to celebrate it but I am the first Oba to be crowned in Ipinsa after the state government recognised the stool of Akapinsa as a traditional ruler of Ipinsa but that has not stopped the mutual relationship we have with the Deji and people of Akure.
How did you emerge the traditional ruler of this place?
After the demise of the previous Akapinsa, about seven of us contested for the stool and I was selected by the oracle and prayers. I was installed the Akapinsa on 28th April 1995. That was about 23 years ago. I have so many things I can point to as achievements. I was able to facilitate electricity into this town, maternity centre, because our women used to travel as far as Akure for maternal care. We also have a modern market here and presently, one of our sons has embarked on the building of a secondary school here in Ipinsa. He is Afe  Olowookere.
What is Ipinsa known for and any special festival or taboo here?
We are farmers here though we have some other people who are involved in trading. Largely, we are all farmers here. There is a stream here that we call 'omi oha' which the king must bath with during his installation.  After bathing, it becomes a taboo for the king to visit the river in his lifetime and they cannot bring the water to the palace. After the demise of the king, the same water will be used to bath the king again.  No one dares fish in this river and even if you kill a fish, you cannot cook it and anyone who goes against this taboo will just vanish from the town.
We have two special festivals: the egungun festival which we call 'Odun ajinde' and we celebrate this between January and April; we also have the Opa festival which we usually celebrate around July. Indigenes from far and near come to celebrate this festival with us. We do eat new yam during this period and this festival has historical link with the community.
What have been the contributions of the indigenes of this town towards the development of Ipinsa?
We have involved many of our sons and daughters outside the state and abroad in contributing towards the development of our town and the response has been encouraging. I told you earlier that one of our sons is building a secondary school for the community here. Another also donated about two hectares of land to the community. That's where we are building the school. Honourable Akin Omoseebi gave us the land while Honourable Akin Olowookere is building the school. Also the former deputy governor of this state, Otunba Oluwateru has also contributed to the development of this town. The mother of King Sunny Ade, the musician, hails from this town and many of them like that, and I have been calling them to assist me in developing this great town of ours.
Would you subscribe to traditional rulers marrying more than one wife? 
It depends on the way you look at it, I have four wives and it has nothing to do with my traditional stool. I had two wives before I became the king and married two more after  I was installed as the king. It's a matter of choice; some hinge marrying one wife to their religion. I grew within the confines of a polygamous family and I see nothing wrong in marrying more than one wife.