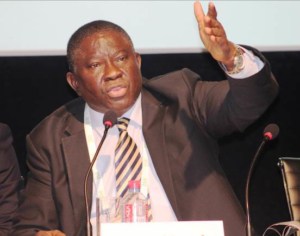 President, Soil Society of Nigeria (SSSN), Professor Victor Ochude, has said that sustainable agricultural systems is key to address climate change as well as advance food security.
He stated this during the opening ceremony of this year's  annual conference, with the theme: Sustainable Management of Soil And Water Resources For Food Security, Climate Change Adaptation and Mitigation, which was hosted by the Institute of Agricultural Researches and Training (IAR&T), Obafemi Awolowo University, Moor Plantation, Ibadan, between Tuesday, 13 and Thursday 16, March,  2018.
According to Chude, the theme for this year 's conference was carefully chosen to draw attention to the strong and complex nexus between soil degradation, climate change and food insecurity which is a global challenge.
He further stated that:"Sustainable agricultural systems must be integral to Nigeria's agenda to address climate change and variability, improve renewable freshwater supply and quality, restore degraded soils and ecosystems and advanced food security.
"These global challenges are being exacerbated by increasing population and decreasing per capital arable land area, renewable fresh water supply, increasing frequency of extreme events, decreasing resilience of agro-ecosystems and decreasing soil quality and use efficiency of inputs".
In his remarks, the Minister of Agriculture and Rural Development, Audu Ogbeh, who was represented by the Regional Director (South-West) in the ministry, Adeniyi Ogunwale, commended the organisers of the conference for the focus to tackle the challenges of food insecurity and climate change through research towards the development of sustainable management of soil and water resources. He expressed hope that the outcome of the conference shall be used to benefit the Nigerian agriculture sector by way of sustainable food production.