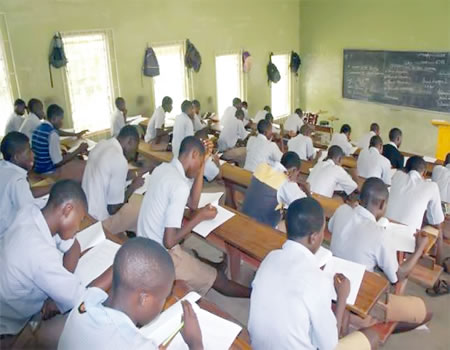 The federal government recently announced plans to return History as a subject to the schools' curriculum beginning from the next academic session. MODUPE GEORGE examines stakeholders' reaction to the development.
EVER imagined a society with absolutely no knowledge of the past? No doubt, the history of a people speaks volume about their past, present and future. Without the knowledge of the past, people would be without identity and would be lost on an endless sea of time.
According to Professor Walter Ofonagoro, a former minister of information, "History has multiple uses that cannot be imagined. It's really very important; it is the foundation of all knowledge and the mother of all disciplines.
"History covers everything about human mind on earth, and there is nothing we do on earth that has no history. History is our past, history is our present."
Sometime ago, History was scrapped as a standalone subject from both primary and secondary schools curriculum in Nigeria. In 2010, it was merged with Social Studies in the Basic Education curriculum.
It naturally set off widespread outrage and since then, stakeholders had been agitating and clamoring for its comeback. Many people argued that History is essential to any society, since what happens in the present, and what will happen in the future are both governed by what happened in the past.
Therefore, stakeholders heaved a sigh of relief when the Minister of Education, Mr Adamu Adamu, announced the reintroduction of History back into the school curriculum
Adamu had said: "Following the sustained clamour by stakeholders in the nation's educa¬tion sector, the reintroduction had become imperative, given the critical nature of history to the nation's socio-political development.
"The struggle for Nigeria's independence was a milestone in Nigeria's history. It is a key component of Nigeria's nationhood, and succeeding generations need to have that understanding.
"Teaching these historical perspectives of Nigeria will help young ones appreciate the nation better and understand their identity."
Expectedly, the Nigerian Educational Research and Development Council (NERDC) announced its readiness to reintroduce History as a standalone subject in both primary and secondary schools curriculum, beginning from the 2018\2019 academic session.
The executive secretary of the council, Mr Ismail Junaidu, announced in Abuja recently that the curriculum is ready, and that the subject would now be a separate curriculum to be taught from Primary one to JSS III.
He said a sample of the new History curriculum for had been forwarded to the states so that they could plan ahead of its implementation, saying, "all states are expected to be sensitised and train teachers on how to use the curriculum before the implementation can begin."
The reintroduction of History has since then stimulated some positive feelings in the stakeholders who saw the death of it and fought tooth and nail to see it resurrected again.
Speaking with Tribune Education, Professor Ofonagoro lauded the present administration for bringing back History as a subject.
"I would like to commend the present government, particularly the vice president, Professor Yemi Osibajo, for this great achievement. I was very shocked to find out that history was cancelled. Which kind of country would cancel history as a subject in the school curriculum of it schools? I mean, it's idiotic and incredible to me.
"I suppose some people wanted to keep the present generation ignorant of the past of the country; but you don't improve the future by keeping the people ignorant of the past. That's when they are bound to repeat the mistakes of the past.
"Obviously, it's very important to have History in the curriculum because if the present generations are not taught their history, how would they be able to chart their courses properly in the future? They must know what the nation has gone through for it to get to where it is before they can know how to correct past mistakes and intelligently chart a course for greater achievement and progress for the future."
Professor Bolanle Awe, Nigeria's first female professor of History, also welcomed the development, also maintaining that it would not only enable the children to know what happened in the past, but also aid them to understand, be aware of, and avoid pitfalls that limited their predecessors.
"Without our historical background and knowledge, we cannot really appreciate who we are, what we are doing and what we should be doing. The past is important for us, so that we can know where we have done well and where we have not," she stressed.
A retired History teacher who taught the subject for 18 years, Mr Kolawole Ola, expressed joy over the reintroduction, attributing many of the social ills that prevail in country today to neglect of History and moral education.
Also Read:  FG begins review of Civic Education curriculum
"We need to go back to History; our young ones need to be exposed to History to correct these ills," he said, adding "any nation that fails to emphasise its history will continue to crawl in darkness."
"Yes!  History is like a light unto a group of people. It is high time we began to take instances from past leaders and individuals who had lived worthy lifestyles, which portray them as role models to the youth," he noted.
A curriculum analyst, Professor C. O. Kolawole of the University of Ibadan, said "it was a mistake that the government made by removing History from the school curriculum, because any society that forgets its past cannot plan for its future.
"The removal of History from the curriculum would make us forget where we are coming from and we would not to be able to appreciate where we are presently, let alone plan for the future. We have fought it and now the government has responded. I would like to commend the government for it."
For Mr Tayo Adesina, a professor of History at the University of Ibadan, the reintroduction of the subject is the right step in the right direction.
Also, Mr Ejika Anthony, a performing artist and president of Poetry Enclave, said bringing back History into the school curriculum is the best thing that can ever happen to the country at this point in time.
"There are lots of young people now in the primary and secondary school, who know nothing about this country's history and it's a shame! You can't be living in a country and not know the history of that country. If History is coming back, then it's good," he stated.
Now that History is back in the curriculum, the question is: what should be the focus and content? Are the old contents still going to be relevant the way they were? What should receive emphasis now? How much of the old and new contents should be taught?
Professor Tayo Adesina believes that recycling the old topics in the curriculum would be a big mistake.
"What we are expecting now will be something that is more socially grounded and rewarding; something that is connected deeply to the society, as well as to our aspirations as a people.
"Nowadays, I think younger generation can look for some things by themselves on the internet; but right now, we have to guide discussions on human relations, social relations, identity, inter-group relations, civic sense of responsibility and, of course, nation building, " he stated.
But Professor Kolawole believes that relaying the history of great leaders and other countries should gain more emphasis in the new curriculum.
"These are germane, so that we can learn from them as role models and also from other countries that had passed through what we are passing through now in their evolution and how they succeeded.
Professor Ofonagoro is of the opinion that the new curriculum, in terms of content, should not just focus on the teaching of Nigerian history, but also African history, as well as European and global history.
"Now that the history has been reintroduced, I think professionals should get together to look at what was dented before and see why it was stopped, and generate new ideas on how to improve on the shortcomings and give it proper focus.