#HateSpeechBill: Nigerians react to arrest of Micheal Itok over alleged Facebook post against governor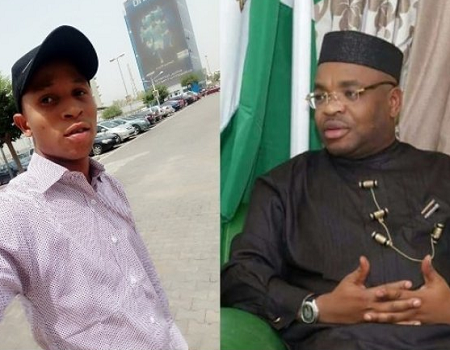 Nigerians have taken to the social media to raise concerns over the arrest of a bank official, Micheal Itok, who was remanded in prison for allegedly publishing "damaging and annoying" articles against a state governor by the State Security Service (SSS).
The 21-year-old Mr Itok, it was gathered, works with a microfinance bank in Uyo, as a marketer.
He was arraigned yesterday (Tuesday) before a magistrate court in Uyo and accused of writing numerous articles against the person of the Akwa Ibom State governor, Udom Emmanuel, and other staff of the state government house.
ALSO READ: Hate speech bill: Nigeria moving towards dictatorship ― Afe Babalola
The charge against the bank official reads, "That you, Mr Michael Itok and another now at large, sometimes in October, 2019 at 1000 Units Housing Estate, Idu Uruan, Uruan Local Government Area, within the Uyo Magisterial District did constitute yourself into a nuisance by publishing damaging and annoying articles on your Facebook page with the aim of harassing, blackmailing and bringing to disrepute His Excellency Deacon Udom Gabriel Emmanuel and other staff of the Akwa Ibom State Government House, and thereby commits and offence punishable under Section 6(1) (f) of the Akwa Ibom State Internal Security and Enforcement Law, 2009."
However, Nigerians are protesting against the arrest of the bank official, especially on the micro-blogging site, Twitter, noting that the arrest of Itok negates democratic principles and an attempt to gag free speech.
Below are the tweets:
Michael Itok, a bank official, has been remanded in prison for allegedly publishing "damaging and annoying" articles on Facebook against Akwa Ibom governor, Udom Emmanuel, reports @PremiumTimesng #Repression #FreeMichaelItok
Free expression is not a crime

— SERAP (@SERAPNigeria) November 27, 2019
Some governors in the south-south region are turning themselves into demigods, Akwa Ibom and Cross Rivers governors readily come to mind as new tyrants in town, jailing people because of their opinions. During the military administration, things are not as bad as they are now.

— oludare mayowa (@olumidagreat) November 27, 2019
The fact they use the state resources to harass innocent Nigeria should called for concern, the roll the Judiciary also play on all this called for questioning. The Judiciary should always uphold the right to fair hearing and the right to be represented by a attorney.

— Prof. Bukola Moyo(Maximus) Affidavit (@moyologun) November 27, 2019
Hhnnmmm, that is to say if the bill is signed into law the death toll we will be getting will be humongous! Is it no better the military take over and rule us. The kind of Democracy we have now is even more deadly than what we had during the military era. God help Us!

— Faith (@Faith30680092) November 27, 2019
what is this country turning into too, you can't longer speak up when seeing things going wrong or suspicious about this politicians, hate speech bill has not been pass o, if they finally pass it that means people will be sentence to life imprisonment or kill by firing squad

— Onyourown (@sirmuyi30) November 27, 2019
"It is apparent that Mr Michael Itok has been detained by the SSS for over 40 days before he was eventually arraigned."

Attention @MrUdomEmmanuel
You've no business in public office if you can't stand criticisms#FreeMichaelItok #SayNoToSocialMediaBill
https://t.co/uBN4lyS4dK

— Sir.Ariyo-Dare Atoye (@AriyoAristotle) November 27, 2019
A DEMOCRATIC GOVERNMENT VOID OF THE TENETS OF DEMOCRACY

His name is Michael Itok. He was arrested in the bank's premises on October 8 around 7:30 a.m by the SSS. Detained for over 40 days before being arraigned on Tuesday (November 26) after which he was remanded in Uyo prison. pic.twitter.com/BHmDtWSw8S

— Mr. Emy (@EmyOputa) November 27, 2019
@MrUdomEmmanuel you have no business in govt. if you can't withstand criticisms. Why using @StateDeptDSS and jailed Micheal itok bcos he exposed you, @OfficialPDPNig and your bad governance #youcan'ttamedemocracy #freemichealitok pic.twitter.com/kRYciRebUi

— Niyi'Soyebo (@soyebooyeniyi) November 27, 2019
https://twitter.com/iykimo/status/1199600939545636865?
Who reported Michael Itok's post to the DSS? Is that what the Gov's media people are paid to do? How offensive was the post? I'm disgusted that this is happening in Akwa Ibom.

As a leader, people must talk about you. You signed up for this @MrUdomEmmanuel #FreeMichaelItok

— Rose Rozay Akai (@rozirozay) November 27, 2019