Groups, activists call for popular action to take back citizens' rights
• Say Nigeria militarised, democracy under threat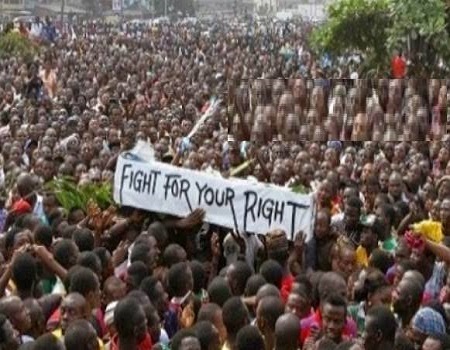 Pro-democracy groups and activists under various platforms, including Social Development Integrated Centre (Social Action), Joint Action Front (JAF), Coalition for Revolution (CORE), National Intervention Movement (NIM), among others, on have said that the country's democracy is under threat and militarised, calling for a broad-based pan- Nigerian movement with the aim of reviving popular action for the return democracy and freedom that had been taken away from the citizens.
The groups, which met at the Airport Hotel, Lagos on Tuesday for the Social Action's 2019 Pro-Democracy Conference with the theme: "Reviving Popular Action for Democracy and Freedom in Nigeria," also include The Difference Newspaper, Civic Media Lab, RULAAC, agitators for "Free-Sowore," among others.
Activists and notable figures, including Prof Anthony Kila, who is chairman of the event, Comrade Wale Okuniyi of NIM, Sheni Ajayi (CORE), Comrade Abiodun Aremu (JAF) and Angela Odah of Rosa Luxemburg Foundation (RLF), all decried the level to which the country's democracy had been raped and freedom denied Nigerians, under the President Muhammadu Buhari administration.
Speaker upon speaker, while lamenting that democratic space was being constrained daily, with activists and journalists being clamped in detention, court orders being violated, the level of crimes and criminality heightened, level of employment increasing, with the state of economy getting poorer as the governments in the country were finding it difficult to pay the new minimum wage of N18, 000, among others, all resolved that time was when Nigerians, including the youths, should rally round and ensure that all the rights and freedoms being taken away were restored.
In his address, Prof Kila said there was an urgent need to build a country where truth and justice would prevail as well as hold those in government accountable, arguing that what was wrong was wrong and what was right was right, regardless of which side of political platform one belonged.
According to Kila, democracy has been processed with the essence being freedom for the citizens but lamented that those in the position of authority in the country today were not really accountable to the people they ruled over.
"Comrades, I have a challenge for you, we need to review the way we are doing things, we need to ask ourselves what do we want to achieve and how do we want to achieve it?
"We must insist on accountability of those in power, insist on truth no matter the side you belong if we must move the country forward," he said.
ALSO READ: Ondo Police arrests ten over protest, burning of church
Okuniyi blamed the current problem faced in the country's democratic journey on the constitution handed over by the military, saying the foundation was militaristic.
According to him, the idea behind it was that the military that handed over power about 20years ago never wanted to leave office and had, therefore, left a constitution that would make them return to power, just as he described the Nigerian state as "problematic" and "inhibiting."
"The scheme of the military was to make democracy fail so that they could come back. All those were foundations that we have seen in Nigeria," he said.
Speaking further, Okuniyi said it was now imperative for people to take up ownership of power in Nigeria to allow the country move forward, charging those in the gathering to reach out, extend their hands of fellowship in order to save the country's democracy.
"It is important for us to save democracy and take power. We need to form a formidable organisation to achieve this," he charged.
On his part, Comrade Ajayi of CORE, while describing the Buhari administration as anti-people and expressing concern about the bills on finance, social and fake news, among others with dire consequences on the citizens if allowed to pass, declared that the "current ruling class cannot move the country forward because of increase in dictatorial tendencies".
"What we have today is a regime that is not ready to address the problems of the country, if we don't come together and organise together, the country is not moving anywhere. How we are going to break the jinx, how we are going to liberate the people, that's the task," he said.
Comrade Aremu of JAF, who was represented at the event, equally lamented the current situation in the country where democratic rights were being eroded, saying the gathering was an avenue "to see how we can confront this regime to ensure that all these rights were taken back and those detained, Sowore, Bakare, Agba Jalingo are freed".
Also, Comrade Jamiu Towolawi, who stormed the venue with supporters of "Free Sowore," who had just concluded a street procession, declared in his speech that Nigerians were in an era of military regime and not democracy, warning against sitting on the fence as the problem facing the country was beyond the issue of getting  Omoyele Sowore, the SaharaReporter publisher, freed from detention.
"We are in an era, the military regime is here with us, there is no sitting on the fence. This struggle is beyond free Sowore.
"We need to mobilise, we need to rise up. The Social Media Bill, the Finance Bill, this government wants to milk us dry. We are never tired. We will continue to March on the streets until we take our democracy back," Towolawi vowed.
Earlier in his welcome address, Mrs Odah of RLF said the conference had come at the right time "because we are far from the ideal of a good society" due to unlawful detention of Nigerians, including Sowore as well as the sort of election malpractices that took place in Kogi and Bayelsa States.
"This conference provides an avenue to look at all these and chart the way forward," she said.