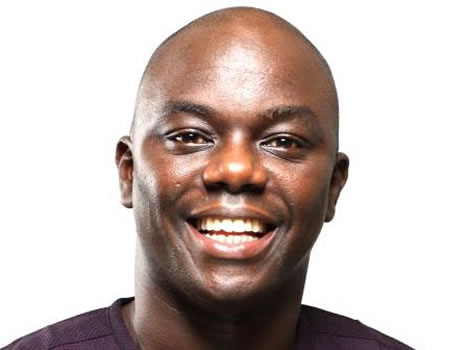 Ayo Animashaun is the CEO of Smooth Productions, organisers of the 'Headies' awards, formerly known as Hip Hop World Awards when it was established in 2005. In this interview with SEGUN KASALI, he shares his experience on the awards. 
The Headies is in its twelfth year. Tell us about the challenges faced starting up a project of such magnitude.
The Headies is in its thirteenth year but twelfth awards but it has been consistent because we have covered all the years in review. The number one problem is sponsorship. We started with huge sponsorship but then it wasn't even big at that point. We started very big because I doubt if anybody got the kind of budget of ours. Yes, we are privileged to get sponsorships most of the time. However, everything went the other way round in the country especially when the economic recession set in to the extent that the big brand that was behind the Headies at that time stopped sponsoring totally and there was nothing we could do. But we needed to keep going on and till date we have been pretty much consistent. So, it has been very difficult funding-wise. Out of the 11 awards we have had, we probably got sponsorship for six and the cost of the remaining five was borne by the company which was very heavy on us because we knew what to do and how to do it. When we started, we wanted a big event to set a revolution and we started by putting out billboards, then we went online and everyone was involved. Tee-A was there. We even started in his office because we did not have a big office as at that time. I moved from my own one-shop office. I did not want to go there anymore. I wanted a fresh start and then it happened and we were very happy that everyone was talking about it. Later, we thought we could take it to another level. We have had our challenges over the years so, yes, that was how we started.
What happened to the sponsors?
I would say that no brand wants to sponsor. They simply want a means to an end and so sponsorship is always a means to an end for them. Also, what they have for sponsorship is a luxury budget, so when anything happens within the system, the first place to go is to take out money from the sponsorship budget or cut/stop it. I would say that some banks have really tried in Nigeria. We are not the only one. For us, our system is just growing and a lot of us are just getting mature especially when there is a bit of controversy about an artiste thinking he should win over the another and there is noise in the media like there was so much noise last year, which is normal. You know, in the last Grammy awards, there was controversy. Jay Z did not win, out of eleven nominations. Two years ago, Oscar awards also had a controversy and the sponsor pulled out. I have been to some of the biggest music awards in the world. I have been to Grammy awards, BET Awards and have seen them all.
Your Awards are touted the Nigerian Grammys. How does this make you feel?
We just feel privileged and feel challenged that we need to continue to do the right thing. I feel privileged working on such a huge platform. It's really not for us but for everybody in the industry. We are the ones doing it does not mean we should cross our legs and lean back. We know that it is a lot of responsibilities placed on our shoulders and you cannot build Nigerian Grammys without the consent of the artistes. We are not the ones saying it. It means you must have done something to prove that and we don't rest on our oars. We have to continue to make it happen, do it well and keep it as transparent as possible.
How would you say the Headies has contributed to the quality of music and artistic talents whose growth has witnessed tremendous rise and acceptance across the continent?
I think the artistes should be the ones saying that. I think the artistes are supposed to be the ones saying that. If you check the interviews they had, most of them talked about how it has helped transform their lives, their careers, how it has helped project their image. I was watching Tiwa's interview and she said that her first major performance that gave her the kind of attention she needed was at the Headies. A lot of them have stories to tell. I shouldn't be the one telling the stories for them. We will just continue to do our own thing and leave them to telling the stories.
You started when not many would have believed in your dream or see the bigger picture. What was your conviction?
You know the slogan I like the most? I don't know how they came about it. Its so strong and so simple. it is Nike's slogan, Just do it. It wasn't for accolades. I did not want people to give me accolades. I just believed we could do it. I don't want to belong to the specimen of Nigeria that would just sit down and complain about everything yet do nothing. I want to be one of those guys that would make it happen and I know that it requires a lot of hard work, energy, consistence, persistence, perseverance and focus to make it happen. We have just started and we still have a lot to do. We keep matching on.
How did the TV station, Hip TV, come about ?
It was actually Headies that made us start the TV. The first thing we did was to partner with an already established  TV platform. We had already commissioned the magazine. I wanted to do TV but we were not ready. After the first one, we thought it was right to do it. We had a lot of strong message to pass out and we needed a platform to do that. We started as a TV programme syndicated across media platforms and then we went around the world recording content for the programme. Fortunately again, we got sponsorship for the TV.
What would you say limits Nigerian music from winning the Grammys?
I really don't understand why Nigerians want to win the Grammys. Grammys are not for us but for Americans. We should get that right. They put everybody in one world music category. We are not their focus. The Americans are their focus. It is not for us. Yes, we can win awards but they do not show us the way they run the award category during the show. I think we should make our own awards our own Grammy and I would say it any day that the Grammy is not for us. They have built something big for themselves. Let them come and win the Headies. How about that? Even if it is not the Headies, let them come and win AFRIMMA in Africa. Let them come and win awards in Nigeria or Africa. We don't celebrate our own things. It's just a shame. I have been to the Grammys many times and I don't see many African artistes. They don't particularly care because they recognise mainly, their industry. They don't know you exist. You go there taking pictures with them and when you are taking pictures with them, the guy is already looking somewhere else. See all the artistes that paid for international collaboration. What happened?.
They collect your money and they don't want to come back. They don't want to collaborate with you. And you know what? You will make so much money here if you really work hard and you will be known in the whole of Africa. Build your own. It's just so wrong that I am the one saying this because cynics would say that 'he is saying it because he wants people to be associated with his award'. Let it be other awards. If I tell a sponsor now that we should take five artistes to the Grammy awards, they would be ready to do that but when it comes to Headies, we will be begging for sponsorship. The Headies plaque can stand head to head with any plaque in the world because a lot of money is being spent to make it pure gold. We put everything in it. Grammy is not our thing. Let's do our thing. Let's make it big and fantastatic. Why do you want to win Grammy. There is no World Cup for music.
What should Africa expect from the 2018 Headies?
I am looking forward to it like everybody else. We have done our part. About winning, everyone is not going to take home the plaque. There are 77 nominees in 25 categories. Even if everybody wins one, some people will probably win two or three. People should get used to the fact that some people are not just going to win. The language for music all over the world has changed. If  you are nominated, you are pretty much a winner. So, people should be happy with nominations, like winning the awards. All over the world, they celebrate nominees; 12  times Grammy nominee, 12 times BET nominee. They don't say I won anymore, what they say is that the award goes to, meaning that all of you deserve the award but in this case, it is going to so, so and so. They makes them feel good. So, we have 77 nominees. Those ones that are not going to win will abuse the Headies like they always do. It is going to happen and they are not going to be happy but it is understandable. They just want to have an excuse. Dem go say abeg leave am. Dem just give am. Ask anybody that has won the award in the last 10 years or 12 years, they would have something to say. Let them say that they knew they would win before they eventually won.
If Headies had collected something from anyone to influence the winner, let them come out and say it. It will never happen. Not my team nor myself. We don't care. We don't need any body's money to do it. I spend my money most of the time. When we have to spend money, I spend my money. The day I would have integrity issue, I would stop doing it . It is not a means to an end for me. It is not means for prosperity or getting wealth to me. In fact, in 2015 when Olamide and Don Jazzy did what they did on stage and all that, I felt maybe we should even stop the awards.  I spent a lot of money that year. We brought a lot of professionals around the world, flew in containers of equipment and everything. At the long run, what will I show my children? Will I show them the awards when my friends were buying houses. The money I spent could buy me a very good house somewhere on the Island and it just went like that. But we are doing it for a cause. Some big awards stopped because of the bottom line that if it doesn't make money, it doesn't make sense. Big companies like us that are into music, organise awards on the basis of the availability of sponsorship. For one to be doing it every  year whether there is money or not and still give out cars, etc is something to be proud of.