FG commences irrigation expansion in Gombe
•  As state partners Federal Ministry of Water Resources on water supply, sanitation, others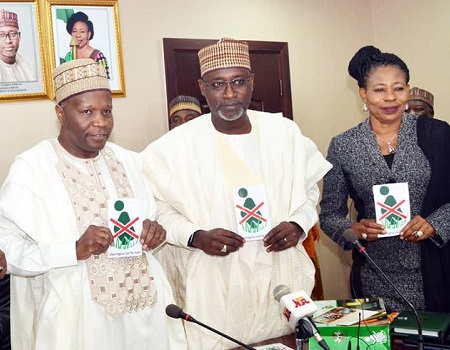 The Federal Government in conjunction with the World Bank is to commence irrigation expansion scheme in Gombe state just as the Governor, Muhammad Inuwa Yahaya visits Water Resources Minister, Engr Suleiman Adamu.
To this effect, a 3000 hectares irrigation programme program will soon commence in the State under the Transforming Irrigation Management in Nigeria Project, (TRIMMING).
The Minister of Water Resources, Engineer Sulaiman Adamu disclosed this while receiving Governor Muhammadu Inuwa Yahaya of Gombe state who visited the Ministry in Abuja on Friday while on a working visit there.
TRIMMING is a Federal Government/ World Bank programme aimed at improving access to irrigation and drainage services and to strengthen institutional arrangements for integrated water resources management and agricultural service delivery in selected large-scale public schemes.
The Minister who appreciated Governor Inuwa Yahaya for the visit and his political will to attract development to Gombe state, informed his guest that "the 3,000 hectares irrigation expansion project in Dadinkowa will start in earnest within the next six months baring bureaucratic process, while work to revive the Cham dam will continue immediately after this rainy season."
He also said that the expansion of the irrigation scheme in Dadinkowa will create more jobs, generate wealth and enhance food production.
The Minister who gave a broad overview of the activities and opportunities in his Ministry lauded Gombe state's desire to key into the various initiatives.
ALSO READ: Secondus commiserates with victims of Onitsha inferno
He enjoined Gombe state Government to key into the national campaign to end open defecation which will be launched in November by President Muhammadu Buhari and the national action plan to access the PEWASH fund as well as other projects in the ministry.
He further noted the benefits of investing in sanitation are enormous, ranging from revenue generation, job creation, health and agriculture.
On his part, Muhammad Inuwa Yahaya assured the Minister of his administration's resolve to key into programmes and projects of the Ministry that have direct bearing on the common man, including the water, sanitation and irrigation schemes.
He particularly vowed to scale up investment in water and sanitation as well as boost access and supply of water to rural communities and said that his visit to the Ministry was aimed at seeking areas of collaboration on how to better the lots of the citizenry.
Inuwa Yahaya further said that Gombe state has some challenges of influx of people from the neighbouring states as a result of insurgency with its attendant impact on its resources and facilities.
He however said that with collaboration and support of relevant agencies and organisations as well as commensurate investment, the situation and statistics can be improved.
The Governor declared his support for the Ministry's campaign to end open defecation and expressed readiness to take necessary measures to complement the efforts of the Federal Government in that direction.
The Governor was accompanied on the visit by his Chief of Staff, Alhaji Abubakar Inuwa Kari and other aides as contained in a statement by Ismaila Uba Misilli, Senior Special Assistant, Media and Publicity to the Governor of Gombe state.