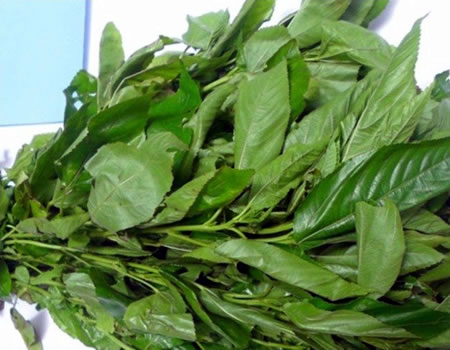 Many individuals that experience acid reflux probably knows already exactly what not to eat or drink. But saying no all the time isn't much fun.
Just like some foods can cause the reflux to flare up, others can help combat uncomfortable acid, and coat the stomach with a protective barrier to prevent heartburn.
Heartburn is a burning feeling in the chest caused by stomach acid travelling up towards the throat (acid reflux). If it keeps happening, it's called gastro-oesophageal reflux disease (GORD).
Experts, however, said that green leafy vegetables like jute leaves (ewedu) soup is what needed to be eaten more to reduce the stomach acid that sometimes finds its way back through the throat.
In a study, researchers tested the antacid properties of jute leaves (ewedu) in male albino rats with gastric ulcer over a two-week period reduced the stomach acid production in a dose-dependent manner.
The 2015 study was entitled "Anti-Ulcerogenic and Gastric Antisecretory Effects of Corchorus olitorius Extract in Male Albino Rats". It involved Bamidele V. Owoyele; W. Abdulmajeed; B. M. Adisa, O. O. Owolabi and Sabitiu A. Oyeleke, all from the University of Ilorin. It was in the Journal of Herbs, Spices & Medicinal Plants.
Also, in 2016, experts' found that the water extracts of jute leaves (ewedu) and root has an antacid activity which supports the ethnomedicinal claims of the use of the plant in the management of acidity as well as an ulcer.
The study, which includes its pharmacological significance as an antacid, found that the extract of jute leaves (ewedu) and root had 71.33 per cent antacid activity of a drug. It was in the 2016 edition of the International Journal of Pharmacy & Life Sciences.
Corchorus olitorius, commonly called jute leaves (ewedu), Ewedu in Yoruba or Ahihara in Igbo language, is reported to be a folk remedy for aches and pains, dysentery, fever, and pectoral pains. Ayurvedics use the leaves of Jute for treating pain, piles, and tumours.
Also, the leaves are used for the treatment of gonorrhoea, infertility, increase in the flow of breast milk in nursing women, prevent convulsion and as a purgative agent. The cold infusion is also said to restore appetite and strength.
This green leafy vegetable is rich in beta-carotene for good eyesight; iron for healthy red blood cells; calcium for strong bones and teeth; and vitamin C for smooth, clear skin, strong immune cells, and fast wound-healing.
Previously, researchers said that Aloe vera gel may provide a safe and effective treatment for reducing the symptoms of acid reflux in the 2015 edition of the Journal of Traditional Chinese Medicine.
In the pilot, randomised controlled trial that involved 79 individuals over a period of four weeks in Iran, the researchers found that Aloe vera gel was safe and well tolerated and reduced the frequencies of all the assessed GERD symptoms (heartburn, food regurgitation, flatulence, belching, nausea, vomiting, and acid regurgitation), with no adverse events requiring withdrawal.The research, which compared the clinical efficacy of A. vera syrup compared with the standard medications omeprazole and ranitidine, found them comparable in relation to most symptoms in patients suffering from GERD symptom.
They suggested that the efficacy of Aloe vera gel in reducing the symptoms of GERD might thus be partly attributable to its antioxidant and anti-inflammatory ingredients.
An epidemiological study in Poland reported that A. vera was routinely used to treat excessive acid production in the stomach, as well as gastric and duodenal ulcers in cigarette smokers.
Furthermore, A. vera preparations are relatively inexpensive and widely available and have been shown to possess therapeutic activities against several other disorders that commonly accompany GERD, such as peptic ulcers, irritable bowel syndrome, ulcerative colitis, type 2 diabetes, and cholesterol problem.
Ginger tea is an excellent and age-old cure-all for many digestive ailments. Simply peel or grate an inch of ginger root and steep in boiling water to make a pain-soothing tea. It is an effective anti-inflammatory and it is one of the best foods for acid reflux.
Banana is a naturally low-acid fruit to relieve heartburn symptoms. A banana smoothie will help relieve discomfort because it will stick to the irritated throat lining. It forms a protective film that coats, protect and soothes.
ALSO READ: Ekuru: A typical Yoruba meal