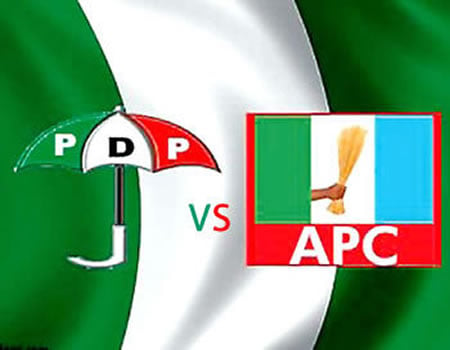 THE Peoples Democratic Party (PDP) says the verdict by Bill Gates that the execution of President Muhammadu Buhari's Economic Recovery and Growth Plan (ERPG) does reflect the needs of Nigerians is just being a polite declaration on the failure of the administration but has vindicated the opposition's position that the government has failed.
According to the opposition party, the government's economic policies are anti-people and have strengthened Nigerians' resolve to kick out "the dysfunctional All Progressives Congress (APC) and its Federal Government come 2019."
According to a statement issued by PDP National Publicity Secretary, Kola Ologbondiyan, in Abuja on Friday, the verdict of the Co-Chairman of the Bill and Melinda Gates Foundation, has also vindicated its stand that "the Buhari administration is the worst in the history of our nation; that it never had the interest of the people at heart but has been lying to Nigerians with false performance indices and cosmetic appearances, while its agents continue to siphon funds meant for the welfare of the people."
The PDP said President Buhari and the APC can now see that the entire world is fully aware of their misrule and as such should stop wasting the nation's resources on pointless image laundering and desperate quest for international endorsements.
It added: "What Gates did not tell President Buhari and his team was that their administration is so incompetent, disorganized and confused that it could not develop any functional economic policy direction and that this has caused our nation her current economic woes.
"Bill Gates comments on the Federal Government's empty, deceptive and discredited Economic Recovery and Growth Plan (ERGP), right in the Presidential Villa and in the presence of Vice President Yemi Osinbajo, came to President Buhari and the APC as stunt gone awry as they had planned to use the world figure to earn an undue international endorsement ahead of 2019 elections.
"More disheartening is that instead of being remorseful, officials of the APC administration, including Prof. Osinbajo, are attempting to put up a lame defence, despite the indicting facts.
"The whole world is sad that under President Buhari and the APC, our dear nation, which was hitherto one of the most vibrant economies, has now become one of the most dangerous places to give birth, with the fourth-worst maternal mortality rate in the world.
"This administration, in the last three years, has not been able to initiate any functional policy on health, education, housing, agriculture, electricity, industrial growth, effective economic empowerment and gainful employment, or any deliberate plan to grow a sustainable middle class in the country.
"Instead, what Nigerians get is a sinking economy resulting from anti-people policies; multiple taxations, increased tariffs on essential commodities and services, increase in food prices, fuel price hike, huge foreign debts, a weakened currency and massive job loss while APC interests continue to fritter away trillions of naira for their selfish gains.
"It is obvious that this Buhari administration derives joy in seeing Nigerians suffer hunger and starvation even in the midst of our huge potentials at remaining one of the greatest nations on the globe."
The PDP urged Nigerians not to despair as "our rebranded and repositioned party will bring up a credible and people-oriented candidate that will work with the citizens to salvage our nation from the economic woes and the misrule of the APC come 2019."