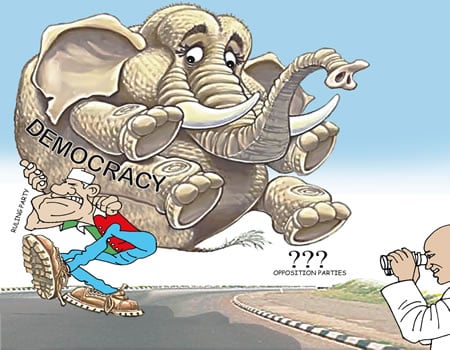 IN all modern societies, more especially in modern democracies, dialogue as depicted by the parliament, the town hall or village square meetings, is the essence of give and take when there are contending issues, views and opinions. The essence of dialogue is that when people of diverse persuasions, age, culture or religion congregate as in a country, a club or association, they must accept that individuals have the right to ventilate such views, opinions or preferences within the ambit of the law.
In a democracy as ours, there are laws, codes and guidelines to moderate our different preferences, opinions and actions. The strict observance of these laws is also germane to national stability and national security. When there are differences or contentious issues, it is better to embrace dialogue than resort to extreme actions as manifest of recent in hate speeches, provocative utterances and recourse to violence. Indeed history has taught us that all disagreements, wars and conflicts do not resolve any disagreement. Disagreements are ultimately resolved on the round table. In all cases, it is always wiser to jaw-jaw than to war-war.
As we prepare for major elections come 2019, security challenges and the survival of democracy have raised a major concern among all patriots. The Alumni Association of the National Institute, as a major think tank in the pursuit of good governance, has deemed it proper to lend its voice in articulating this concern with a view to creating awareness and identifying the critical success factors in promoting national security and the stability of our young democracy, especially as we prepare for major elections coming up soon. While democracy is becoming stable, its fabrics are being undermined by the seeming failure of national security.
ALSO READ: Medical experts canvass one-stop health facilities approach
Indeed, the security of all citizens is the primary duty of any government. There is therefore no gainsaying the fact that national security is the platform for democracy and its values among the citizens. There is no better ingredient that provides meaning and legitimacy to democratic rule than security; it is the protective umbrella of all other sectors of the democratic system. It is also the pillar of political order. Democracy and security correlate because both are people- centered. When democracy loses its security, it has lost its core values.
That is why AANI has committed itself to promoting national dialogue in the search for peaceful co-existence among the diverse peoples and communities across the country. Earlier this year, it hosted a stakeholders' forum on the Eradication of Farmers-Herders Conflicts. The association has lent a voice in decrying the killings in Benue and Plateau states as well as the bickering among politicians, especially the rancor in the National Assembly.
Soon, a national dialogue session will be mounted to discuss issues critical to achieving democratic stability without jeopardising national security.  Specifically, the forum will examine the challenges posed by the coming elections and national security. It will also dissect issues around civil- military relations under democratic governance.
AANI is best described as the national reservoir of knowledge, skills and expertise. That indeed may be a modest characterisation. It parades Nigeria's finest crop of the trained and tested, under one umbrella, who are obligated to contribute to the search for good governance, peace and progress at all times.
Bolaji, mni, is the president of AANI