Don commends TMC as students shine at spelling contest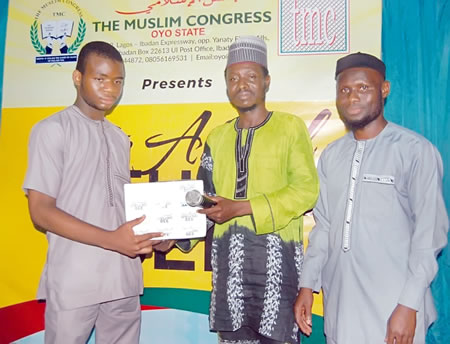 A professor of English at the University of Ibadan, M. T. Lamidi, has commended The Muslim Congress (TMC) for dedicating some of its programmes to the development of Nigerian students.
Professor Lamidi gave the commendation at the second annual spelling bee of the Oyo State chapter of The Muslim Congress (TMC), held last weekend at the House of Chiefs, Agodi, Ibadan.
Professor Lamidi, who was the chairman on the occasion, called on wealthy individuals and corporate organisations to support the "outstanding and lofty idea."
The don advised other Muslim organisations to emulate TMC in striking a balance between conventional knowledge and religious awareness in their programmes.
He urged all Muslims, as individuals and organisations, to cooperate with one another in advancing the cause of Islam and humanity in general.
In a remark, the waali (coordinator) of TMC in the state, Alhaji Daud Oladosu, stated that because Muslims were the best community ever evolved for mankind, "The Muslim Congress deems it fit that apart from contributing spiritually to the development of the community, we look at the other facets of life, which necessitate programmes like spelling bee for educational purpose."
According to Alhaji Oladosu, the 2020 edition will involve local government chapters of the organisation so as to include more grass-roots participants.
The TMC coordinator urged the participants to see the competition as an act of worship and a means of personal development for better academic performance.
At the end of the competition which featured about 75 contestants, Tajudeen Abdullah came first, while Abubakr Aisha and Hassan Musharaf clinched the second and third positions.
With his feat, Tajudeen will be representing Oyo State in the 2019 national spelling bee competition being organised by the national headquarters of TMC, which is slated for Sunday, September 22, in Lagos.
In a remark while coordinating the prize presentation session, the state Education Officer of TMC and chairman of the panel of judges, Mr Kamoru Salaudeen, said all the participants performed brilliantly in the competition which, according to him, was organised in line with global standard.
He expressed appreciation to Prof. Lamidi for gracing the organisation with his presence at the programme.
Consolation prizes were given to five other contestants – Muhammad Bello, Olanrewaju Yesiro, Mu'adh Shakrullah, Maradesa Mubarak and Isma'il Muhammad – for reaching advanced stages in the competition.
Other personalities who graced the occasion included the Chief Executive of The New Moon Communication and Productions, Alhaji Abdur-Razaq Abdul-Ganeey (Mr GRA); the CEO of Erudite Millennium Limited, Mr Saheed Oladele and Ustadh AbdAzeez Ariremako.