'Doctors said I would never have a child, today, I'm blessed with children'
He suffered from polio at the age of two but this did not deter him. The Chief Executive Officer of Background Check International, Kola Olugbodi, has become popular as a faith-based author. In this interview with OLAIDE SOKOYA, the cleric speaks about life and why he wrote 'Through It All.'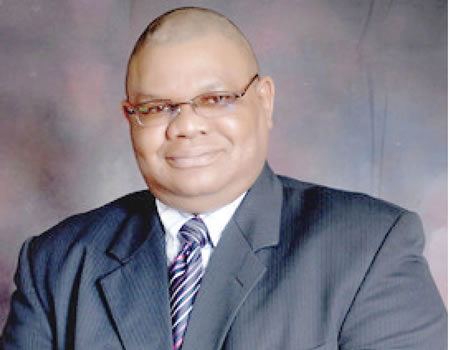 Could you tell us the idea behind your new book?
It is a faith-inspiring book, which has a lot of spiritual connotations. Corinthians II, Chapter 1 verse 3 says: "Thanks be to God, the father of comfort." He comforts us in all our troubles, so that we also can comfort others. That is the wisdom behind the book. Obviously, my wife and I went through a lot—from polio to the challenges of 'you can do this, you cannot do that;' and then growing up and having challenges of whom you're going to marry. Then infertility came and, of course, starting business and watching it collapse; having issues where I worked such that I needed God to bail me out. I went through so many things that when able `people find themselves there, they either sink or just resign themselves to fate. So, I thought I needed to get people to be encouraged by the story of my life.
Reading that book, one could see a person who doesn't give up. Before you, your mom also displayed strong resolve when faced with her son's polio challenge, until that semblance of salvation, when one leg was saved. Would you say you got that resilience from her?
Yes, my mother has always been resilient and never takes no for an answer. She's the type that believes that if this does not work, try this, try the next one.
Despite the fact that you are a pastor, the solution to your paralysis came through unorthodox means, with your mother and grandmother taking you through many herbalists and spiritualists. Faced with such challenges again, would you go that route?
The Bible says, 'You will know the truth and the truth will set you free.' Then, there was no truth, and that was the only obvious solution they could seek. Of course, there was the belief that the whole thing was diabolical and beyond ordinary polio. What even startled me is the fact that those that tried to help had some kind of diseases on them, while about two of them died. But of course, if it happened again, I would never go that route. And then, that masquerade experience. That obviously was a moment of reality for me. I was probably seven or eight years old. We grew up in Tejuosho, Lagos, and our parents only took us to our village, Ara, in Osun State at Christmas. The event coincided with the masquerade festival and on a certain day, we all set out to go visit some relatives. We got to the market square and suddenly, a masquerade was coming, with all the drumming and cane-wielding followers. Of course, the spontaneous thing was to take to your heels. So, everyone that left my family compound together took to their heels. Of course I knew that I couldn't run because of my situation, but that was the day it really dawned on me.  As I wrote in the book, that was the turning point in my life. That was also when the can-do spirit came in. So, if anyone tells me you cannot, it always steers me to want to prove that I can, even at the risk of my life.
Part of your challenges in life was infertility, how did you overcome it?
I see doctors like pastors. They are people that when things are going wrong, they must always give hope. We visited many doctors for about one year and conception wasn't happening. They discovered that I was the problem, they diagnosed low sperm count and we were treating it, but the more we treated it, the more the count kept dropping; and then we visited a specialist hospital and met this young doctor who took a look at my test result and said, rather tactlessly, 'Mr Olugbodi, with the result I'm seeing here, you can't impregnate any woman in your life.' I left his office feeling so sorry for myself and also for my wife. I told the laboratory attendants what the doctor told me, but one of them said: 'With God, all things are possible.' I wish I got that from the doctor. To the glory of God, we have two children now. My experience about my infertility was also written in the book in order to encourage people not to always take human opinions as final.
What informed your foundation?
Background Check International (BCI) is the first background screening company in Nigeria and West Africa. I always tell people, there is a spiritual angle to everything in my life, even in business. I've tried a lot of  businesses that failed; I tried a commodity business that really messed me up. Between 1996 and 2001, I discovered that nothing was working. We didn't have children, the business failed and so we didn't have a home and somebody gave us an apartment to live in. We also got to know what hunger was and what it was to start losing friend.  When everybody was rejoicing during the New Year of January 2001, I told myself that if it was really going to be a happy year for me, things had to change and God must make me know what would happen. So, I got praying and He led me into the Bible. When I got to a verse in the Bible, it occurred to me that this was the voice of the same God who had always spoken to me. The God that told me three things, when I was about leaving the university in 1988 – "You're going to have your NYSC, start a career and get married to Toyin in Abeokuta," which all came to pass. The same God spoke and revealed everything to me when there was a fraud in the bank where I worked and everything was on my head.  The conception of the company didn't come until 2003 and by the time we were taking off, it turned out that BCI was the first of its type in Nigeria, with so many people telling us it would not work, because it had never been done before. But 15 years down the line, BCI is working and we now have other companies springing up. The initiative is centred on recruitment and outsourcing agency for support staff, secretaries, among other various job vacancies.