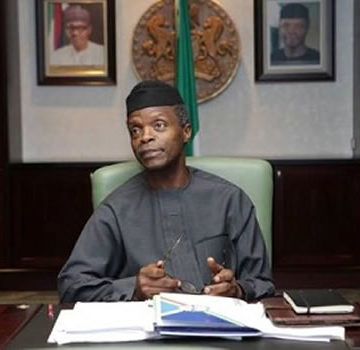 VICE President, Yemi Osinbajo, has declared that electricity distribution companies (DisCos) have become a problem for the nation in the power sector.
He however, gave the assurance that the present administration was addressing their menace using various initiatives including Independent Metering Directive, which would make it possible for consumers to be metered by private firms and the willing-seller-willing buyer policy or Eligible Customer directive.
Those metering firms will then be paid from the bills collected from such meters by the DisCos while the new Eligible Customer directive, would enable the Electricity Generation Companies (GenCos) to sell electricity directly to certain categories of consumers without passing through DisCos, thus eliminating the huddles into which Discos have constituted themselves.
Speaking at the commencement of 2017 Nigeria Economic Summit in Abuja, Osinbajo agonised that although Nigeria has the capacity for about 7,000 megawatts of electricity, the Discos have made it impossible to transmit that volume to starved consumers.
"There is a renewed confidence in the sector and we have already seen significant investment for a variety of reasons including shortage of gas, limitations in the retransmission capacity, financing constraints, power supply was in the region of 3,000 mw.
"We tackled these issues, although there is still some inadequacies in power supply. We moved up to 7,000mw in generation terms. We are at the moment dealing with constraints in distribution with two notable policy interventions: The NERC in August issued eligible customer directives and will this month issue a directive on independent metering.
"The Eligible Customer regime will allow willing seller in the arrangement for sale of power, while the Independent Metering Directives allow independent entities from registered Power Distribution companies to sell and install meters to customers and pay as collections are made from metered customers.
"This will break the distribution gridlock. I have a good cause to believe that we will not just archive our 10,000mw projections envisaged in the power reform plan but also be able to deliver the 10,000mw."
He noted that government also crafted several policy actions to ensure Nigerians consume what they produce and produce what they consume as much as possible.
Osinbajo said the Single-window policy would be on stream within months and that as such the concerns about delays at the nation's ports would be effectively addressed.
"Government's annual budgetary expenditure of N7 trillion, it is only a small part of what is multi-trillion naira economy.
"The private sector is clearly a bigger contributor to the economy and it follows that the private sector must be enabled and encouraged to play a decisive role if our development efforts are to succeed.
"The economy has returned on a continuous slide over a period of one year. Now we know we exited recession in the second quarter of 2017 with modest GDP growth of 0.55 percent, while inflation has continuously declined from a peak of 18.6 percent in January 2017 to 16 percent today.
"Last year, there were concerns about exchange rate and deteriorating exchange rate, but today the situation has been stabilised, that exchange rate has risen to over $32 billion and end users have increased access to foreign exchange partly due to export earnings, remittances as well as dedicated transparent window for investors and exporters, NIFEX.
Also speaking at a panel discussion, Chairman of Heirs Holdings, Mr Tony Elumelu, advised the government to review the privatisation of DisCos with a view to recovering controlling shares.
This way, federal government will then be able to sell such controlling shares to new investors with requisite technical expertise and financial muscle to efficiently run the companies.
---
---