Day Olu-Itori received Alaafin's blessing in Oyo
On Tuesday, February 26, witnessed a special event inside the palace of the Alaafin of Oyo, Oba Lamidi Olayiwola Adeyemi, as he hosted the Olu of Itori, Ogun State, Oba AbdulFatai Akorede Akamo and his entourage. TUNDE BUSARI reports.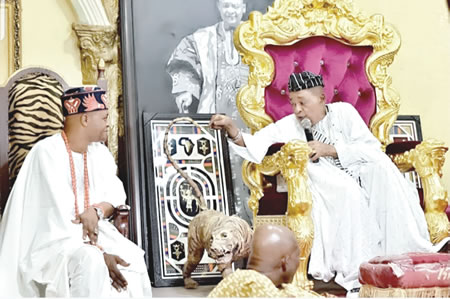 The arrival of the Olu of Itori, Oba AbdulFatai Akamo in the palace of the Alaafin of Oyo, Oba Lamidi Olayiwola Adeyemi, on Tuesday, February 26 created unusual spectacle in the palace. As the glittering black Mercedes Benz glided through the main entrance and finally into the palace, all eyes turned to the luxury automobile till it paused.
And when Oba Akamo alighted, he was face-to-face with a band of palace drummers, who welcomed him with heavy percussion reserved only for traditional rulers. The scene attracted palace aides who also trooped out not only to catch a glimpse, but also to pay obeisance to the visiting royal father.
Oba Akamo who appeared in white lace holding a staff, responded to the greeting with his usual smiles after which he was ushered into the waiting hall. While some members of his entourage, who were familiar with the Alaafin's regularly crowded schedule, were entertaining fear of waiting for a long time, Oba Adeyemi's message proved them wrong.
In a jiffy, Oba Akamo had been led into the hall where the Alaafin would sooner join and formally welcome him to his palace amidst ovation by the audience. The Media Assistant to Oba Adeyemi, Mr Bode Durojaye, did not waste time in picking microphone to kick start the meeting of the two traditional rulers.
That was followed by Oba Akamo's extensive speech that kept his host gazing him with interest. As a sign of respect to Oba Adeyemi, the Olu of Itori rose from his seat to make the speech which dwelled into history and issues connected with his affection for the Alaafin.
Outspoken and factual, Oba Akamo extolled the virtues of Oba Adeyemi, describing him as a symbol of Yoruba cultural heritage whose words always command respect beyond the sphere of Yorubaland.
He said he had long taken it as a point of duty to observe and read Oba Adeyemi because doing so was a sure way to understudy the secret behind his 48 years reign, a period which, according to him, had elevated the name of Oyo higher in contemporary world home and in the diaspora.
He explained that Oba Adeyemi's usual extempore delivery, especially at big events, is an attribute that did not only draw attention to the brilliance and intelligence of the Yorubas, but also earned him much respect in the society as an intellectual traditional ruler who cannot be pushed aside on important issues.
"Baba, I must say that I admire this rare quality and wish you many more years to make more contributions to the growth of Yorubaland. As a traditional ruler, I am not expected to flatter you but to tell you as you are to me and to many other who have got the privilege to sit with you either here or at other places. When you came to Abeokuta during the Drum Festival, your speech still reverberates till date," he noted.
Being the chairman of the Progressive Obas Forum in Ogun State, Oba Akamo highlighted efforts he had so far made in ensuring traditional rulers got better bargaining from government, in terms of respect and recognition as the closest channel to the grass root. He expressed his desire to have Oba Adeyemi as his guest on April 6.
Having patiently listened on his special seat overlooking the exquisite, big hall, Oba Adeyemi's response took off on a slow note after which he landed on his usual oratorical mode dishing out volumes of facts, figures and names of important and not-so-important personalities like Herbert Macaulay, Obafemi Awolowo, Dr Nnamdi Azikiwe, Adeyemo Alakija, Sapara Williams, among others.
The traditional ruler used the opportunity to assert the status of Oyo in the history of Yoruba and the need for him to preserve the sanctity of the status. Oba Akamo too was glued to his seat watching the lip of his host in his element. TheAlaafin shocked his guest when he refreshed his memory with some challenges he had weathered in his 15 years on the throne and urged him to always stand right on the truth.
"You have promoted the name of Itori beyond what it was before your ascension to the throne. There was a time we were passing through your town when I saw Itori expanding in the two sides of the expressway. I really commended you on that spot. You have proved a good point in development and I am happy for you because history of the town will always be kind to you," he stated.
While rounding off his speech, Oba Adeyemi said he would not pour out all he had on his mind about Oba Akamo, promising to bear it all on April 6 and also wishing him many years of peaceful reign and further development of his town.