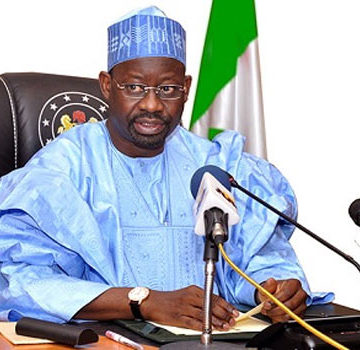 GOMBE State Governor, Ibrahim Hassan DanKwambo has replied his former aide, Bello Usman Kumo who recently announced his decampment from the Peoples Democratic Party (PDP) to the All Progressive Congress (APC) describing it as most unfortunate and a betrayal of trust.
The Governor through his media aide, Junaid Usman stated that "Our attention has been drawn to a story about the decamping of the former Special Adviser to Governor Dr Ibrahim Hassan Dankwambo, (Talban Gombe), Usman Bello Kumo who picked the membership card of the All Progressive Congress (APC)."
Hassan DabKwambo added that "Kumo has the right to choose whatever party he wants to be a member of, but it is sad and pathetic when he does that by insulting his former principal. A man that has given him a home when he has no home and nowhere to go."
He further said that for Usman Kumo to openly condemn the administration means "the man knows nothing about the peaceful an good leadership qualities of the Governor and fulfilling of promises." It is an established fact that no Governor has done so much for Gombe state like His Excellency Dankwambo Talban Gombe, has done.
The media aided added that Gombe state has been one of the fastest developing states in Nigeria with the positive and progressive governance of Dankwambo boasting that "Only Lagos compares to the infrastructural developments of Gombe State in the last seven years."
Junaid Usman continues that, "No politician in Gombe State, the North or Nigeria has the progressive insight of Dankwambo today as his developmental and laudable projects in the last seven years in the state have shown."
"The fact that the decamped desperadoes and their collaborators in the state could even try to join issues with a young, vibrant Governor who is succeeding where previous administrations have failed shows how low they are willing to sink just to carry out their nefarious plot," Junaid declared.
The Senior Special Assistant on Media to the Governor also said that "We are surprised that so-called 'people Dankwambo has helped' and people that do not have a history of good performance and positive governance when they were in power are now bent on criticizing a young, focused governor who has embarked on efforts to develop all sectors of the economy in Gombe state."
He said that the decampees are just opportunists that do not understand that it is Allah who gives power and taketh it when He wishes pointing out that they think it is decamping to a certain political party that will get them to power.
"Therefore, they are not qualified to mark our scripts or assess the current administration in Gombe State because we operate a new syllabus. Conversely, the syllabus that they subscribe to is not only outdated and expire. It leads only to failure and a dead end", he further declared.
Junaid Usman also said that It is not surprising that Kumo is now praising Danjuma Goje – a man he contested against and called many bad names then saying, "Well, Gombe people are not stupid, they know how selfish Kumo and his likes are and they will ensure that they don't get anywhere near power in the state."
He observed that confusion and greed have now become the meal ticket for the decampees and their 'chop-I-chop' affiliates, whose trump card for maintaining a stranglehold on the resources of the state is to whip up sentiments against Dankwambo's administration in the state.
He concluded that even when Dankwambo's administration welcomes constructive criticisms from right thinking members of the society, the administration will not be cowed either will it give in to cheap blackmail from few persons, hiding under the cover of being protectors of public interest to falsify information and mislead the unsuspecting members of the public.