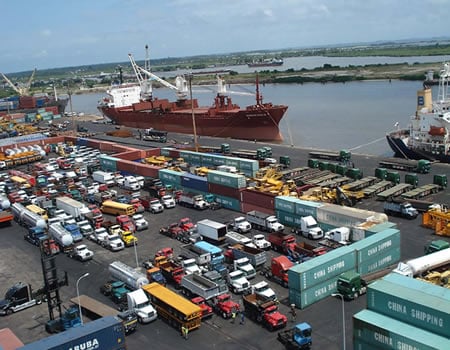 The effort to connect all the terminals inside the Apapa ports to the $1.5 billion standard gauge rail project of the Federal Government seems to have hit a brick wall due to a conflicting measurement of the Apapa ports rail sidings which contradict the original measurement that is stated in the original contract document.
According to findings by the Nigerian Tribune, the measurement of the rail sidings connecting all the Apapa port terminals that was quoted in the original contract document for the $1.5 billion standard gauge rail project  is 2.4km.
However, when the contractor of the project, the China Civil Engineering Construction Corporation (CCECC), after conducting on-the-spot-analysis inside the ports, claims the rail sidings measurement inside the Apapa ports is 6.4km, and not 2.4km.
ALSO READ: Minimum wage: Buhari to make decision soon ― FG
According to a source close to the CCECC, "We have brought this up with the Federal Ministry of Transportation, and we hope it is quickly sorted before people start thinking that the contractor handling the project is deliberately adding up artificial cost to the entire rail project sum.
"If we are to go by what is inside the contract document, then not all the port terminals will be connected to the standard gauge rail. It is very important that all the port terminals are connected to the rail in order to avoid a situation where some terminals become more advantaged than others within the same port.
"The standard gauge is expected to cut across all the port terminals, linking them to each other. We have raised this with the Ministry of Transportation, and they have directed that it be looked into."
However, in a separate chat with the Nigerian Tribune, a worker with the Nigerian Railway Corporation (NRC), who also begged not to have his name in print, wondered where the CCECC got their figures from.
In his words, "How can CCECC say that all the port terminals are connected by 6.4km rail sidings when the contract document stipulates 2.4km?
"It's important that the Federal Government does its finding very well so that this  people don't just pile up monies on us. If I understand you clearly, the new measurement means more money to be paid by government. I hope it's verified before anything is done inside the ports.
"Aside verifying the new claim, government needs to also investigate the project consultant that put up that contract document. Is it that the consultant is incompetent or what? How can a consultant, paid to do its job, give measurement of rail sidings that is now being faulted by the contractor. It's indeed a mess," the railway worker stated.