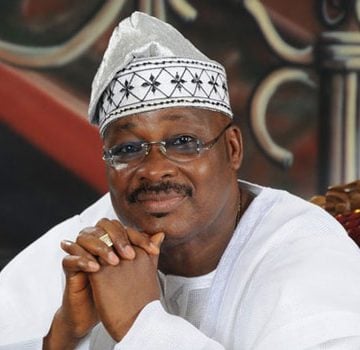 GOVERNOR Abiola Ajimobi of Oyo state has urged the Bank of Industry (BOI) to ensure that more of its offerings to residents of the state were focused on Agriculture and Industrialisation.
Ajimobi made this call on Tuesday when he hosted Managing Director, BOI, Mr Olukayode Pitan and some other members of the bank's management team at Governor's office, Ibadan.
Noting commitment of his administration to agriculture evidenced by the industrial park, free trade zone, technical university, he prayed that the BOI devotes more of its funding to Small and Medium Scale Enterprises that promote Agriculture and Industrialisation.
"The present administration believes in using technology to turn things around. This is why we established the Free Trade Zone, Technical University and other technical corridors.
"This is the area we believe your bank's intervention is most needed and useful. Lack of middle-level manpower in Nigeria, which has become an economic albatross, is where your bank can come in and assist investors.
"Also, in the area of agriculture, Oyo State is known to be a major producer of cashew nuts. Today, agriculture is the only venture in which political office holders are also allowed to invest, according to the constitution. So, we want you to devote more funds to this as well," Ajimobi said.
Speaking earlier, Managing Director, BOI, Pitan, disclosed that it had disbursed over N18 billion out of the N20 billion facility meant for industries in the state.
Pitan added that the BOI's intervention was aimed at preventing the death of factories across the state.
"Oyo State is very dear to the heart of our organization due to its proximity to Lagos, which is a commercial nerve centre for Nigeria and Africa, at large. So, we are supporting a lot of industries in Oyo State.
"Out of the N20 billion approved for the state, N18 billion had been disbursed to beneficiaries in the SMEs. The balance of N2bn is yet to be disbursed. This gesture is solely because of the importance of Oyo State as the gateway between Lagos, and the Southern and Northern Nigeria.
"We want to ensure that factories in this state are not dead. You are a builder and we want to build Oyo State with you," Pitan said.